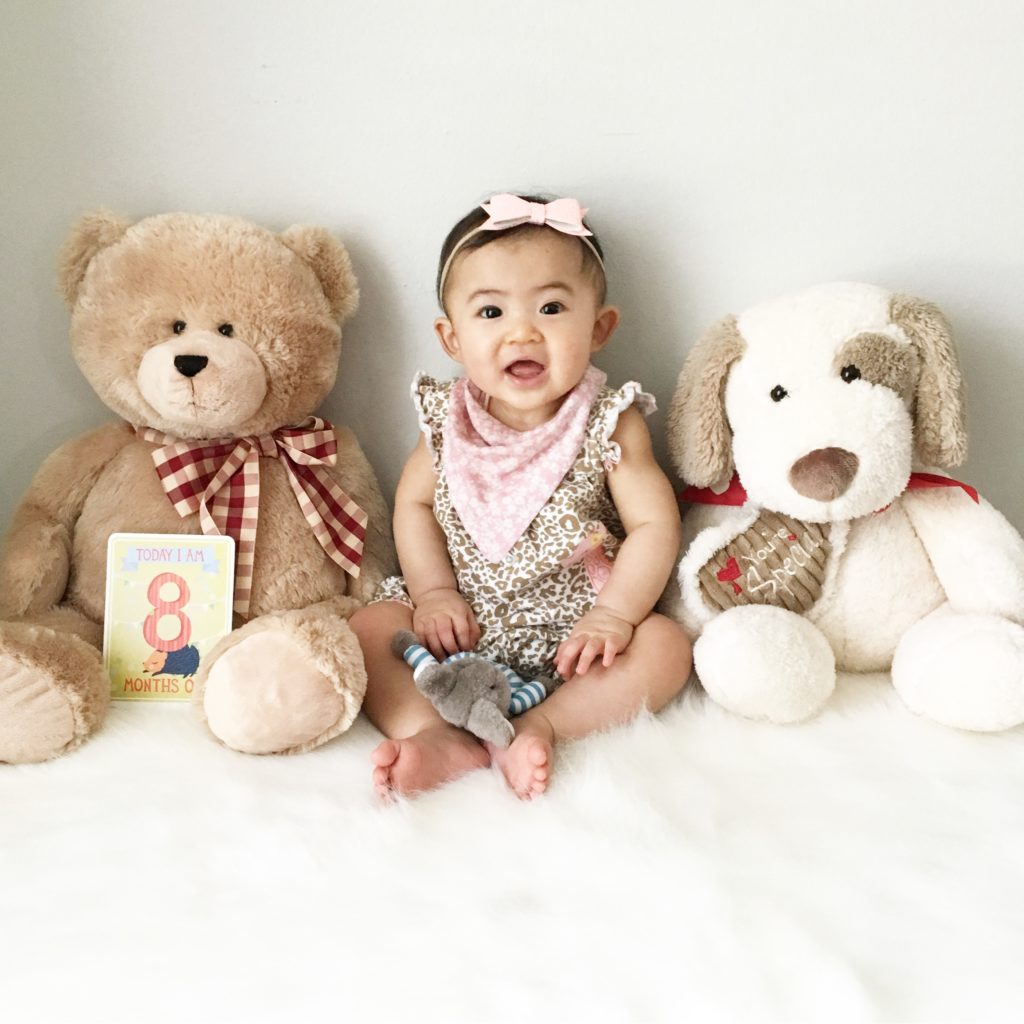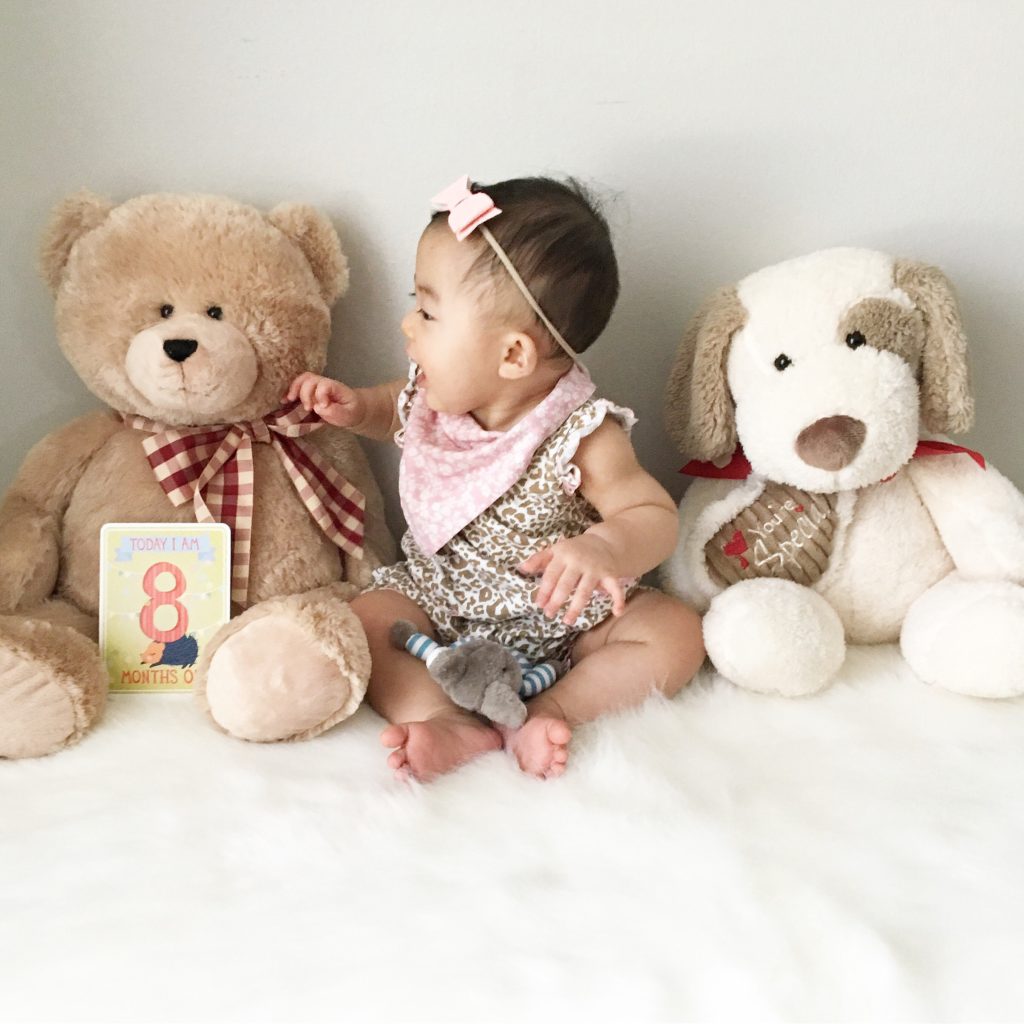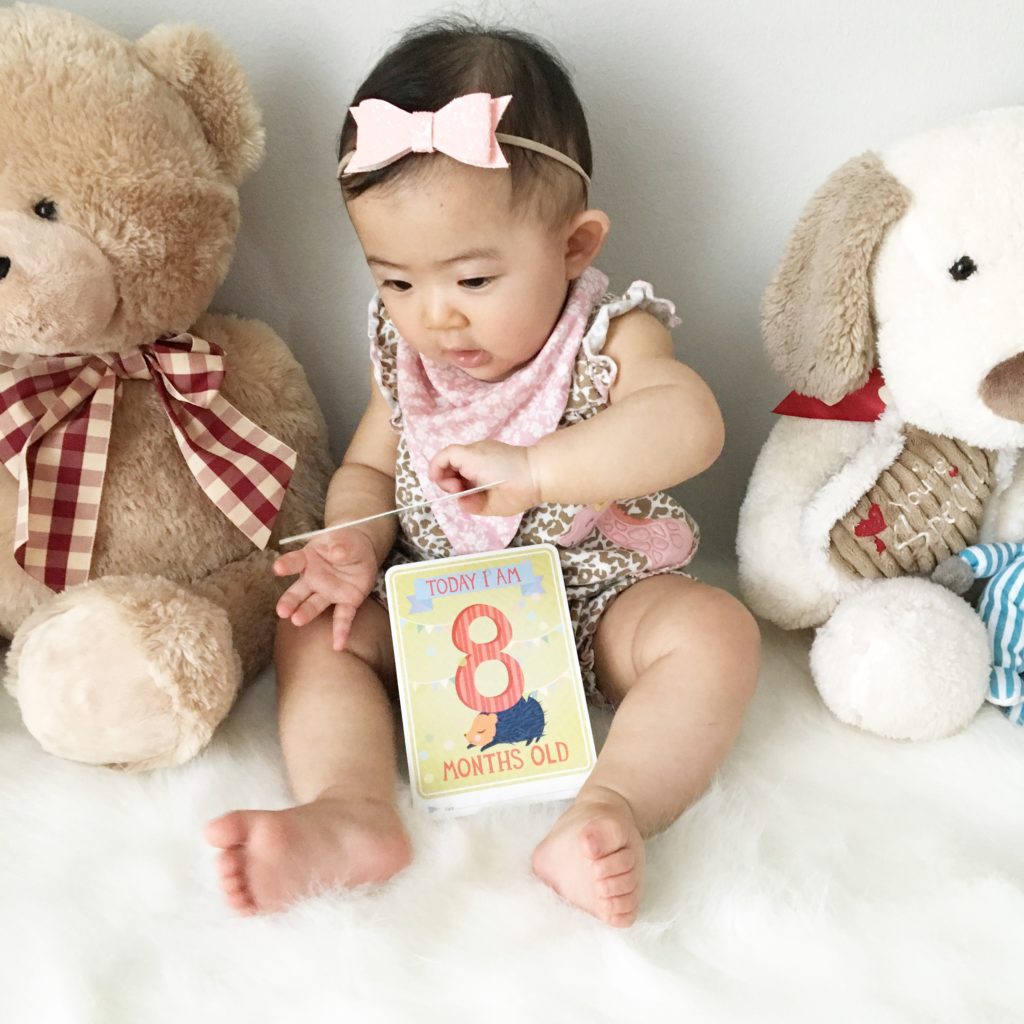 c/o Cards | c/o Bib | c/o Head Bow
Happy Friday, lovelies! Matea turned 8 months old earlier this week and oh boy is she on the move! She'll be visiting the doctor for her check-up next month, but here's a little recap of her 8 month old baby update.
Her biggest milestone this month was that she sprouted TWO teeth!  They are coming in like the fast and furious. I'll probably try feeding her some soft chunky bits of sweet potato soon to see how she likes it.  In the mean time, I just can't get enough of her itty bitty teeth peeking through when she laughs.
She still isn't sleeping through the night and in fact, I think she is going through a growth spurt right now because the night wakings are out of control.  It's typical at this stage (usually between 8-10 months) because they are developing and learning so much so I'll cut her some slack.  But three words – need more coffeeeee.
I've quickly learned that although she's pretty fiesty, she's all bark and no bite.  She is afraid of the strangest things – one of them being her new bathtub because of the squeaky noise when her dry skin rubs against it and how the water starts to fill up. So, for the mean time, we're still using this one we purchased from Target. She recently discovered how to splash water with her hands and it's a riot watching her during bath time.
A few of her other talents include gurgling her own spit (which admittedly is pretty funny until it's not), professional toe nibbler,  booty shaker (especially to Sesame Street songs), and taste tester of anything and everything.
Not sure why, but I have a feeling Matea will start walking in the next month or so.  She started cruising a little and I've even caught her free standing on numerous occasions for up to 15 seconds at a time.  Marli started walking at 10 1/2 months so I'm excited to see when Matea will start.
We're off to enjoy this AMAZING Fall weather for the weekend.  Thanks so much for reading, sweet friends and be sure to follow along via Instagram!