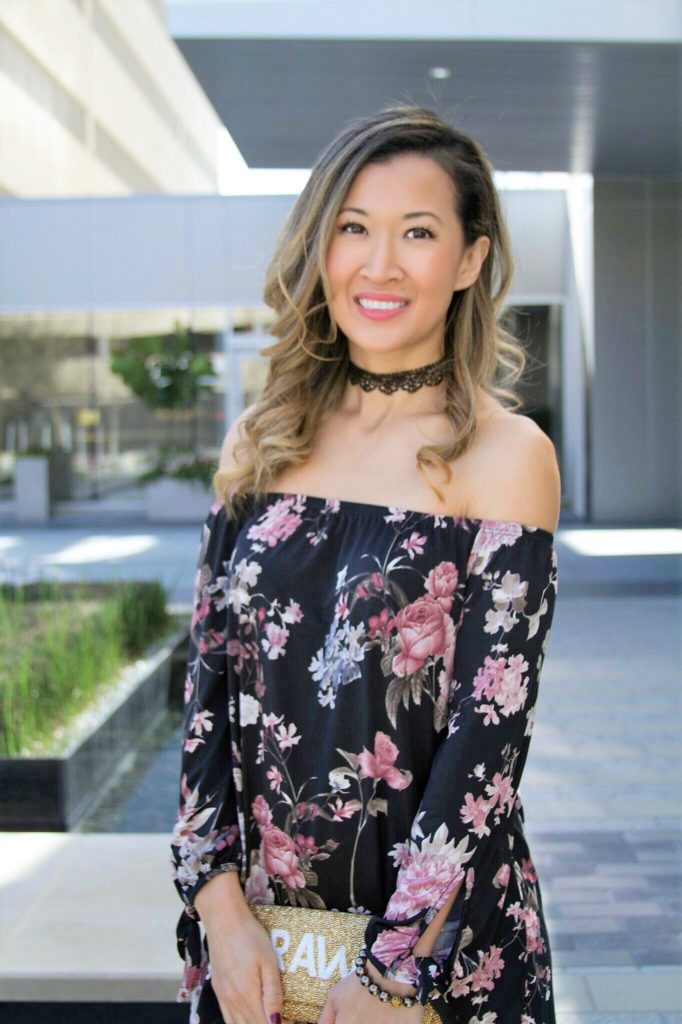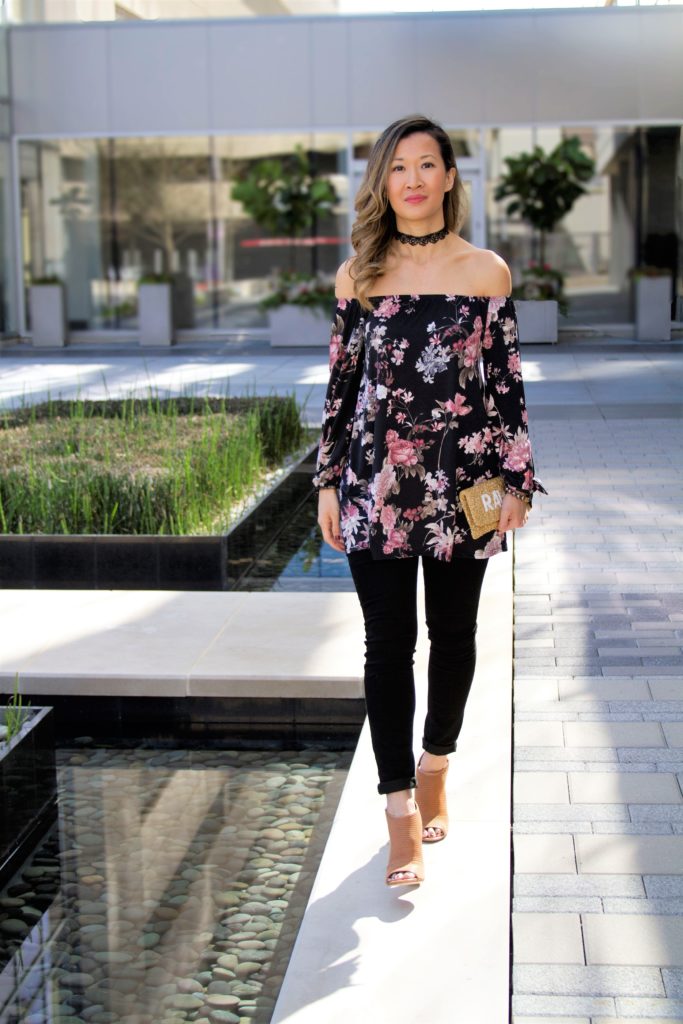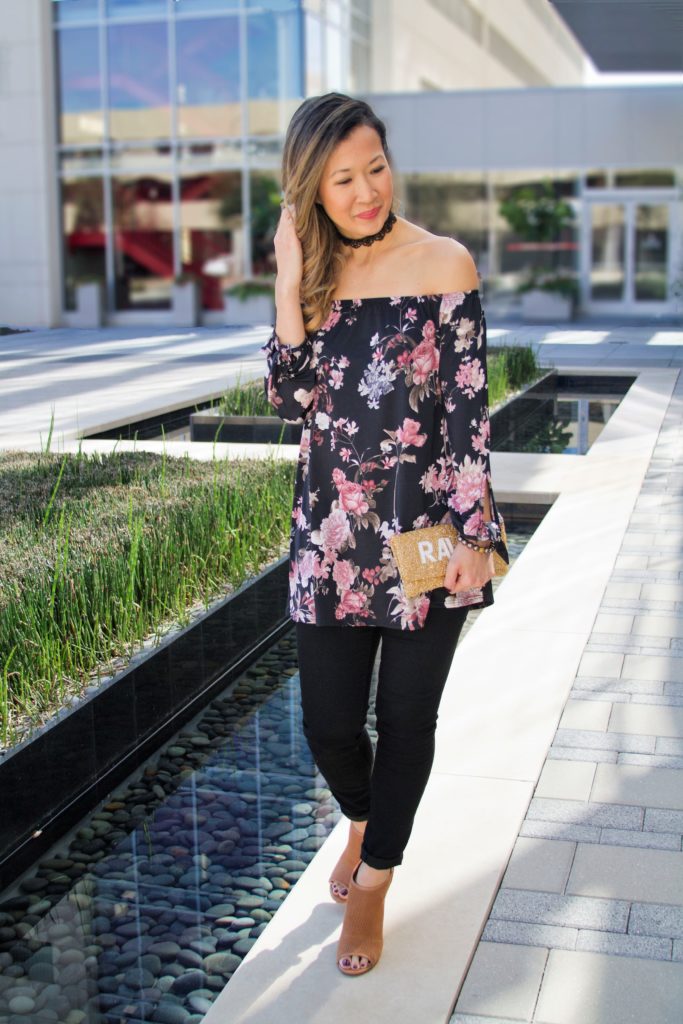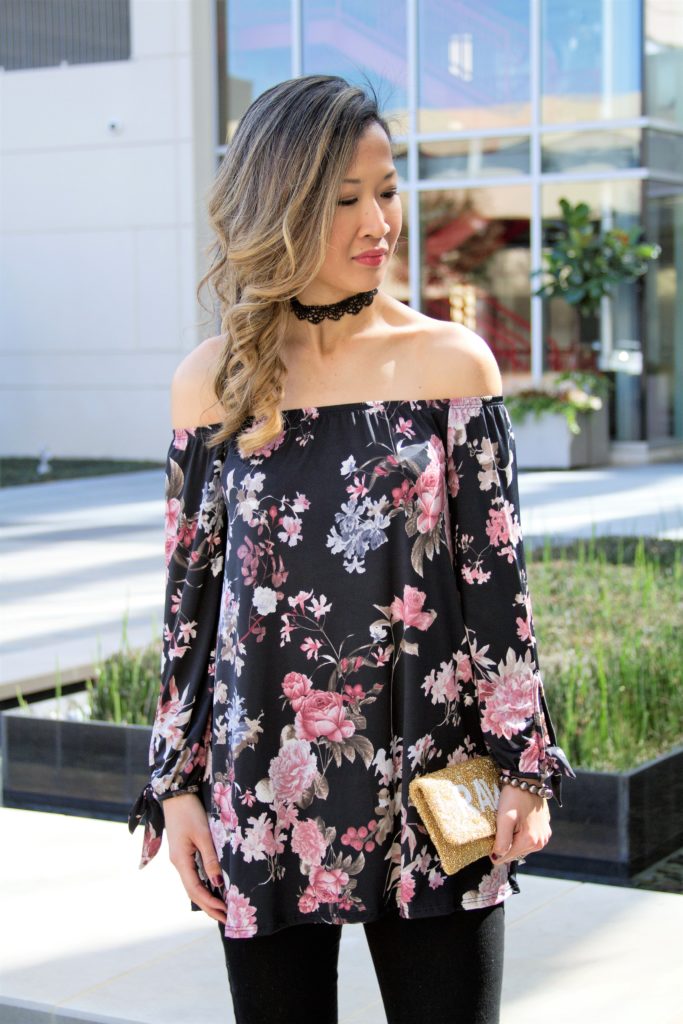 Oh Spring, I can already see you peeking through and I am SO excited!  I may be a Fall weather kinda gal, but I love how Spring brings forth new life and fresh blooms each year.  One of my resolutions this year is to reconnect with my girlfriends and get out more often. I don't know if it's the natural introvert in me that secretly loves staying home in my jammies or the fact that I'm too exhausted from momlife to even make it past 9 o'clock, but gosh – I sure miss girl time with my ladies.
Although getting ready is definitely work for me (because real talk – I don't just magically wake up looking like this. I am not a unicorn.), I always feel so amazing afterwards when I see my friends or get out to mingle with my local blogger babes.  What I REALLY love is how understanding they all are and even if I haven't seen them in months, we're able to pick up right where we left off.  That, my friends, is true friendship.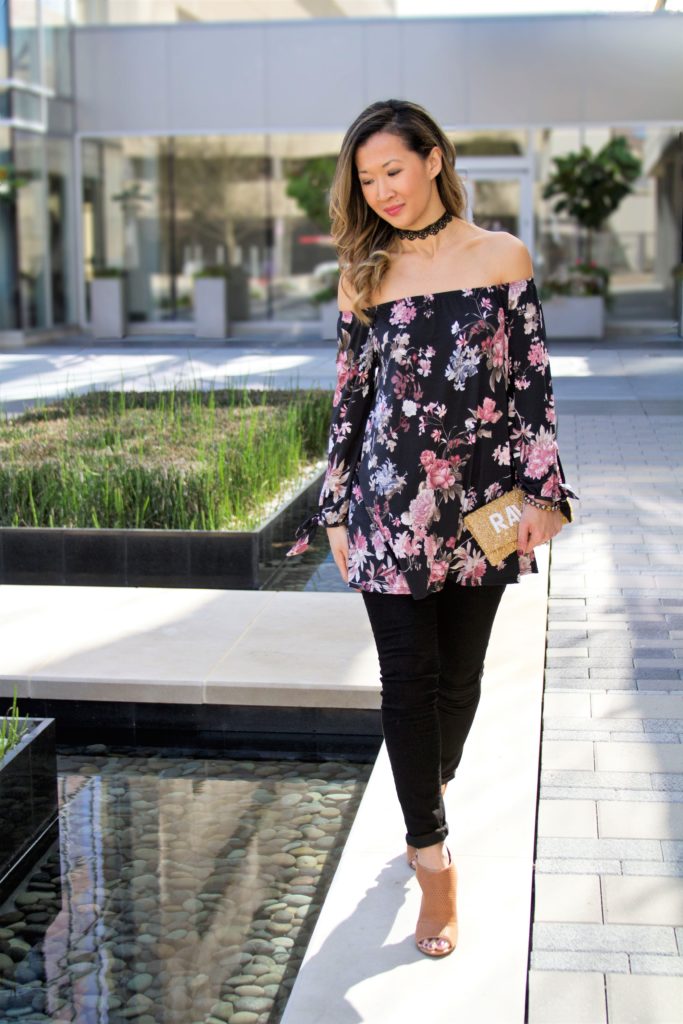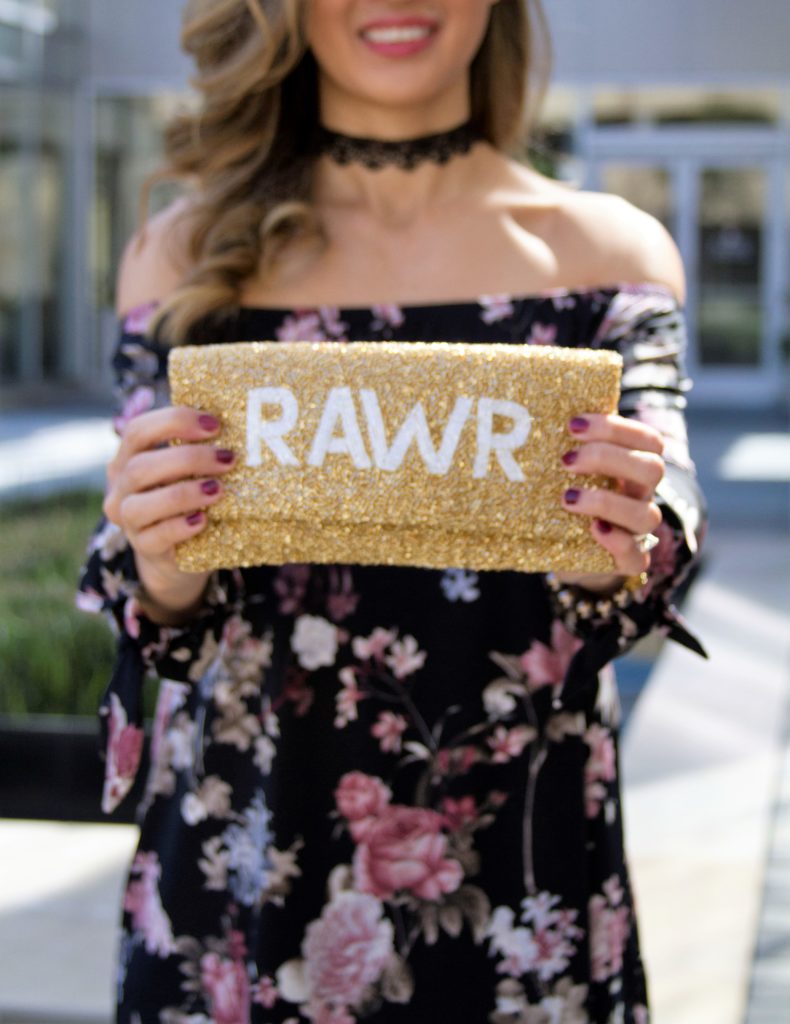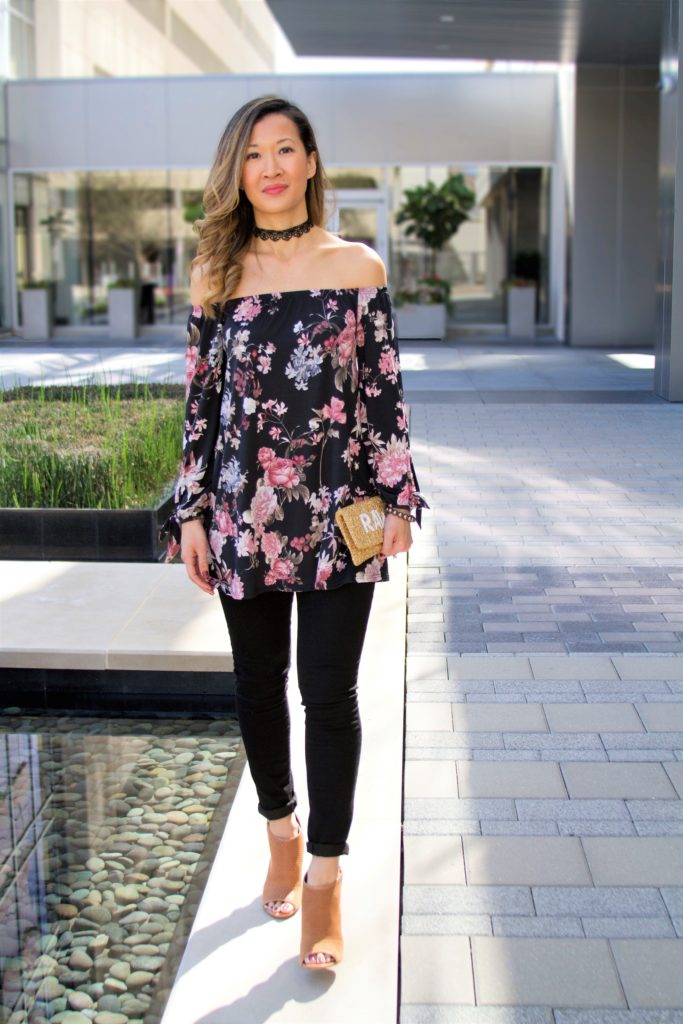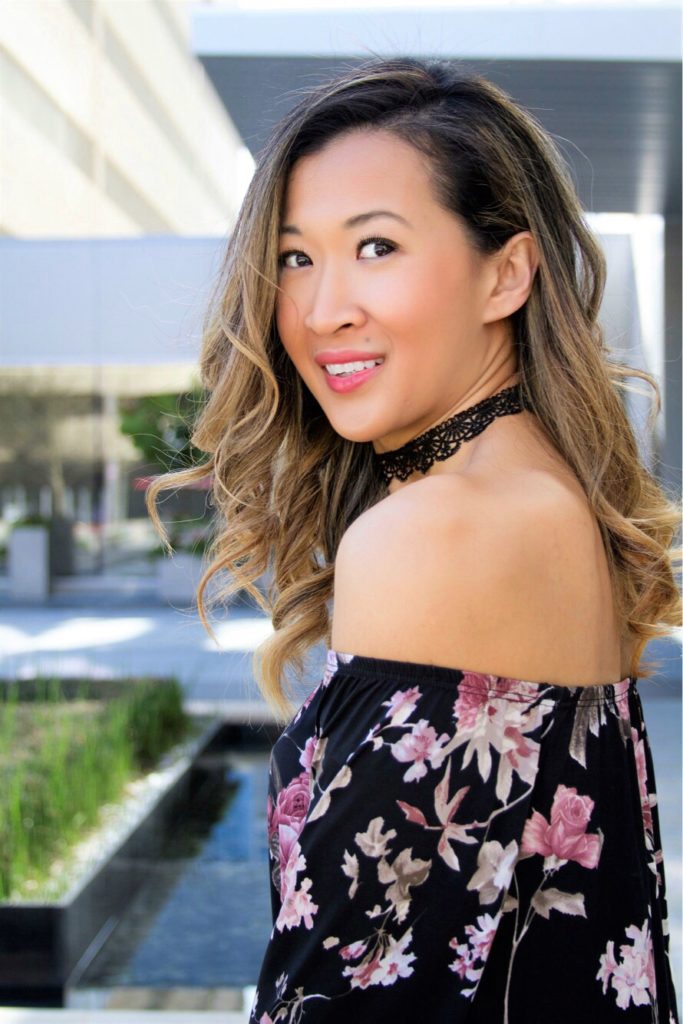 This outfit is the perfect transitional look into Spring for a date night with your girlfriends (or main squeeze).  It's the perfect mix of classy meets sexy and trendy all thanks to this beautiful off the shoulder floral top.  Pink Blush has been a long time favorite of mine since my preggo days with the girls because they also carry a maternity line with the prettiest pieces. I love anything off the shoulder and this floral print is so so pretty. It runs true to size (I'm wearing a small) and I LOVEEEE that it fits so well.  Sometimes off the shoulder tops are tricky because they can either ride up your arm or slouch too much making it uncomfortable to wear.  Not this one.  I also love the perfect amount of flow (aka room for my tummy area) and length.  If you're more on the petite side and worry it may be too baggy, add a cute belt to cinch in the waist for a more polished look.
The black color gives it a more evening vibe so I paired it with these awesome Old Navy Rockstar Jeggings and rolled the bottoms to show off my block heels.  I purchased these on super sale at Aldo a few months ago so make sure to snag them now because they're 50% off and sizes are going fast.  Block heels are a girl's best friend!  Not only are they cute, but they give you that added support to dance the night away. You will definitely be seeing these on repeat for Spring!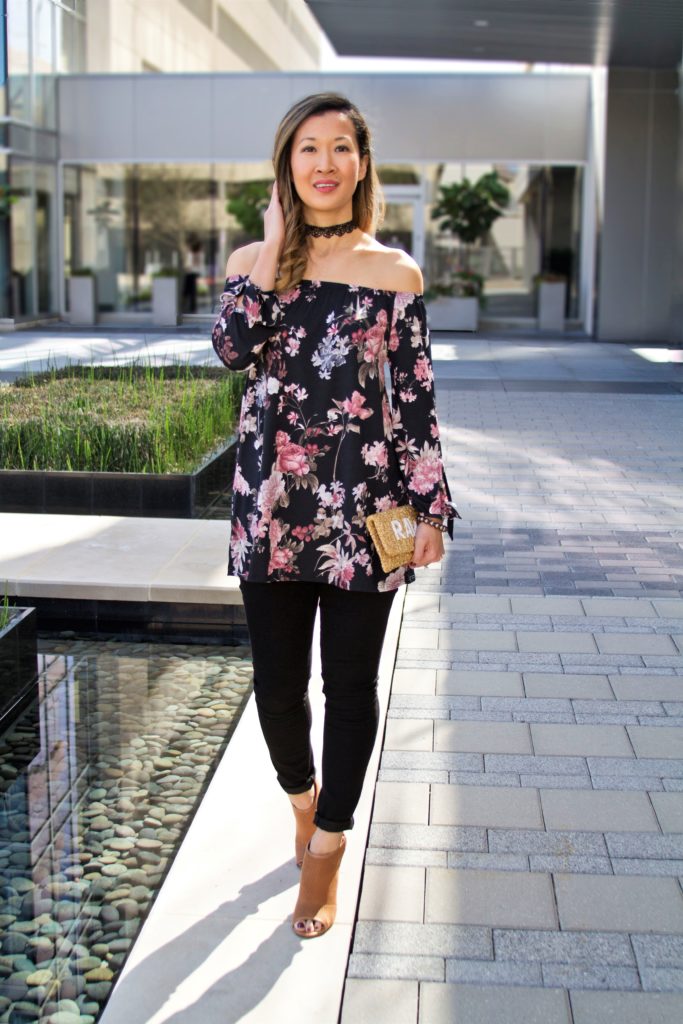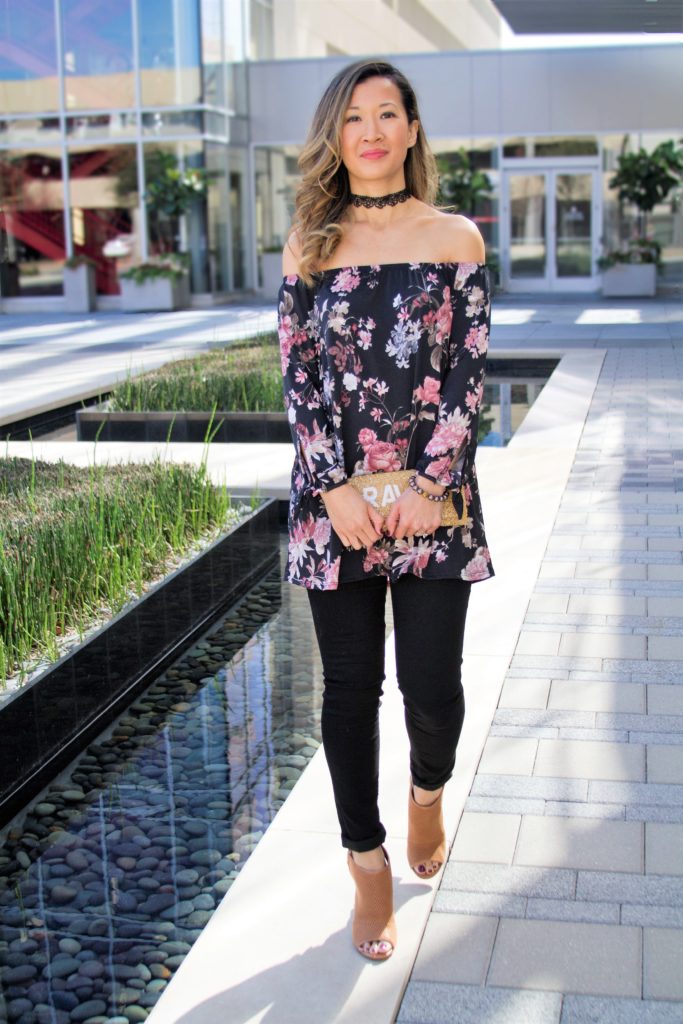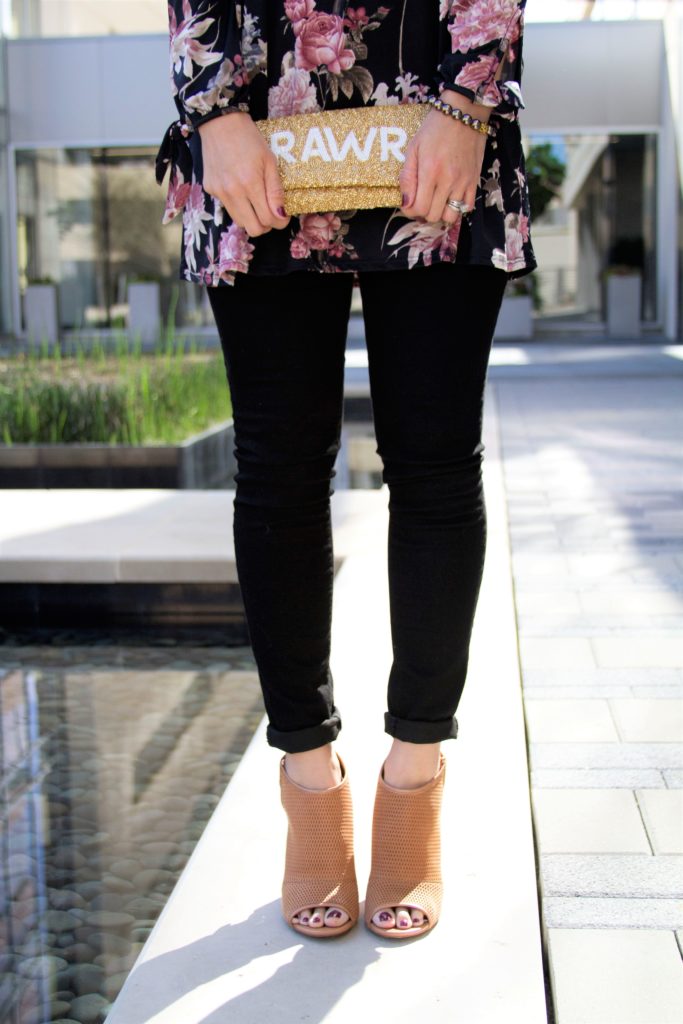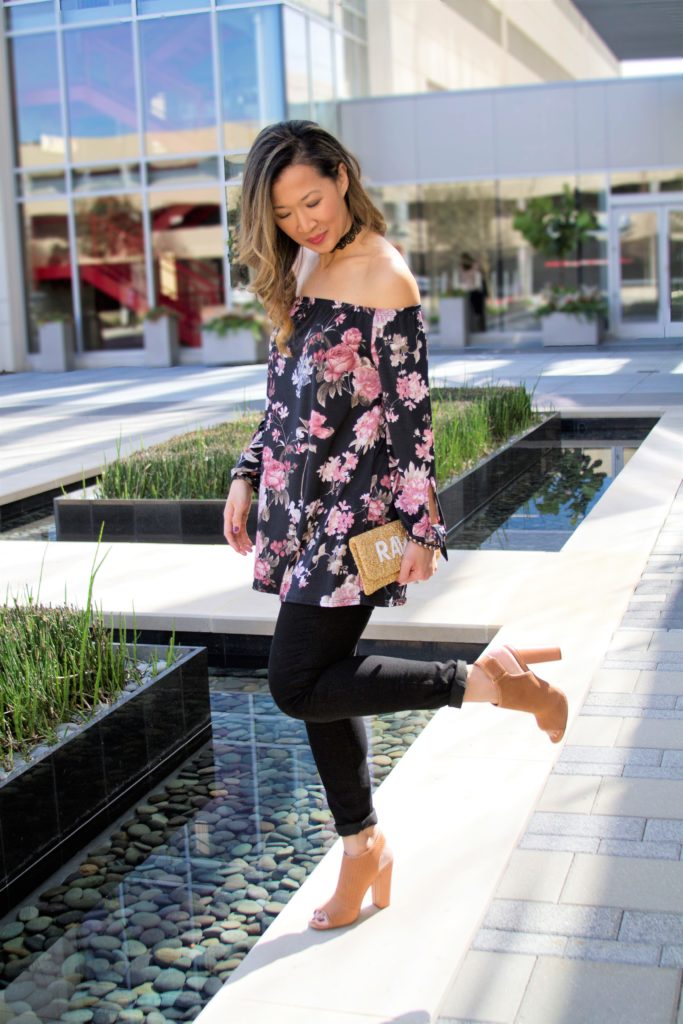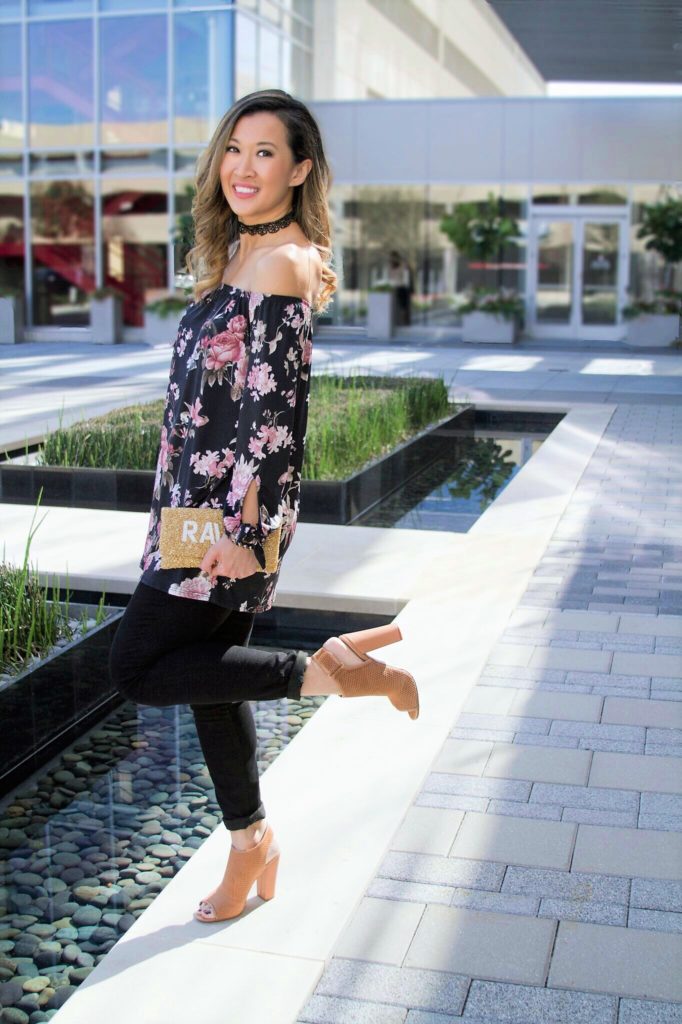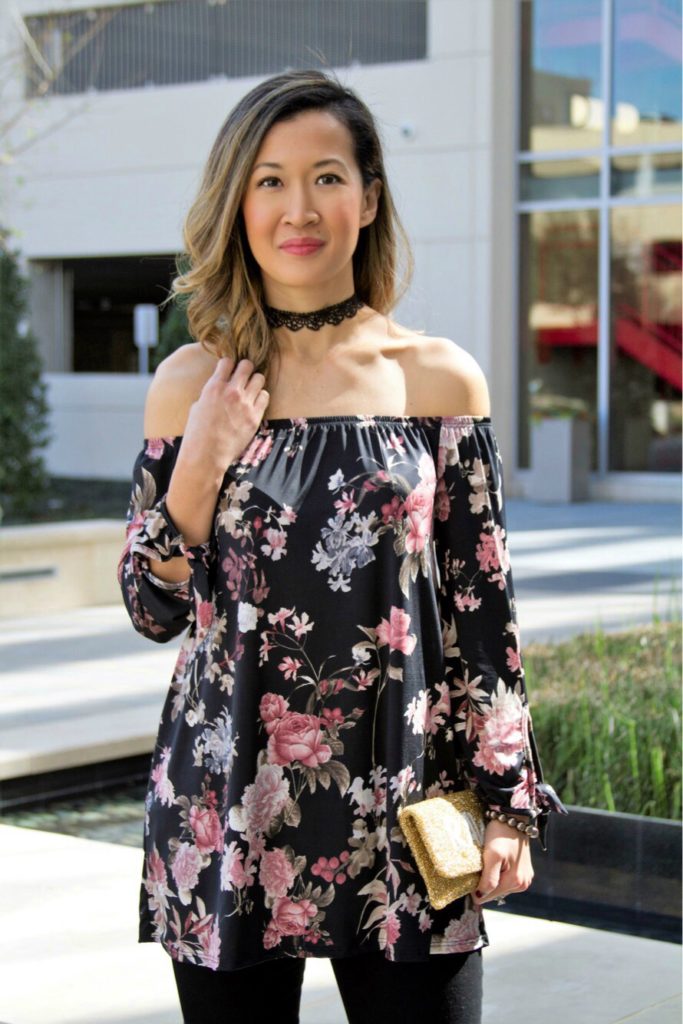 Affiliate Links: c/o Off the Shoulder Top | Jeggings | Shoes | c/o Beaded Clutch | Choker (similar on sale!) – HERE & HERE
You know I'm a HUGE fan of chokers (hello – 90s girl here!) and cannot stop wearing this one because lace wins my heart.  I got this one from Forever 21 a while back and linked 2 great option above- both ON SALE! And this beautiful beaded clutch was a present from my hubby for our anniversary from a local small shop in Katy, TX.  Brittney can customize your clutch to just about any color, design, and personalized monogram or saying you want and the quality is AMAZING!  Mine says "RAWR" on it because naturally, my blog 🙂 I can't wait to wear this outfit out for date night!
Now for some goodies!  This week I am teaming up with an amazing group of ladies to bring you an INCREDIBLE giveaway. One lucky reader will win a $1,000 gift card to Target.
Money Can Buy Lipstick | Ashley Brooke Nicholas | Diary of a Debutante | Mash Elle | Coming Up Roses
Boho Chic Cafe | Her Heart & Home | Sandy A La Mode | Glitter & Gingham | With Love From Kris
Sunsets & Stilettos | The Polished Posy | xoxoBella | DTK Austin | Classic & Bubbly
Chasing Cinderella | Life By Lee | Head to Toe Chic | Lipgloss and Crayons | Style On Edge
A Vintage Splendor | The Lipstick Giraffe | I'm Fixin' To | Wild One Forever | Styled Adventures
Just Add Glam | The Closet Crush | South Coast Style OC | Posh in Progress | Urban Blonde
Wishes & Reality | Style Tab | Vandi Fair | Ashley's Passion for Fashion | RD's Obsessions
A Beautiful RAWR | Blush & Blooms | Topknots and Pearls | Toreys Treasures
Enter above and good luck, lovelies! Thanks so much for taking the time to read this post.  If you haven't already, be sure to subscribe to the newsletter so you get first dibs on all the posts and announcements!
Photography by: Hayley Jackson Photography