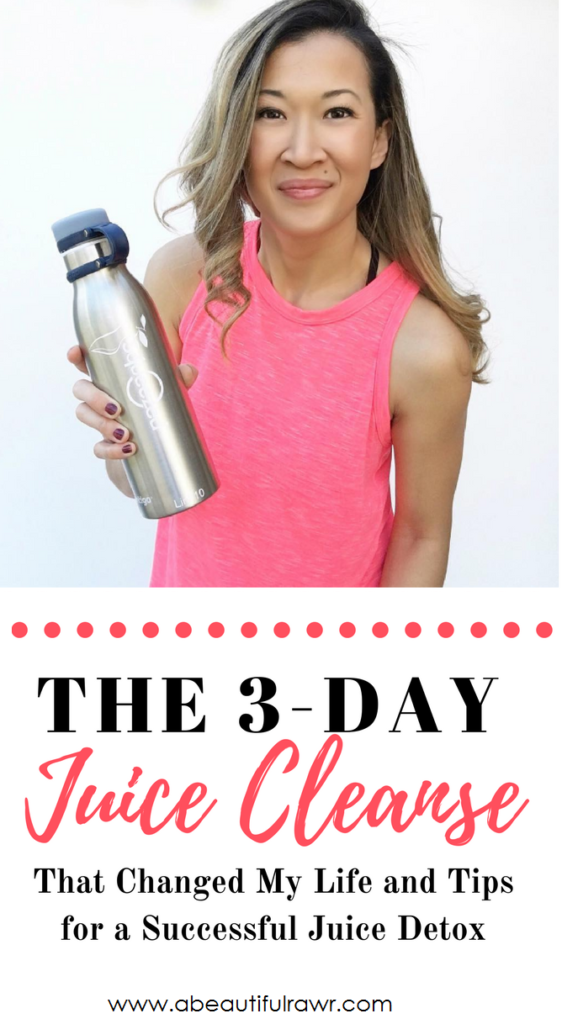 About a week ago, I finished a 3 day juice cleanse that changed my life and wanted to share my results with you.  This is actually my second time doing a juice detox from Squeezed.  I did one a couple years ago that you can read all about HERE.  It recaps my review of the local company as well as my experience from the 3 day juice detox and what to expect if you're new to juicing.  Unfortunately, my photos won't load ever since I updated my blog, but it has a ton of helpful information. I had AMAZING results with my first juice cleanse and thought this would be a natural, great, and effective way to reset my body and mind back into gear.
The reason I decided to complete another cleanse was because lately, I was feeling really sluggish and off my game.  Not only was my energy level at an all time low, but I was making a ton of unhealthy meal choices which caused water retention, bloating, and a major addiction to sugar and caffeine.  I knew I had to make a change right away, but I needed help.  That's when I remembered my juicing detox with Squeezed.  I ordered the same 3-day detox option as last time, but added the "spicy" option to help with my metabolic rate and had them deliver it to my house on the selected date.  I was so sure I was going to catch them this time, but I swear they are ninjas!  I have dogs that bark at the sound of just about anyone/anything remotely close to our house and even they didn't hear anyone come to our doorsteps to drop off the package.  Everything was delivered by 6am and I started my cleanse the next day.  It wasn't easy, but you know what? It was EXACTLY what my body needed.  Here are the before and after photos from my 3-day juice cleanse with Squeezed.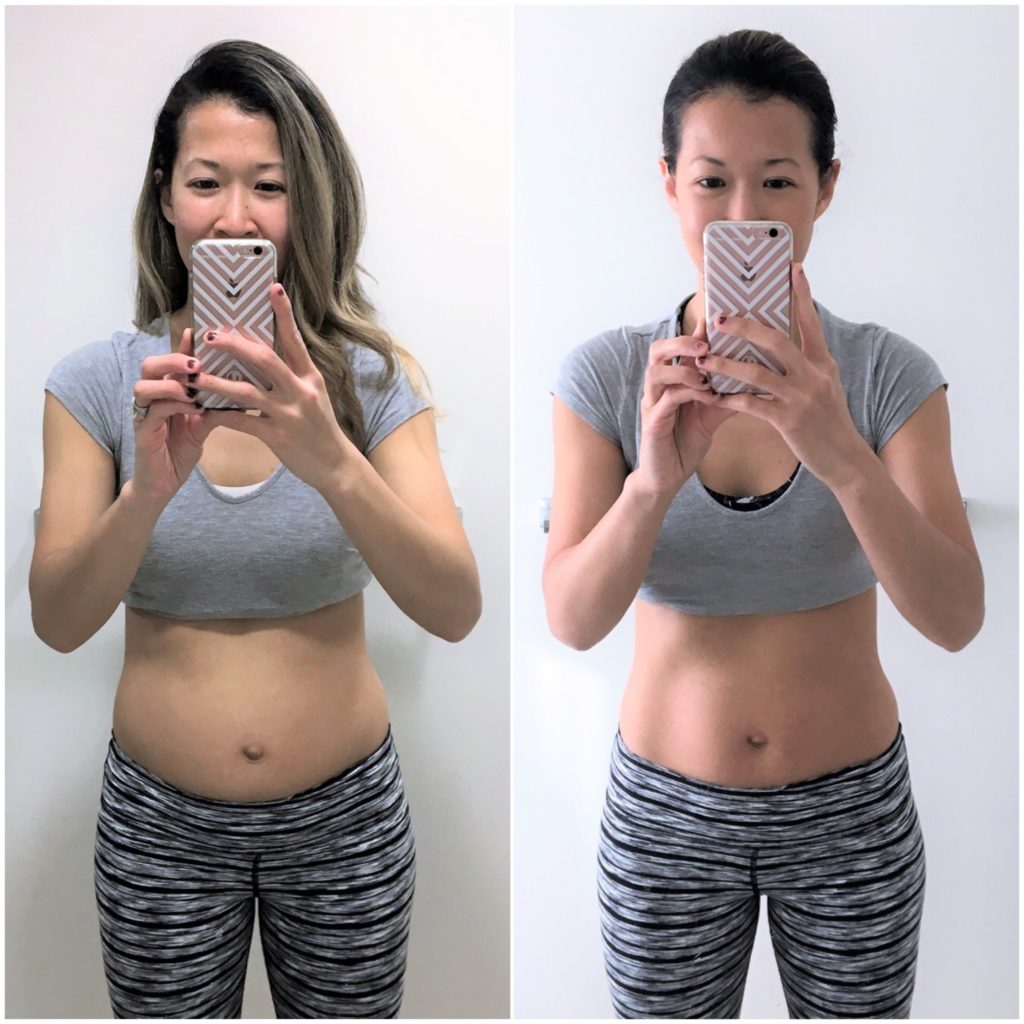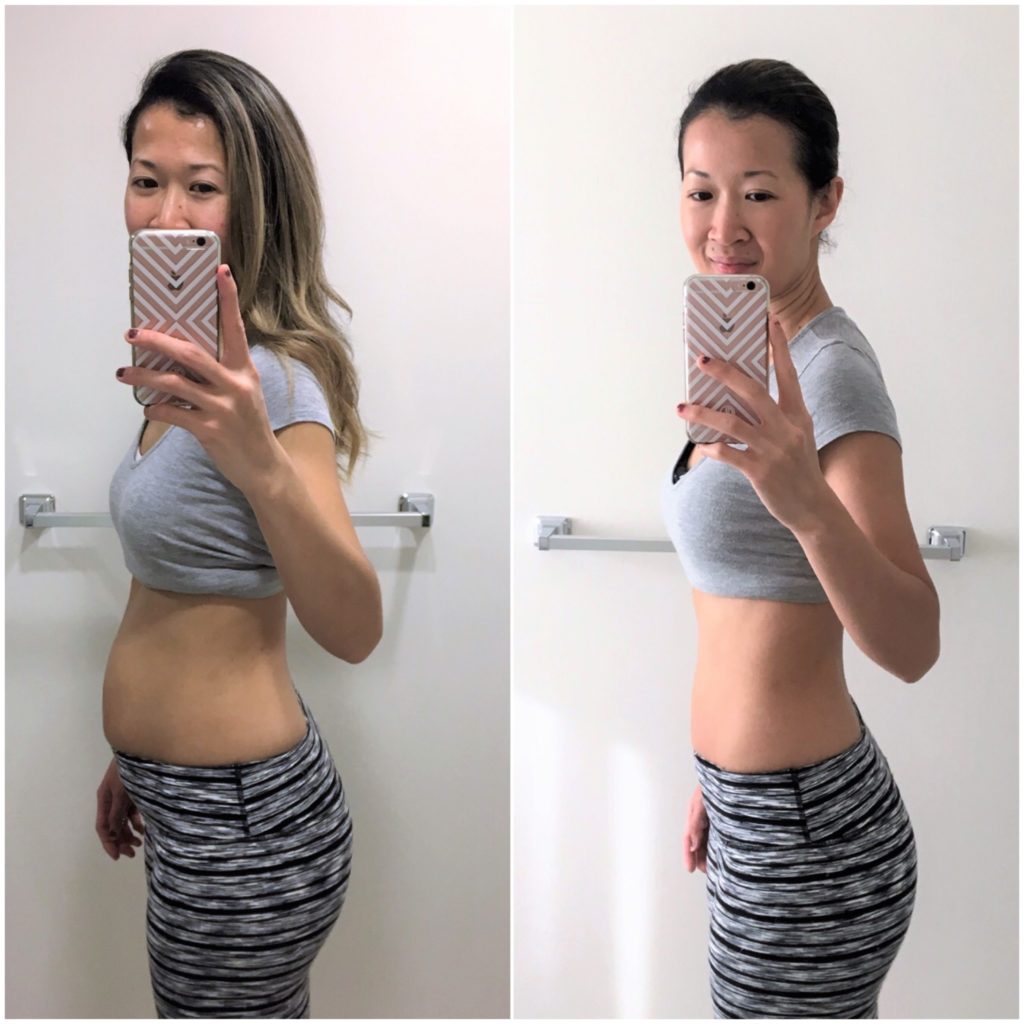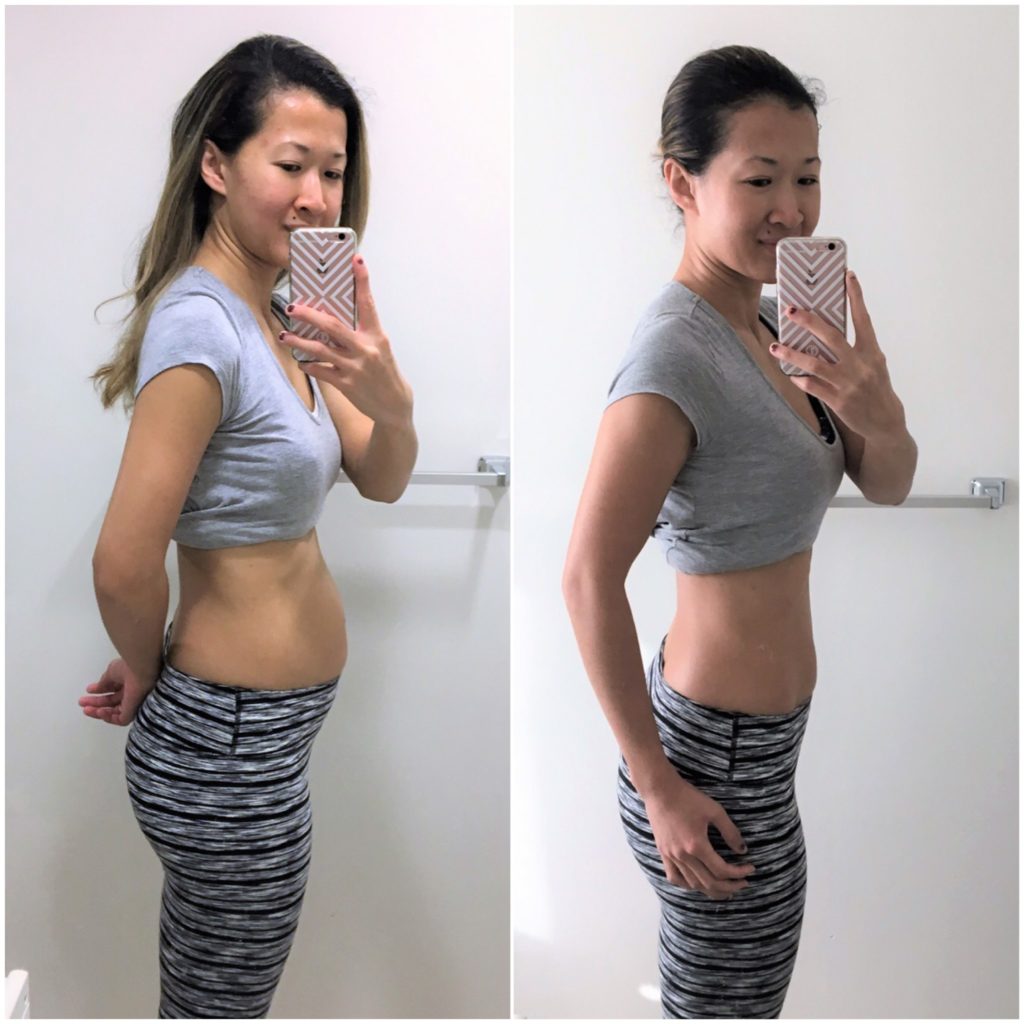 The proof is in the photos guys.  If you were skeptical about whether or not juicing works, I am here to tell you that IT DOES!  I'm not sure if I would recommend it if your #1 goal is to lose weight because there are definitely other healthy ways to lose the pounds and keep it off, but I love that this juice cleanse kick started me in the right direction.  Overall, the biggest improvements I saw with my detox were:
(1) A SPIKE IN MY ENERGY – I've been working out every day since I started the detox and my goodness I feel amazing.  During the detox, I did a 20 minute run followed by 20 minutes of interval training each day and still had energy to get through the rest of the day.  I was able to try the strawberry cashew milk and the cacao cashew milk which I drank after my workout and HOLY MOLY it was yummy!  I am not a fan of any kind of milk and I was so pleasantly surprised at how good it was.  I would HIGHLY recommend getting this as part of your plan if you lead an active lifestyle as it provides added substance and amino acids to help the body rebuild after physical activity OR if you're worried about being hungry during the cleanse. I will definitely add this to my plan next time.
(2) THE SUGAR & CAFFEINE ADDICTION IS GONE!  Sometimes going cold turkey does the trick and I have this juicing cleanse to thank for that.  While I did treat myself to a cup of coffee after my cleanse was over, I was actually not even craving it.  And, I am happy to report that I have been drinking almost a gallon of water every day since the detox.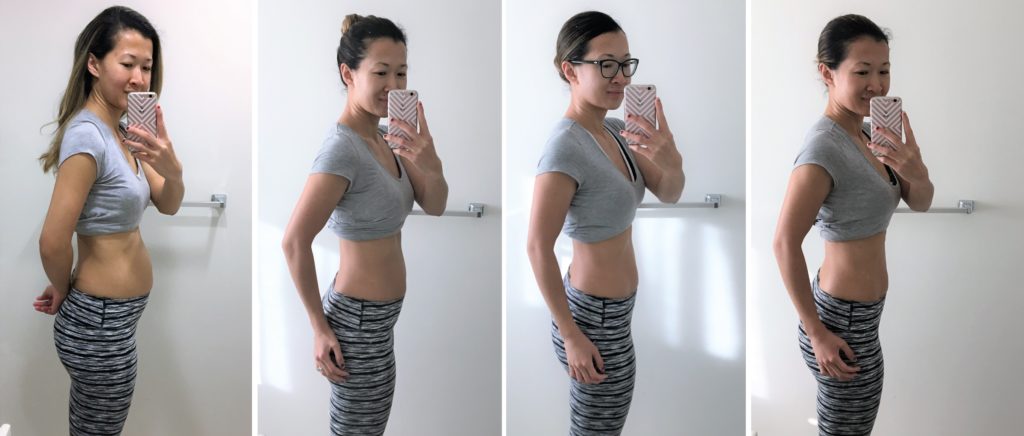 (3) BYE BYE BLOATING!  I think the photos speak for themselves.  Bye bye water retention and bad toxins!  I lost almost 4 lbs (which I'm sure is water weight), but my tummy is flatter and I feel great. Above are the progress photos of each day.
(4) BETTER EATING HABITS – I've been more mindful of what I'm consuming with each meal/snack and it has made such a HUGE improvement on my fitness progress. I don't feel as hungry and when I go to the frig for a snack, the options that entice me the most are (surprisingly) the healthy ones. I'm eating smaller portions throughout the day to fuel my body and I know in the long run, this is going to do wonders for me as I continue my fitness journey.
(5) I'M SO MUCH HAPPIER – Thanks to this cleanse, I was able to get the "push" I needed to start feeling like myself again. I know it sounds silly, but I've come to realize that I'm the happiest when I am mentally and physically healthy.  By resetting my body, I was able to get my energy back, start working out again, and focus on putting good nutrients back in my body.
Was it easy? Heck No!  In fact, it was even harder this time around because of my kids (aka – the snack monsters), but with a little will power, it IS possible.  I rounded up my best tips to help you survive a juicing cleanse.  Whether you're a newbie or a juicing expert, I think these tips can help anyone detox like a pro.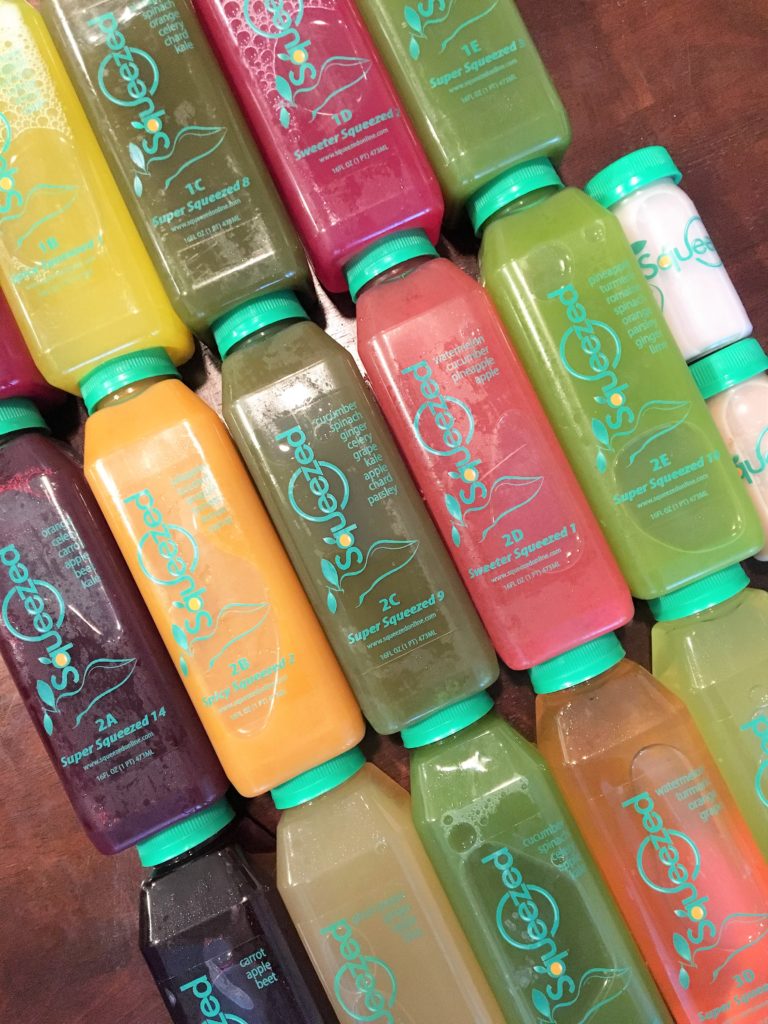 [ TIPS FOR A SUCCESSFUL JUICE CLEANSE ]
GET YOUR MIND RIGHT – Mentally preparing yourself is so important!  I am going to tell you right now – it is flippin' hard.  And, if you have kids, it just got 100x harder because there's no escaping food at any moment of the day because they are snack monsters.  I am sending you all my prayers because it will take every ounce of will power not to eat the scraps off their plates or lick their spoons because trust me – those thoughts will come across your mind.  The hardest part for me, though, was temporarily breaking up with Starbucks.  No caffeine for 3 days? Lord help me.
START AT THE BEGINNING OF THE WEEK – Set yourself up for success by starting your detox at the beginning of the week. You are more likely to stick with it and stay committed without the distractions of weekend plans, dining out, parties, etc.  Also, I would avoid upcoming holidays or special events (i.e birthdays, weddings, etc).
BE CONSISTENT – Try to consume the juices at the same time each day so your body adapts to it.
STAY BUSY – This helped me out a ton!  By staying active and busy, I was not only burning more calories, but it took my mind off food.  I went to the park, took long runs/walks with Matea, went to the mall, organized our closets, cleaned my car, and so much more. I tried not to veg out on the couch because I knew that would eventually lead to chips and dip or me stuffing my face with chocolate.
STAY HYDRATED – Make sure you are drinking plenty of water in addition to the juices you are consuming!  This helps curb your appetite while flushing out all the toxins in your body. I am not a huge fan of plain water so I made my own infused water with whatever fruits I had at home.  Another great trick I did was dilute the snack juices Squeezed provided and it worked great.  Plus, because I chose the spicy version, it added a little kick to my drinks which I loved.
DOCUMENT IT – I snapped a photo of myself every morning so I could see my progress.  It's so hard to actually see your body changing each minute or hour, but these photos are evidence that it really does work.  Plus, I used the photos as motivation to keep going.
THE BUDDY SYSTEM – Juicing with a friend is always more fun!  You can even make it into a friendly competition to help keep you motivated.  Or, have your spouse on board as a cheerleader to help you stay on track with your goals.  Having the buddy system is so important especially for those moments of weakness.
IT'S ONLY TEMPORARY – Look.  You need to remind yourself that there will be an end to the cleanse.  3 (or 4 or 7) day of detoxing will not kill you.  In fact, it will do your body some major good!  There is an end at some point and then you can go back to eating again (only this time hopefully it'll be healthier and cleaner options).  Think of how proud you'll be for sticking with it and the great results you'll achieve from the cleanse.
DON'T GIVE UP – This one is SUPER important.  If you cave and accidentally eat that donut you weren't supposed to, don't throw in the towel just yet!  Your detox is not a lost cause.  Slip ups happen so brush it off and move on.  But don't give up.
* * * * * * * * * *
I hope that by sharing my juicing experience + tips for successfully completing a detox, you'll give juicing a try.  It completely changed my body and mind in the best way possible.  If you're in the Houston, San Antonio, Austin, and Dallas area, be sure to support this amazing Texas-based business.  I absolutely LOVE Squeezed and would recommend them to anyone I know. Shop their juices online, select what date you want the delivery, and enjoy their yumminess.  It's seriously that easy.
And most importantly, use code 'LINH15' to get 15% off your entire order.
Squeezed Site | Instagram | Facebook | Twitter
I'd love to hear if your thoughts and experiences about juicing.  Did you like it?  How often do you juice?  Thanks so much for reading this post guys!  Make it a beautiful day!