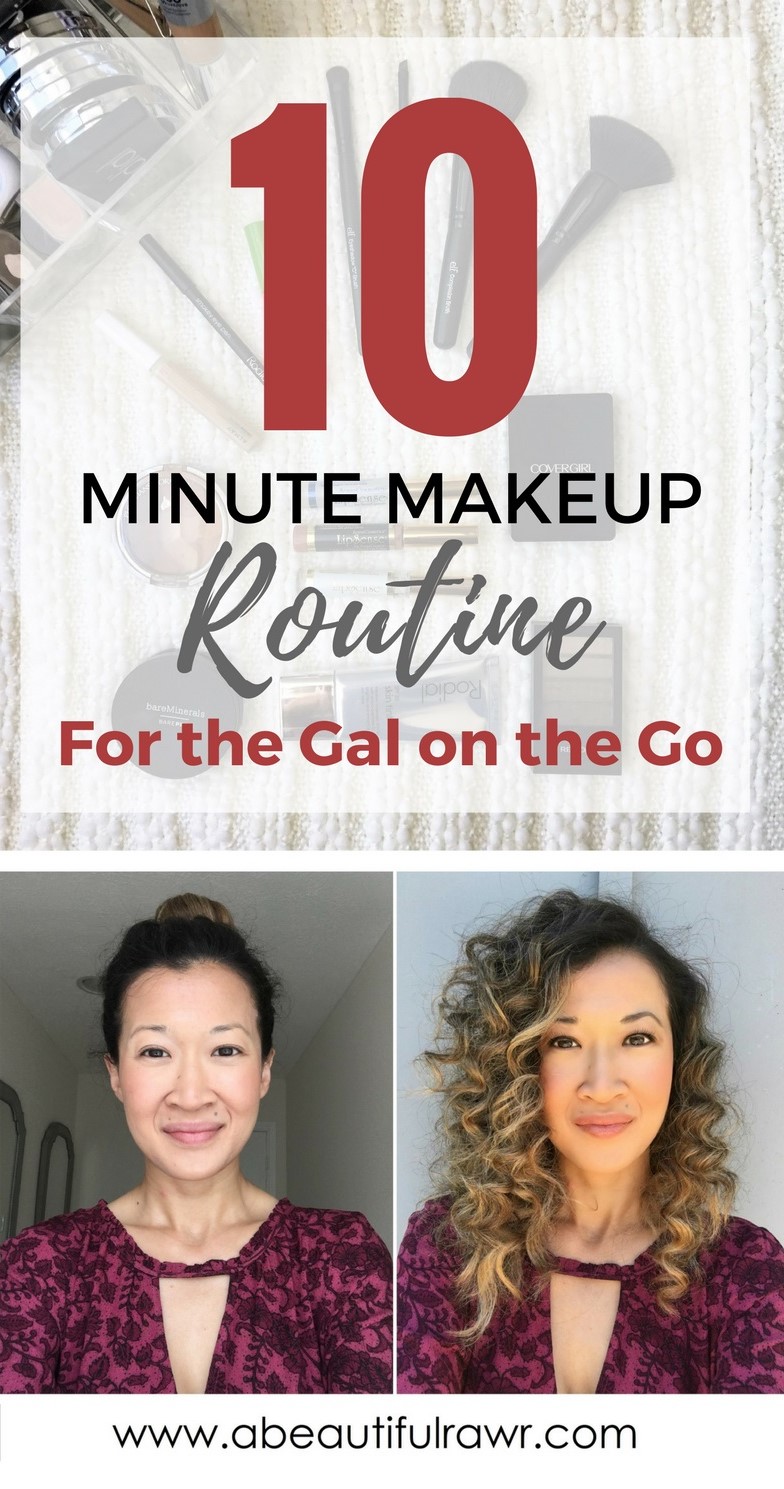 Good morning, loves! I'm excited about today's post because it's been a hot minute since my last beauty post.  While I'm no beauty expert, there are some products I am LOVING right now that I wanted to share with you. Most of them are really affordable drugstore makeup products that I use to achieve this 10 Minute Makeup Routine for the gal (or momma) on the go.  As a busy mom of 2, I don't have a lot of time to spare.  Part of that has to do with trying to get everyone dressed, fed, changed, and packed to get out the door in the morning.  The other reason?  I usually only have a 5-10 minute window before my girls realize I'm "gone" and raid my room where they proceed to get into everything.  Everything. It's like trying to brush your teeth with oreos. Moms – you know what I'm talking about. Ha!  Anyways, I've mastered this 10 minute makeup routine to achieve my everyday makeup look with these products and I hope you'll enjoy learning about some of them.
[ B E F O R E ]
[ M A K E U P  P R O D U C T S ]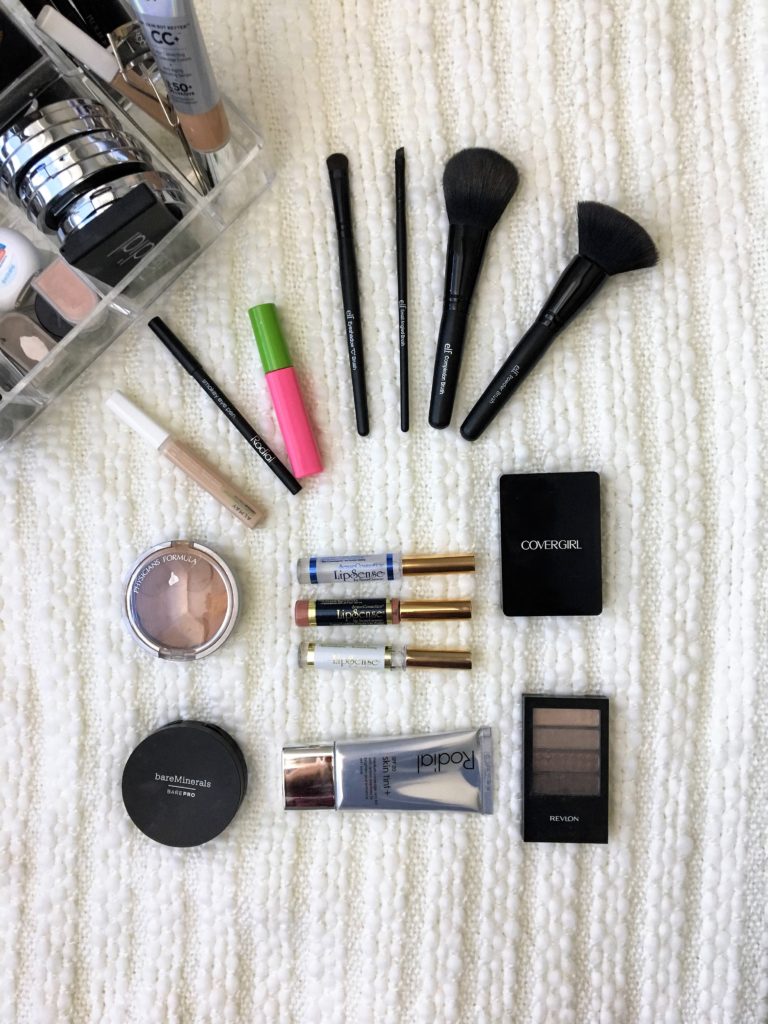 After a squeeky clean and moisturized face, this is the order in which I apply my makeup.  But let's talk about the brush set first.
E.L.F. Cosmetics Brush Set – This is their best selling brush collection and comes with 11 brushes for all your needs.  It's only $30 and comes with a water resistant case with plenty of extra room to fit some of your other products (ie eyeliner, mascara, etc).  I personally love it because of the pre-selected assortment which helps me since I'm not a beauty expert.  I use these 4 brushes daily (Powder Brush for my blush, Complexion Brush, Small Angle Brush for my brows, and Eyeshadow Brush) and some others for special occasions.
Rodial Skin Tint + SPF20 (Shade: Hamptons 02) – I cannot rave enough about this tinted moisturizer!  I actually use it as my foundation because it's medium coverage and buildable for places that need more coverage.  Why do I love it?  Because it literally feels like I have nothing on my skin.  I hate "feeling" my makeup – know what I mean?  It blends so well and gives my skin a slightly dewy look.
Almay Clear Complexion Concealer (Shade: Light/Medium 200) – I've been using this for at least a year and really like how affordable it is.  It covers my blemishes and has helped reduce redness on those stubborn breakout spots.
bareMinerals Bare Pro (Shade: Sandstone 16) – Ever since having Matea, I started having random breakouts so I love that this controls shine around my t-zone area, doesn't clog my pores while reducing the appearance of it, and leaves my skin with this photo-ready matte finish.  I apply it after the Rodial Skin Tint and they both work so well together.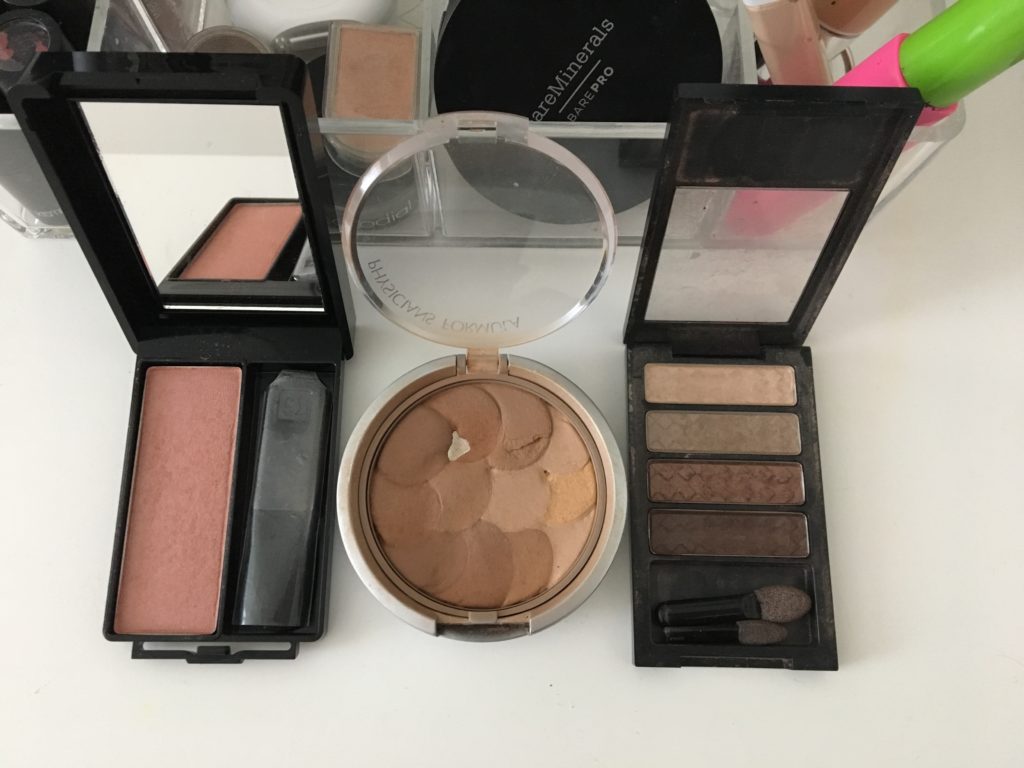 Physician's Formula Light Bronzer – LOVEEE how this gives my skin a nice subtle glow without that orangey look. I use the Complexion brush to apply this under my cheekbones and the sides of my nose for that contoured look.  This color is so great for a lot of skin tones and as you can see, I definitely look more tan on the 'after' photo.
CoverGirl Classic Color Blush (Shade: Soft Mink) – This is my go-to blush for everything!  I have used it for years and the color is just the prettiest. And guess what – it is a super close dupe for the famous NARS 'Orgasm' Blush and way less expensive. I apply this on the apple of my cheeks and just a touch on the tip of my nose with the Powder Brush.
Revlon Colorstay (Coffee Bean Palette) – I love this neutral color palette and linked a very similar one.  For this look, I used the 2nd color and bottom (darkest) to achieve a little more "drama" for today's look 🙂 If I were going for the nude look, I'd probably just use the top one along with eyeliner and mascara.
Rodial Smokey Eye Pen – Rodial does it again!  Just love this eyeliner because of it's super high pigment and how smoothly it glides on when I apply it.  Mostly importantly though, it doesn't leave me with raccoon eyes – a major issue I contstantly have to deal with.  It stays put and even after I wash my face, I have to use a good eye makeup remover to get it off. I also dab this on my angled brush and use it on my eyebrows!  One day soon I'll get microblading, but in the mean time, this does the trick for more shapely brows.
Maybelline Great Lash Mascara (Shade: Black) – I am seriously so surprised at how good this mascara works for me.  I apply 2 coats and it adds gives my lashes a nice length and thickness without all the clumps.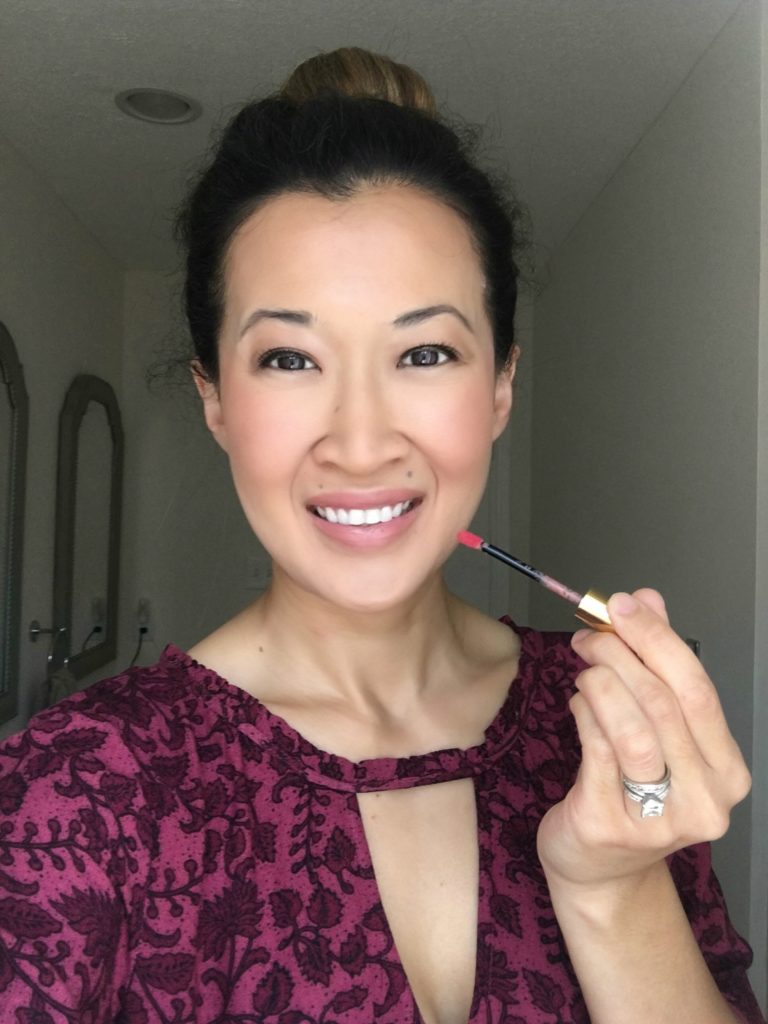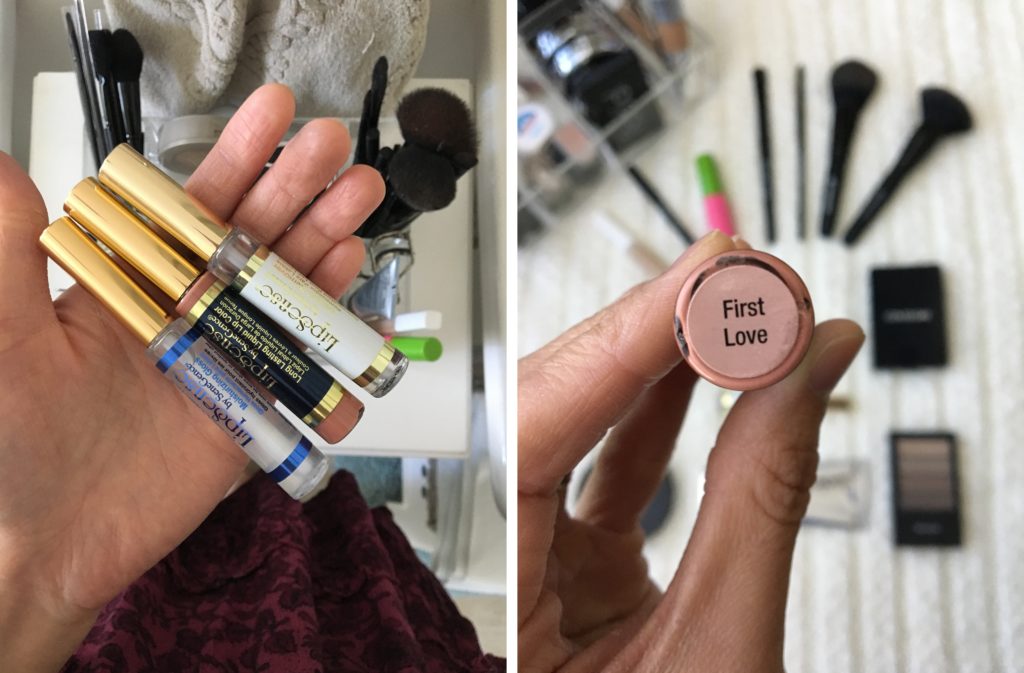 Lipsense Lip Color (Shade: First Love) – The very last thing I apply for my 10 minute makeup routine is my lip color. When my sweet friend, Mae asked if I wanted to try out Lipsense, I couldn't say no.  I was really intrigued by what all the craze was about since this brand has BLOWN UP in the last year! I mean I can't even scroll through my Facebook or Instagram feed without seeing at least 2-3 photos of all the pretty Lipsense products and thought this would be the perfect opportunity to test them out. She sent me this really pretty neutral color called 'First Love' and the verdict is in – I'm a fan! You start off with clean dry lips, then apply 2-3 coats (with 10-20 seconds rest in between), and that's it!  This color lasted me ALL DAY LONG and did not rub off.  I was seriously amazed.  I even kissed Matea all over her face to test it out and nothing.  The other two tubes are the moisturizing balm and a correcting one in case of any mistakes. If you haven't tried Lipsense, you are totally missing out!  I will definitely be adding this color into my rotation of favorite lip colors to wear for my everyday look.  These would make such a cute Mother's Day gift if you're thinking of putting together a gift package for your mom or MIL.  Get in touch with Mae to pick out your colors and tell her I sent you over 🙂
So there you have it – my 10 Minute Makeup Routine with all my of my favorite beauty products.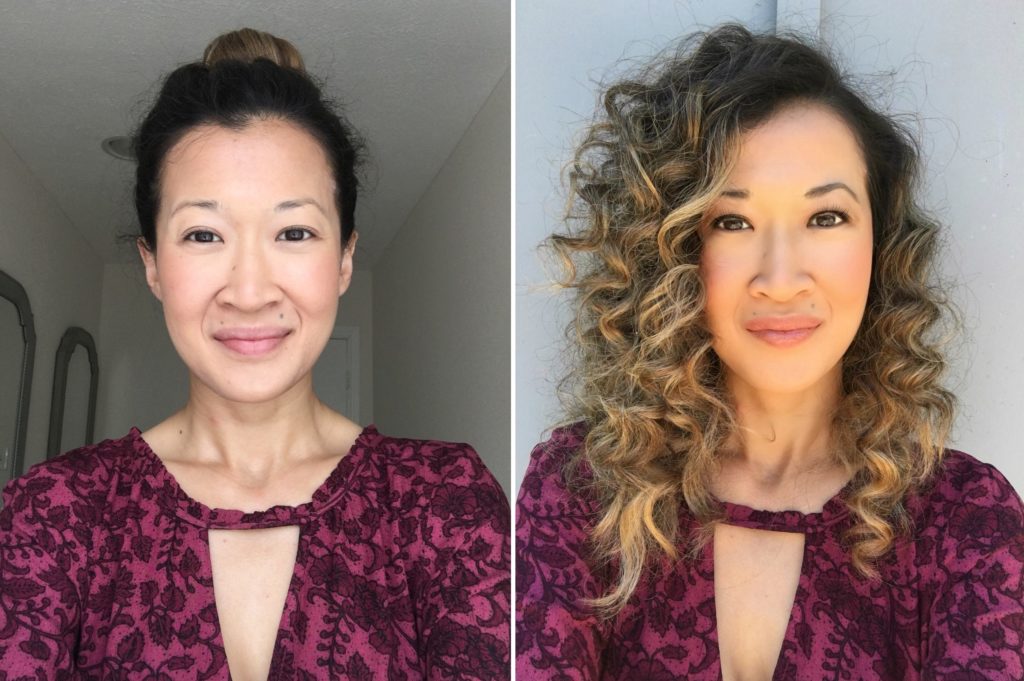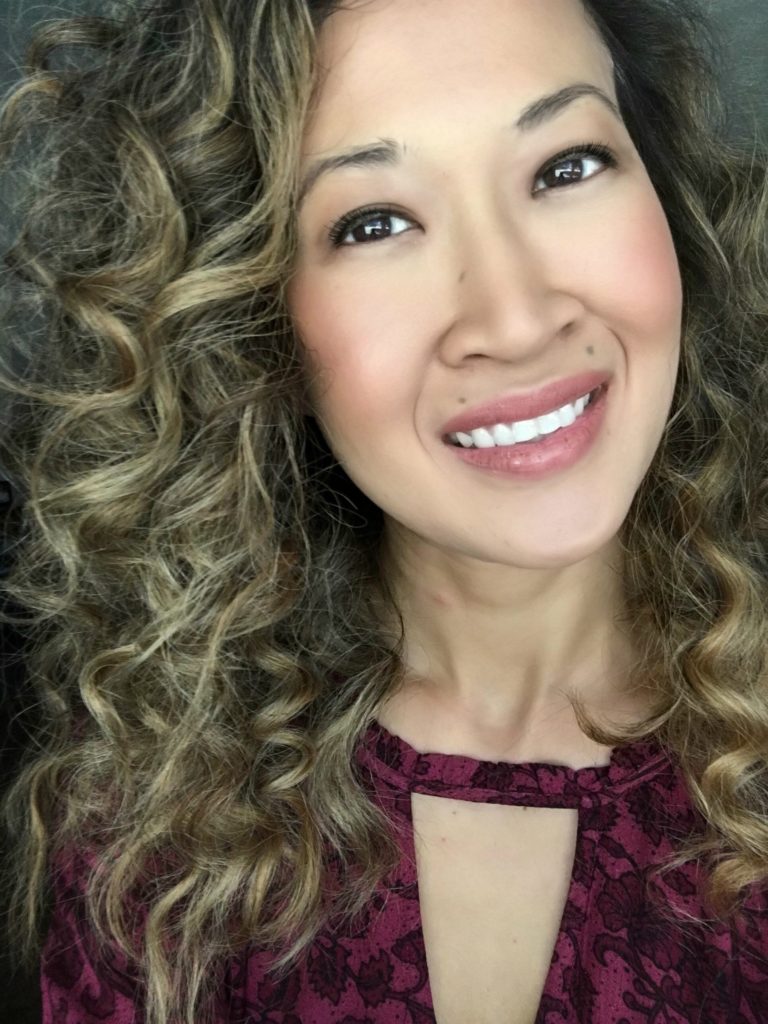 I had some time to actually fix my hair today and my curls came out to play!  Like seriously considering perming my hair, but I'm still thinking about it.  I'll be working on a little video hair tutorial since I had so many ladies requesting it via Instagram. 🙂  Hope you ladies enjoyed this post and thanks so much for reading!
I want to hear what some of your favorite beauty products are – makeup or skincare!
Now…it's time for a fabulous giveaway!
I've teamed up with an amazing group of bloggers
to give YOU a chance to win:
a $1,000 Nordstrom Gift Card, just in time for some spring shopping!
Simply enter below by completing the rafflecopter.
You'll receive one entry per completion.
This giveaway is open internationally and runs until 4/17.
Winner will be announced here. Good Luck!