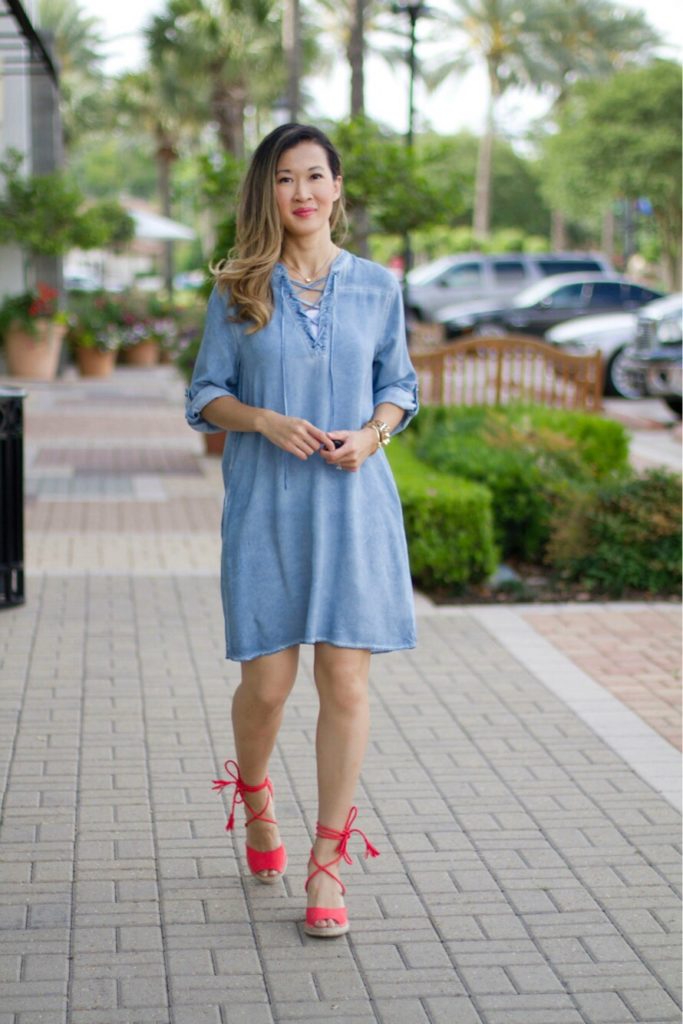 Happy Hump Day, lovelies!  How's your week been going so far?  I had a serious case of the Mondays, but things are definitely looking up.  Two really big things happened this week.  One – I got to sleep…like a lot.  And it has been the best feeling in the world.  I don't know what happened, but ever since Matea turned 15 months last Thursday, she has been sleeping through the night! I could write an entire post about what my life has felt like for the past 450+ days with so little sleep, but I'll leave that for another post 🙂  The next big deal that's happening this week – Thursday to be more specific – is at the end of this post and it has to do with two shops I absolutely ADORE! (I know, the suspense.)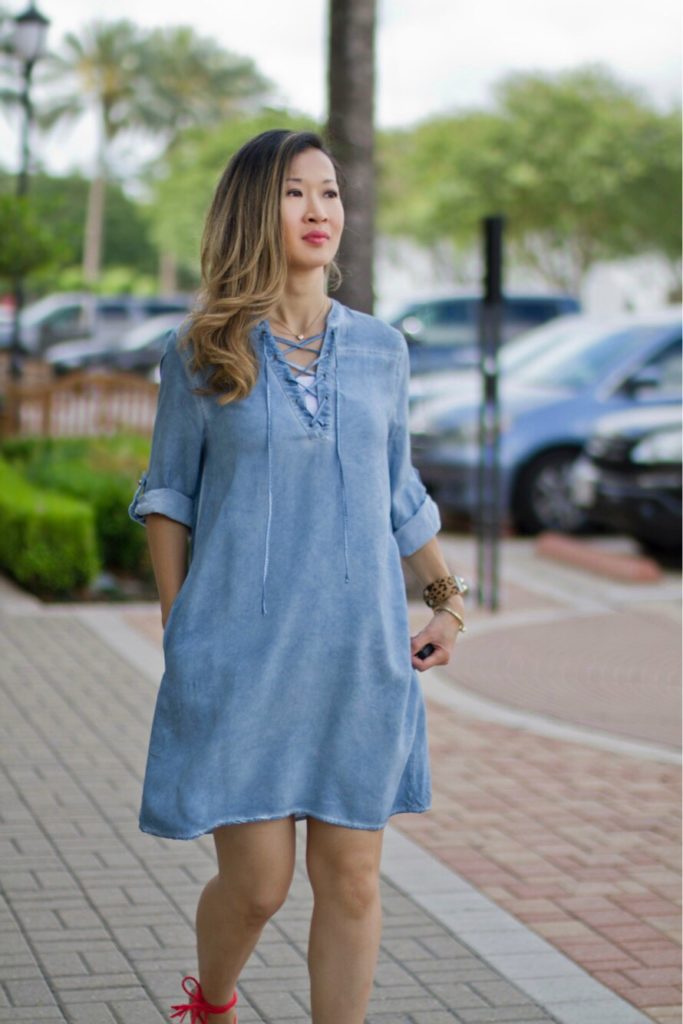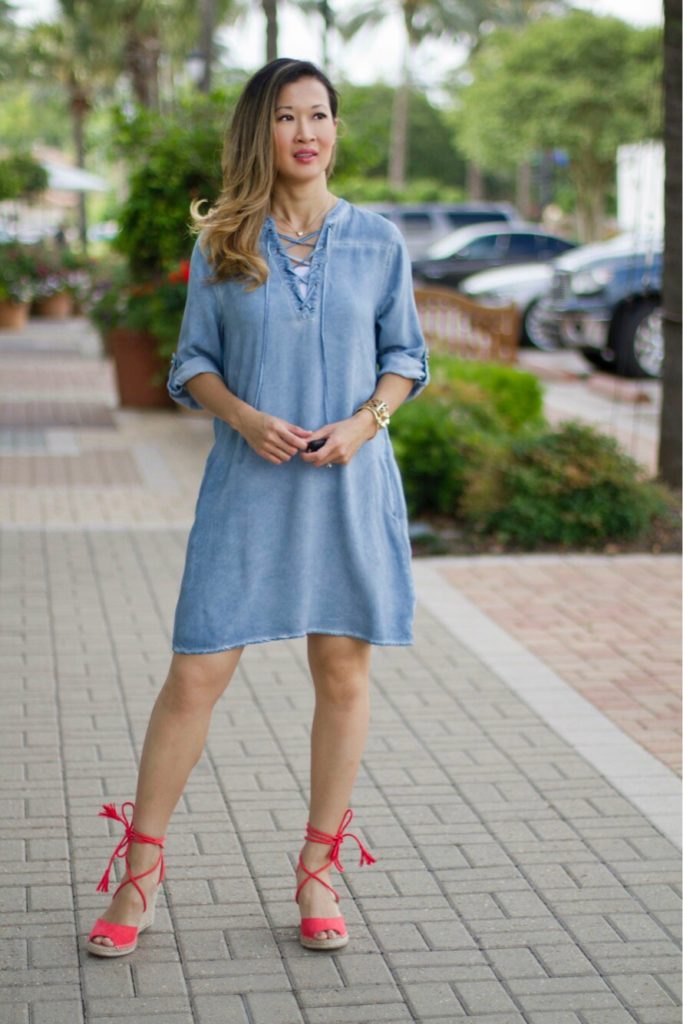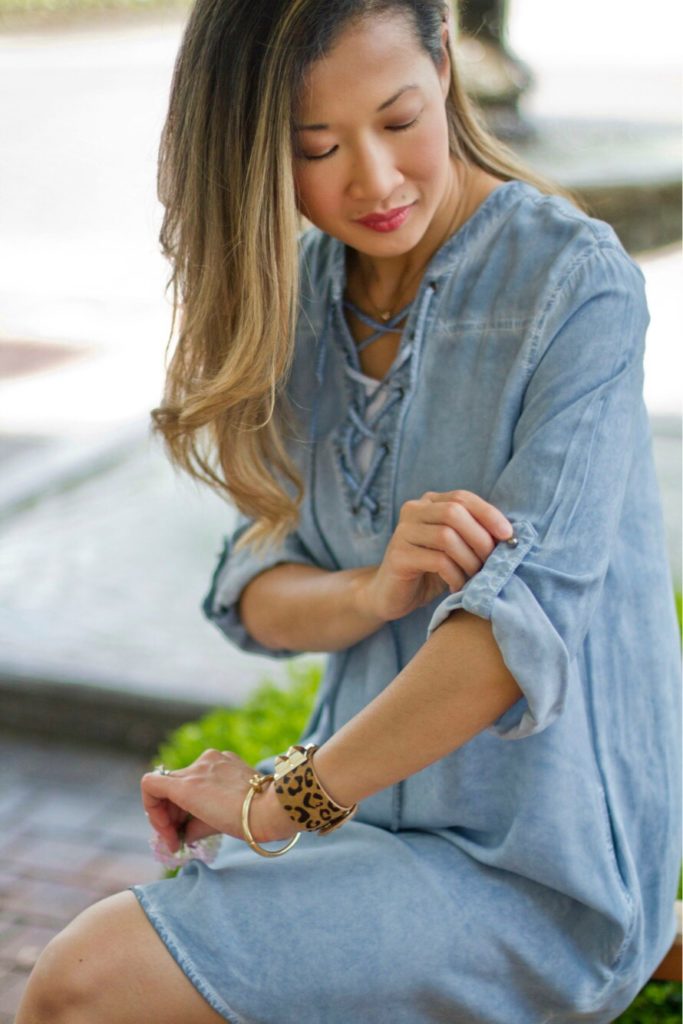 I Insta-storied this chambray shirt dress a couple weeks ago right after I picked it up from Annie Allbritton's shop because I was so in love with it and had to share it with you.  Well, I've been living in this dress all week!  The fabric and fit alone sold me on this shirt dress.  It's roomy, but not baggy, is the softest material ever, and this dress has pockets. POCKETS ladies! #win  It's been my go-to mom uniform with either sandals or sneakers depending on the location and I kind of love how easy it is to style.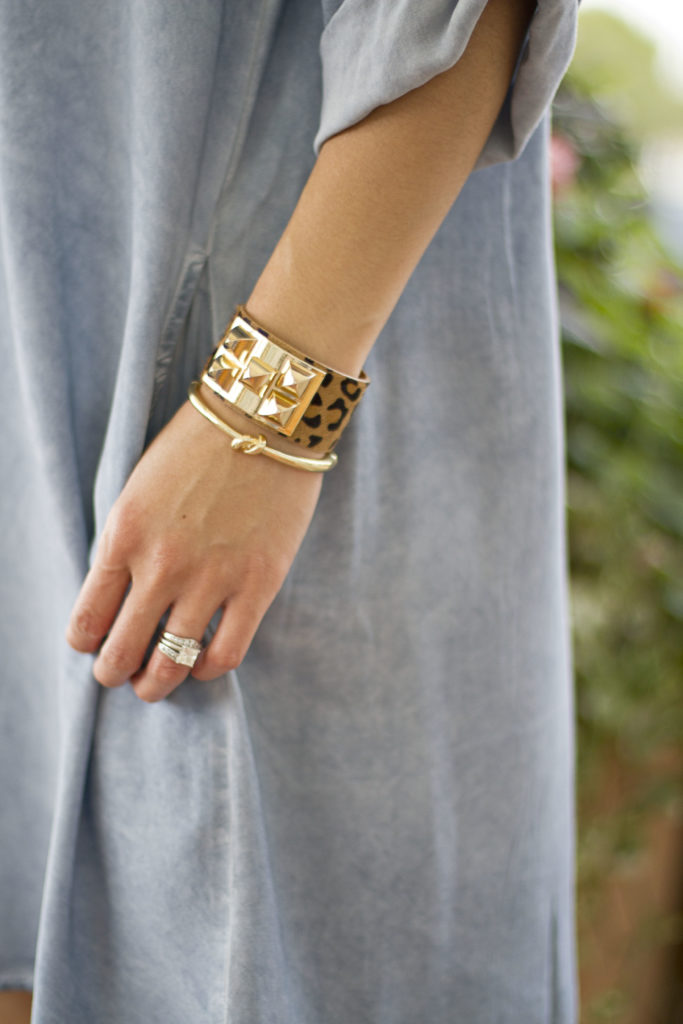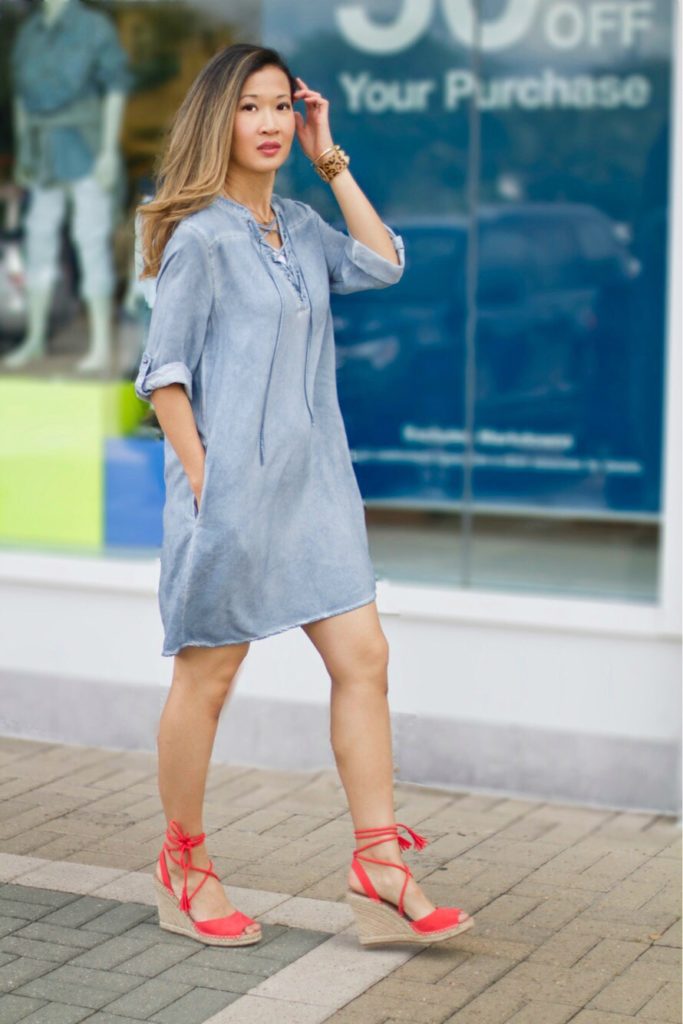 If you're looking for an easy and effortless casual chic look, you could easily pair this dress with your favorite wedges and voila!  You will never believe where I got these lace up wedges from – Target!  It comes in four colors and I got this fun pop of color and the chambray ones (see thFis outfit).  For $30 each, why not right?  They are SO light and comfortable! I was afraid they would make my feet bulky and heavy but totally not the case. They run true to size.
I love the cuffed roll-up sleeves and the cute lace up details of this dress.  For my accessories, I kept it pretty simple and wore a dainty heart necklace, knot bangle, and this leopard cuff also from Annie's shop.  I got this cuff a while back, but Annie has such a great eye for accessories so I know she'll have other great things in stock.  Aside from the wedges, I wanted to add a little pop of color to my lips and went with Kismet's 'Amber Energy.' Below is a close-up photo of this pretty color just as Marli is photobombing my picture. 🙂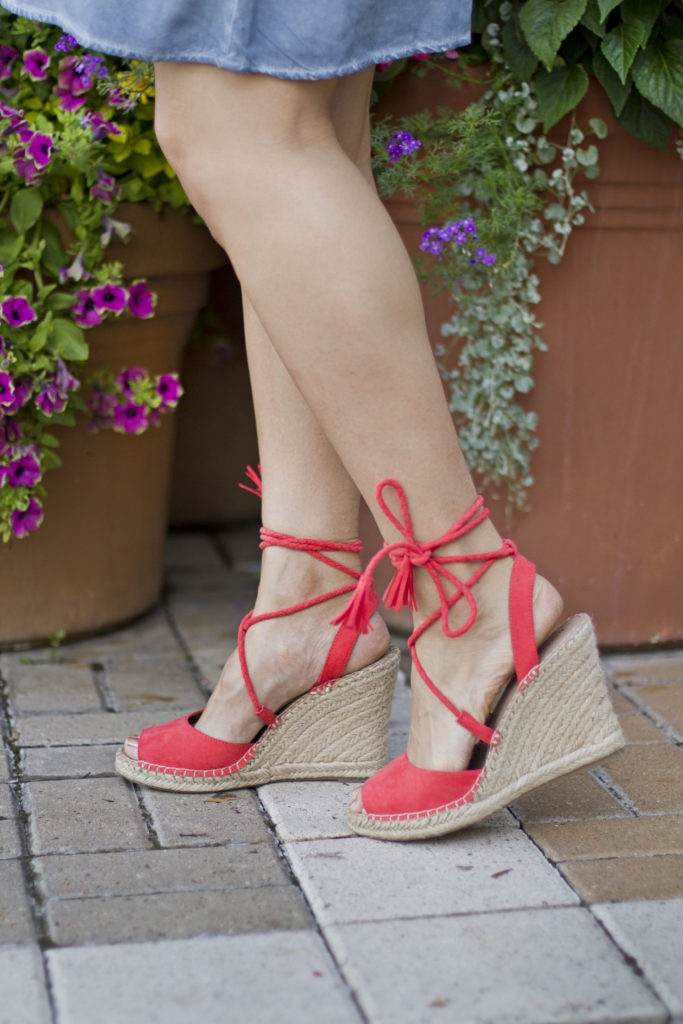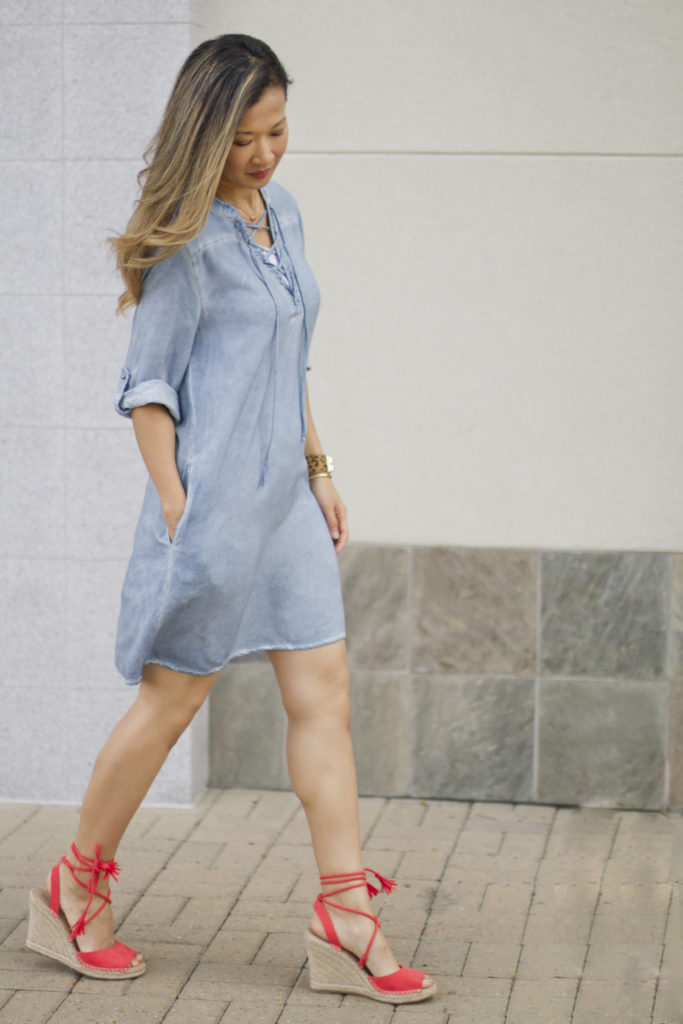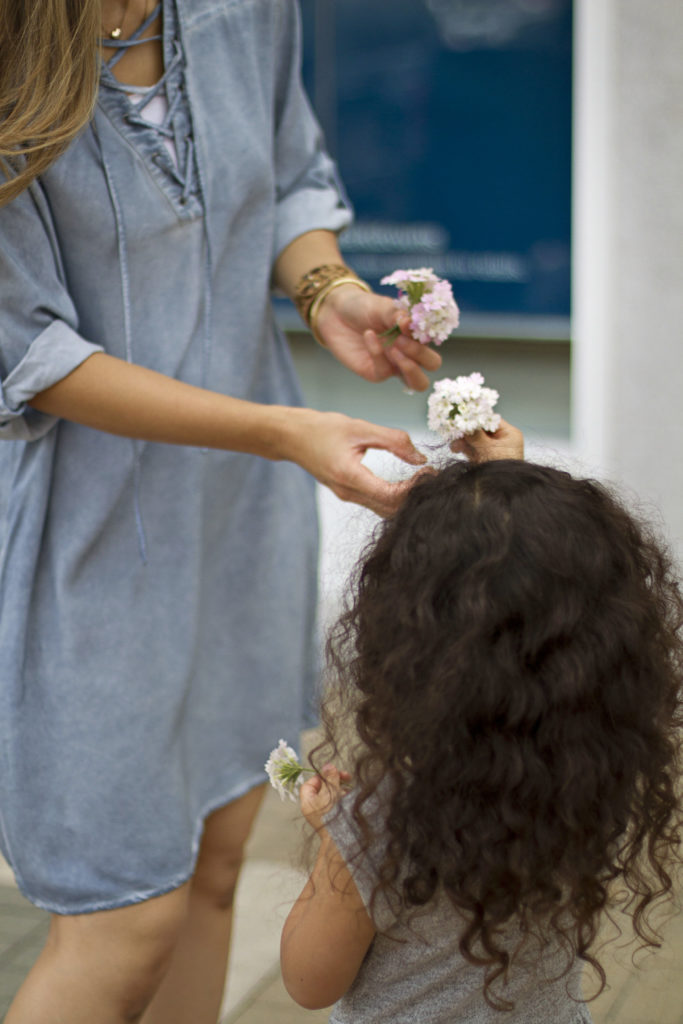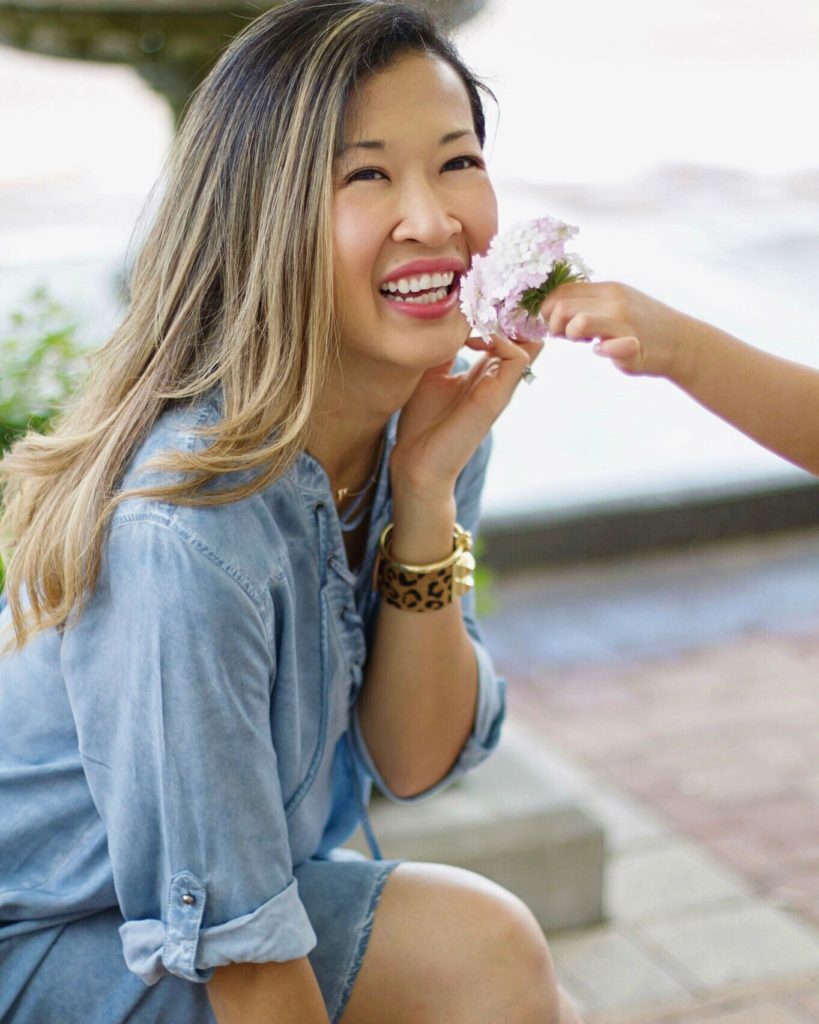 Affiliate Links: Dress | Wedges
So here's the other exciting news for this week.  If you're in the Houston area this Thursday, I hope you'll join Houston Blogger Lindsey Lyons of Our Messy Table and I at Kismet Cosmetic's Summer Styling Event.  The event is from 4-7pm at one of my all time favorite boutiques in town –Annie Allbritton in River Oaks.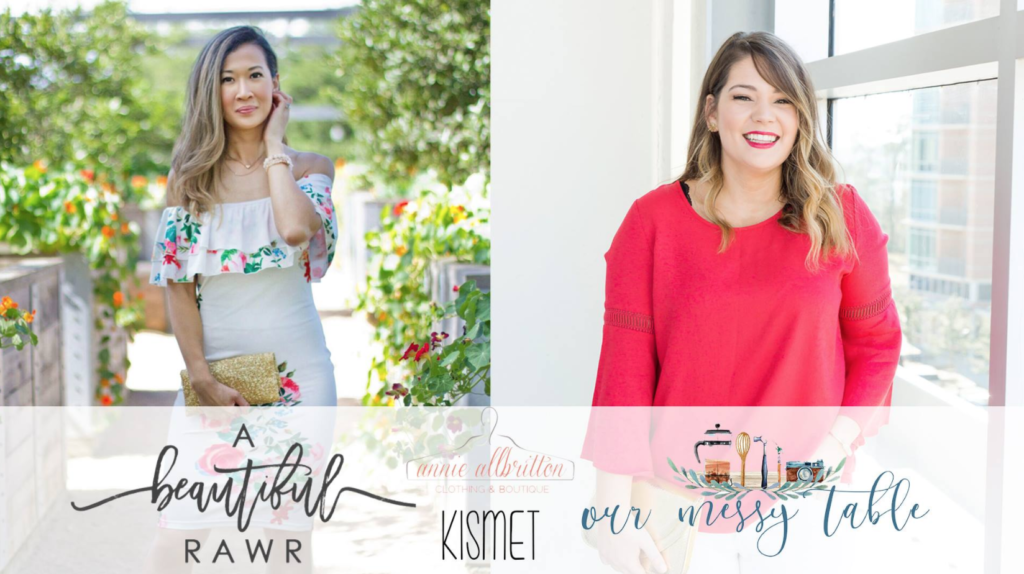 It's going to be a fun little event and I'd love to see your pretty face there!  Drop in to see the newest collection, have some light bites, say 'hi' and play at Kismet's lip bar with ALL of their pretty lip colors for you to try on. I am seriously obsessed with the quality of her lipsticks.  I have a ton of colors and never leave home without a tube in my purse.  All the info is on my Facebook page HERE. Send me a comment or DM if you're coming or have questions.
Thanks so much for reading, babes! Have the best Hump Day!
Photos by Hayley Jackson Photography