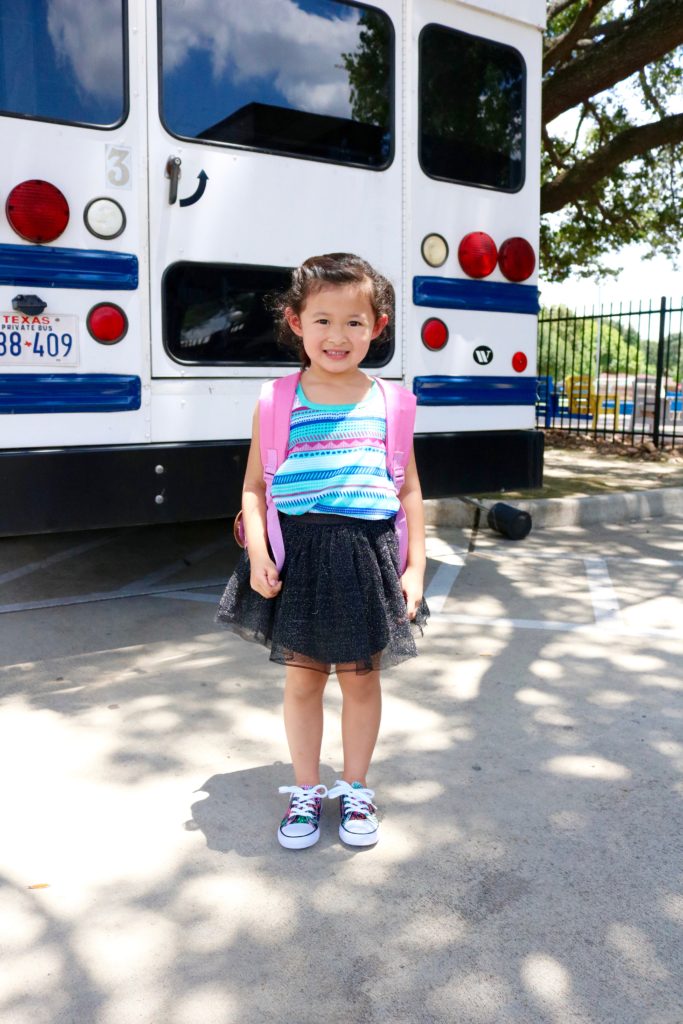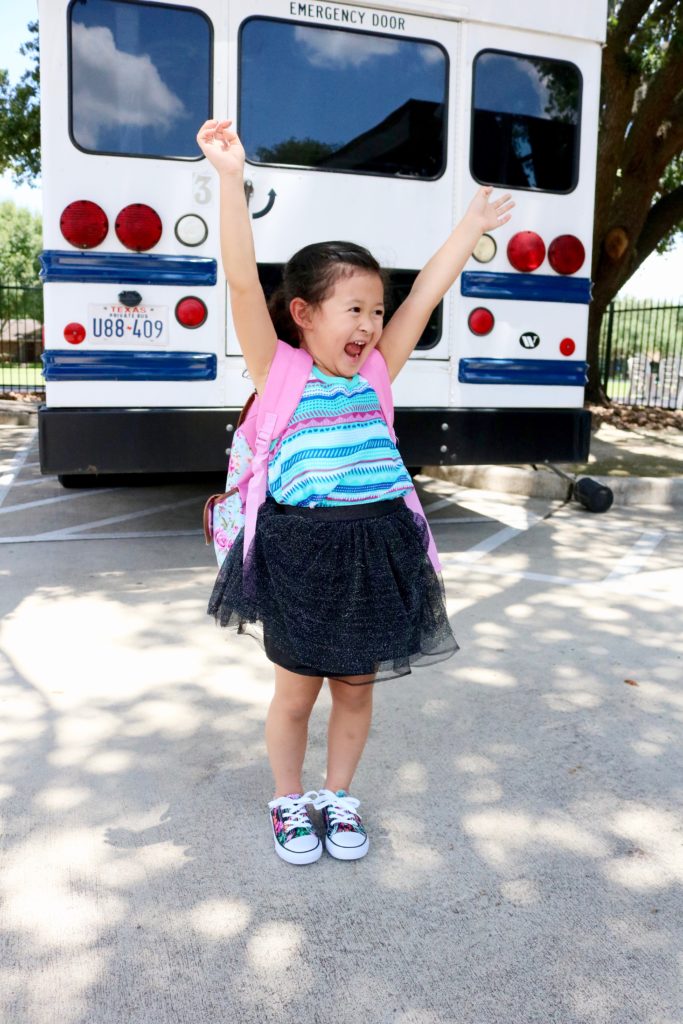 Happy Monday guys! Hope ya'll had a great weekend. It's official – we're in the home stretch of summer and I know I'm not alone when I say that I've been counting down the days 'til it's back to school.  This summer has been so much fun with the girls, but I am exhausted! Why is it that I wake up every day on a mission to wear them out with fun activities, games, and crafts, but by 5pm, I'M the one running on fumes?  I swear the energy level of these two is not normal.
While I am definitely enjoying not having to wake up at 630am every day for school, I AM ready to get back to a normal routine.  Plus, I know Marli has been itching to see her friends, play, learn, and meet her new teacher.  She LITERALLY asks me every single day if tomorrow is a school day. (I sure hope she keeps up that enthusiasm and love for school when she gets older.)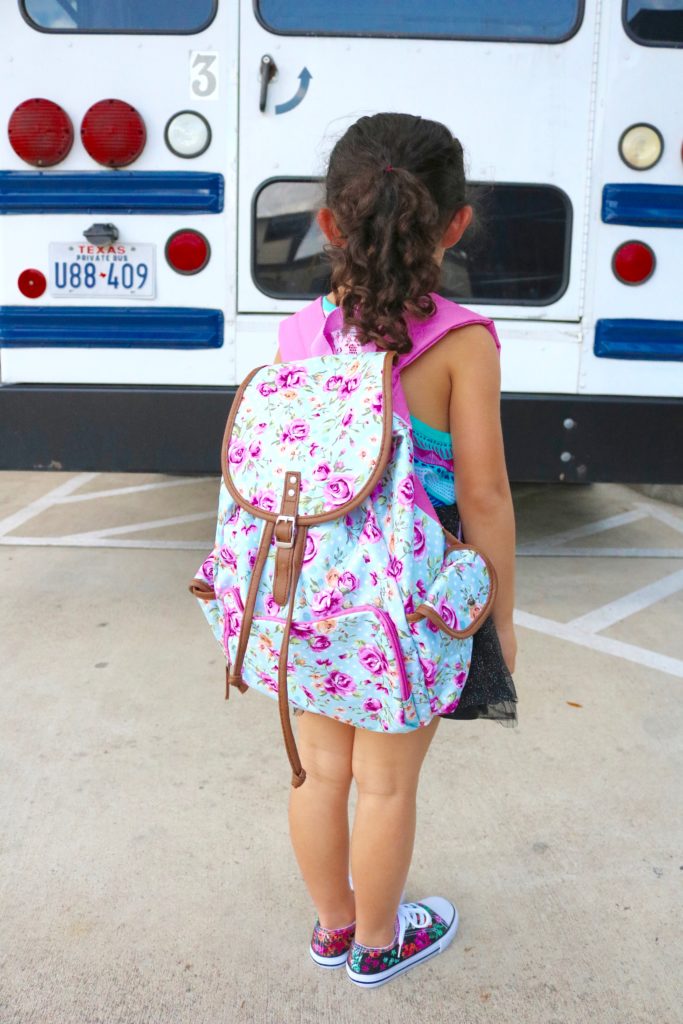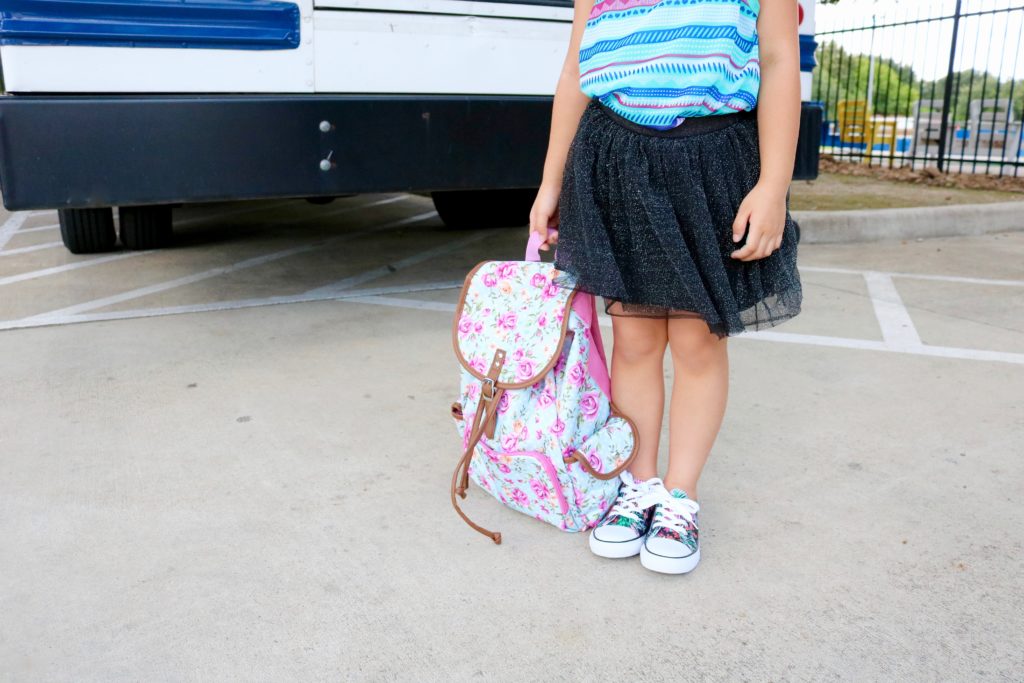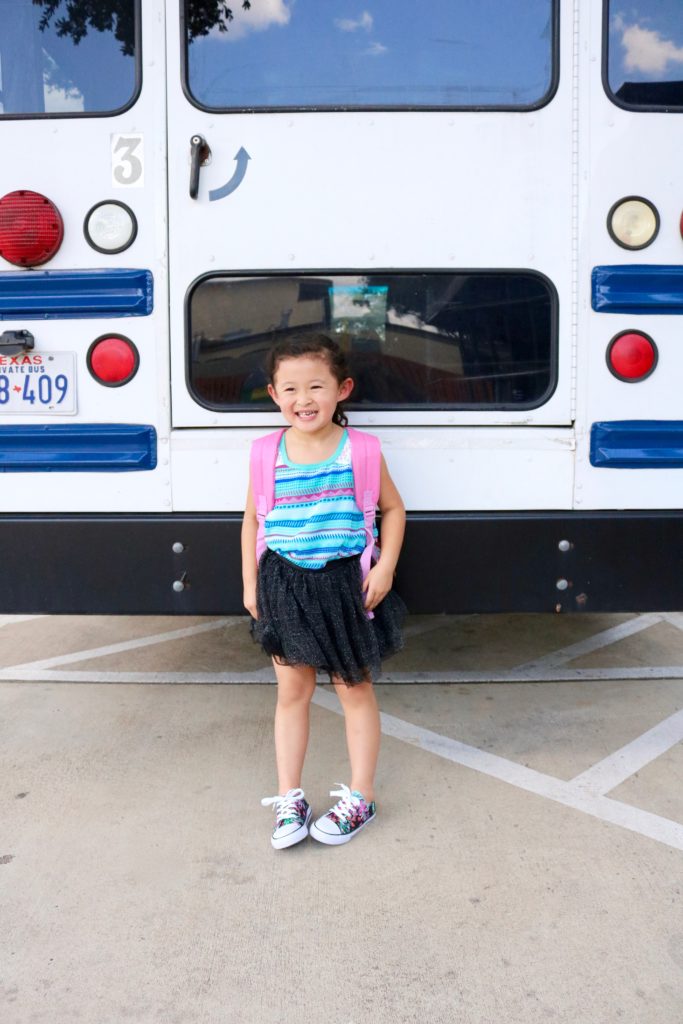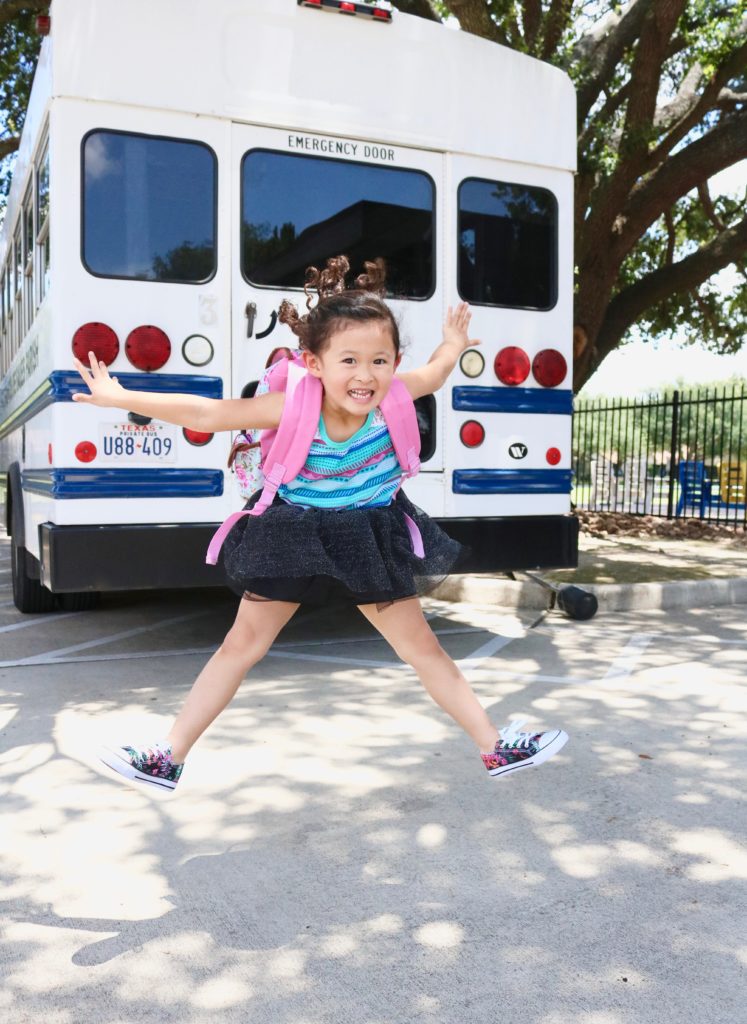 With the new school year only a month away, we did a few things to start prepping for her first day back.  First up was purging her closet to make room for some new back to school apparel and accessories. If you follow me on Instagram, you may have seen my Instastories of us doing some back to school shopping at Burkes Outlet.  While she does attend a private school that requires her to wear a uniform, she gets plenty of "free days" where she's allowed to wear regular clothing so she was pretty excited about our shopping trip.
The selection and prices at Burkes Outlet was definitely mom approved!  Not only were the back to school items trendy, comfortable, and cute, but I love how budget friendly each piece was.  I spent no more than $10 on each back to school item so she came home with a ton of goodies!  There was no shortage of Disney or Superhero backpacks to choose from (and I'm sure she would have left with ALL the princesses if she could), but we decided on this pretty floral one because she liked the pink flowers. We also purchased this adorable glitter crossbody bag that I may have to borrow.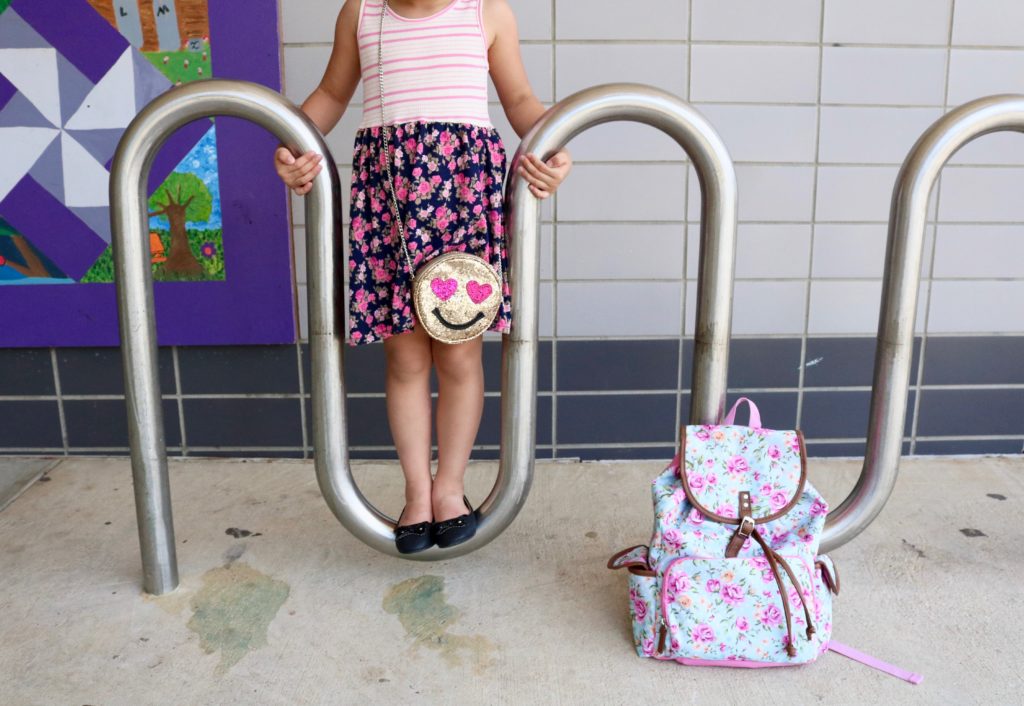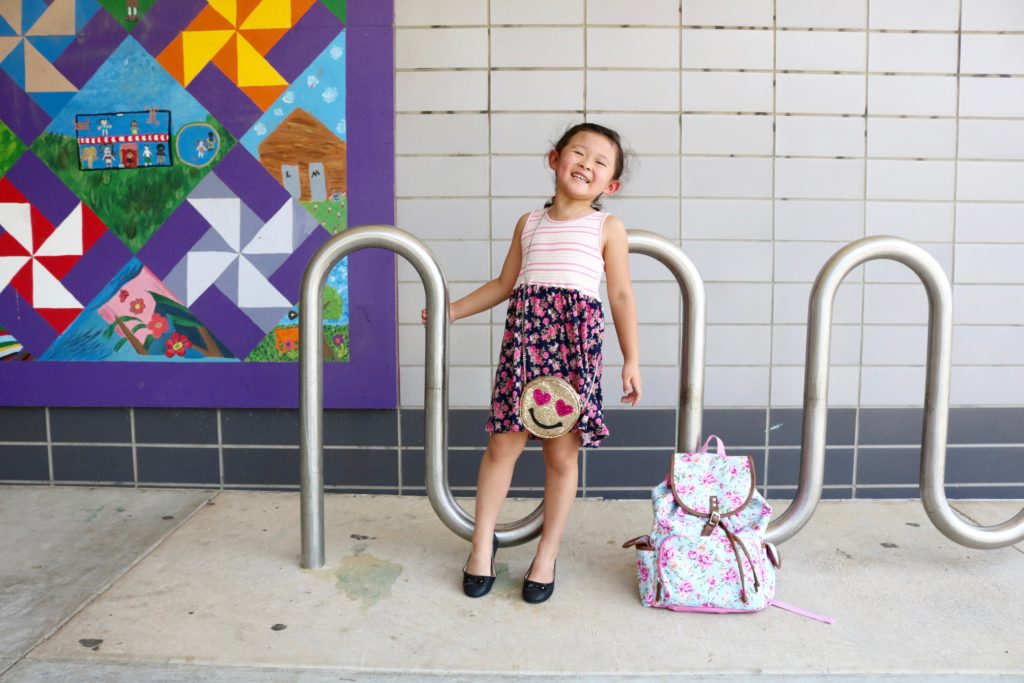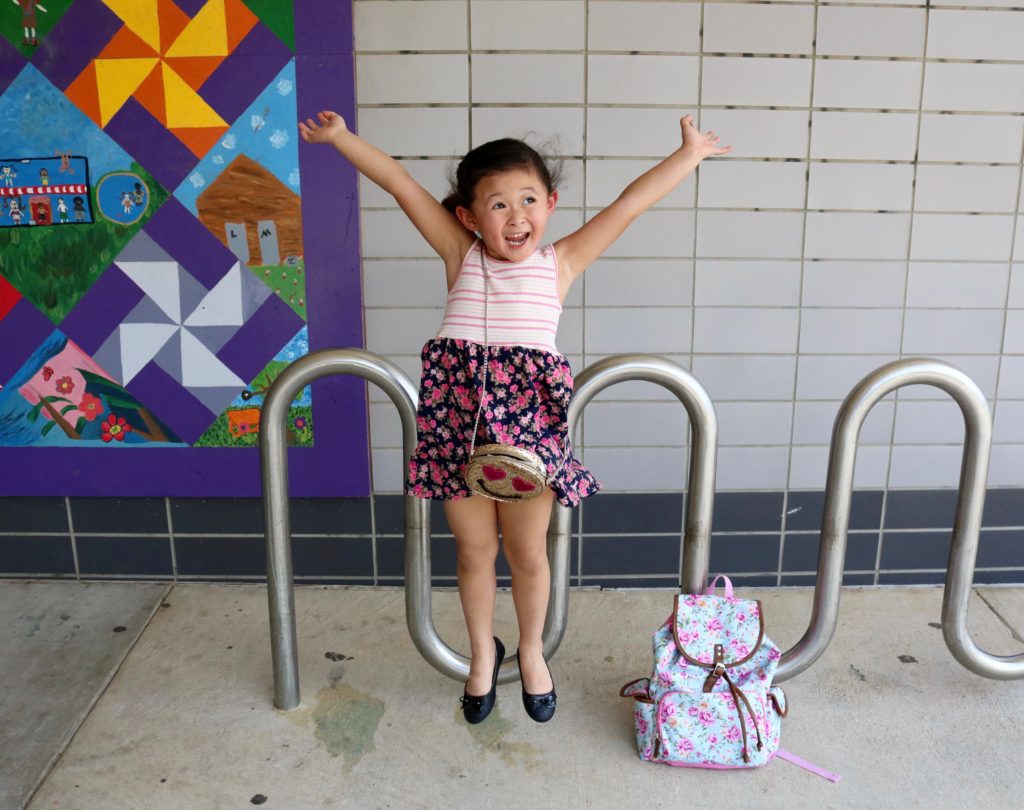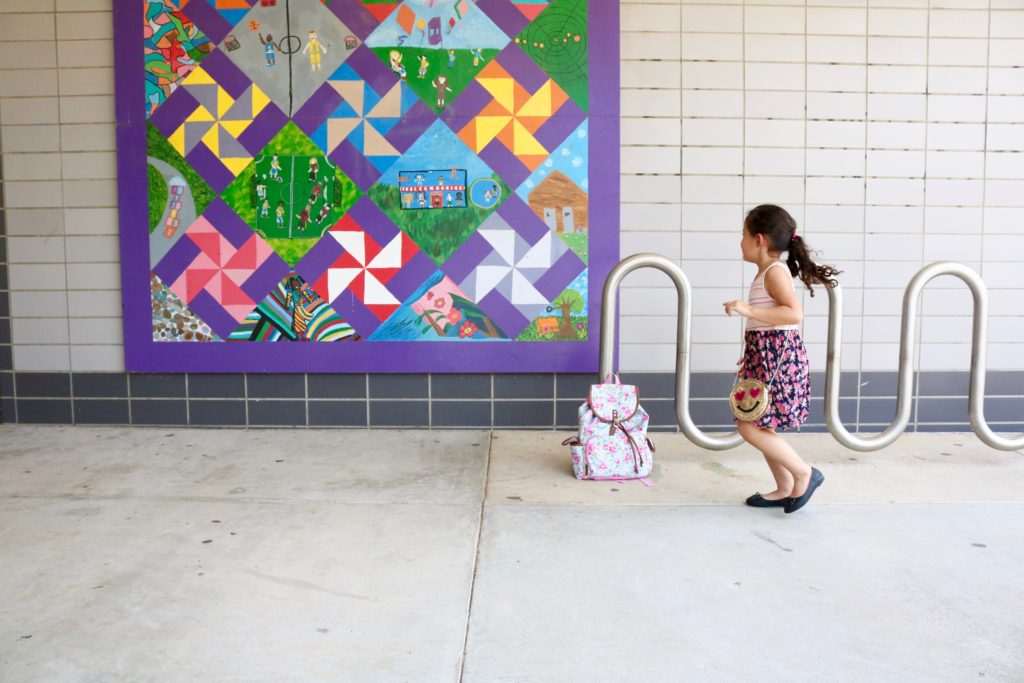 For apparel, we purchased her 2 dresses and a shirt + capri short set for school.  Her striped + floral dress is the perfect casual dress for everyday wear and great for this weather while the floral white dress is bit dressier – maybe for picture day or a special event at school.  I'm a little obsessed with her red & white dress – I mean that little back cutout and side bow is just darling!  Can you believe it was only $10? Remember how Marli also has to wear uniforms for school?  Well, Burkes Outlet sells uniform tops and bottoms which makes shopping so convenient for parents.  I will definitely keep this in mind for the future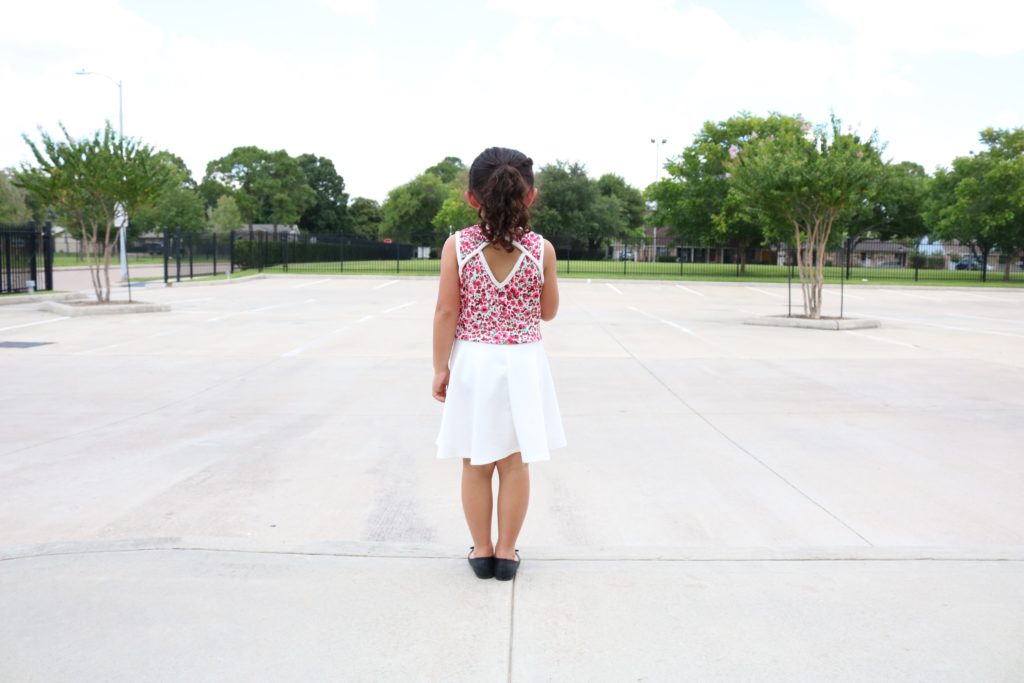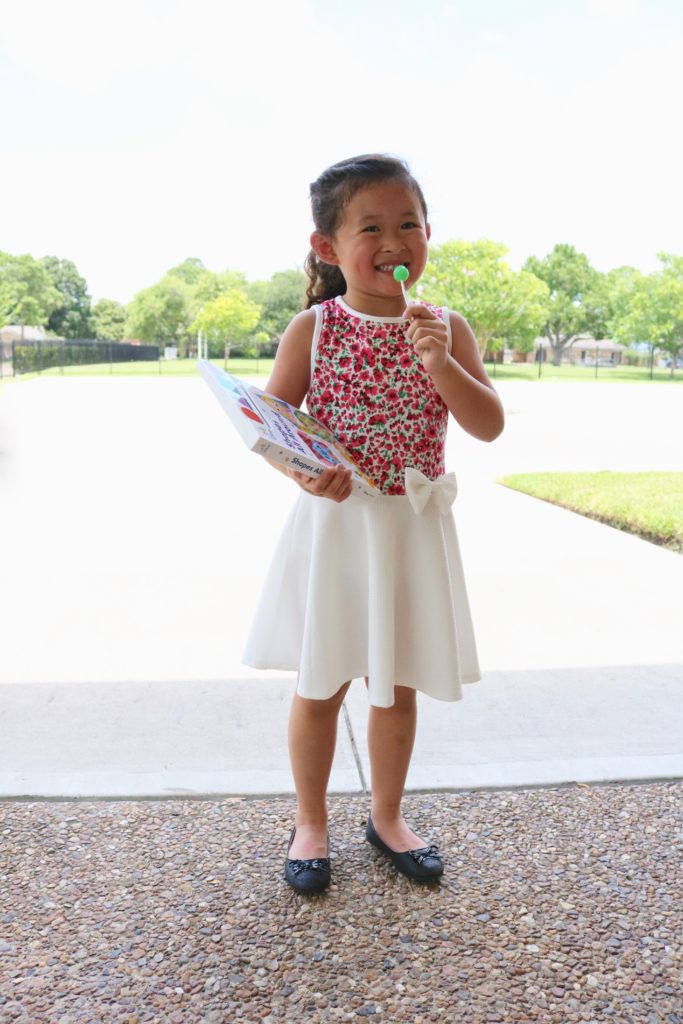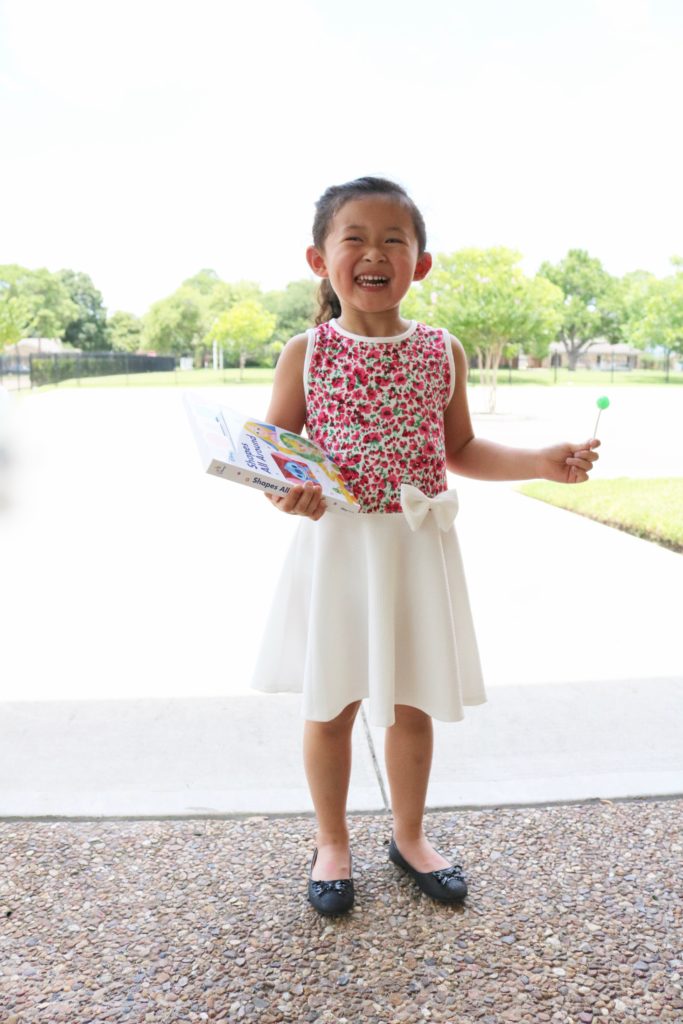 We paired both of her dresses with these sweet ballet flats we also purchased from Burkes Outlet and she has been wearing them nonstop!  While I love how easy they are to slip on and go, I wanted to get her a pair of sneakers for everyday wear.  I think it goes without saying that tennis shoes are a requirement for ALL kids at school, right?  Especially at this age, they're so active and always on the go so finding her a pair of comfortable sneakers to run, jump, and play is a must.  I got her a fun tropical print one that she paired with her blue striped top (also from Burkes Outlet) + tutu from her closet.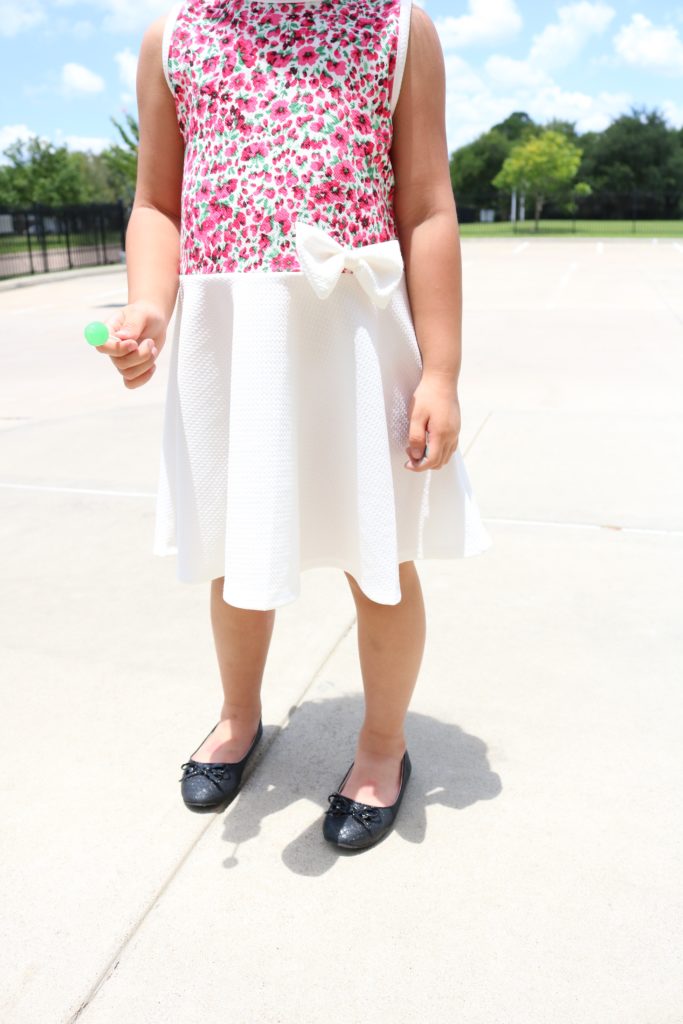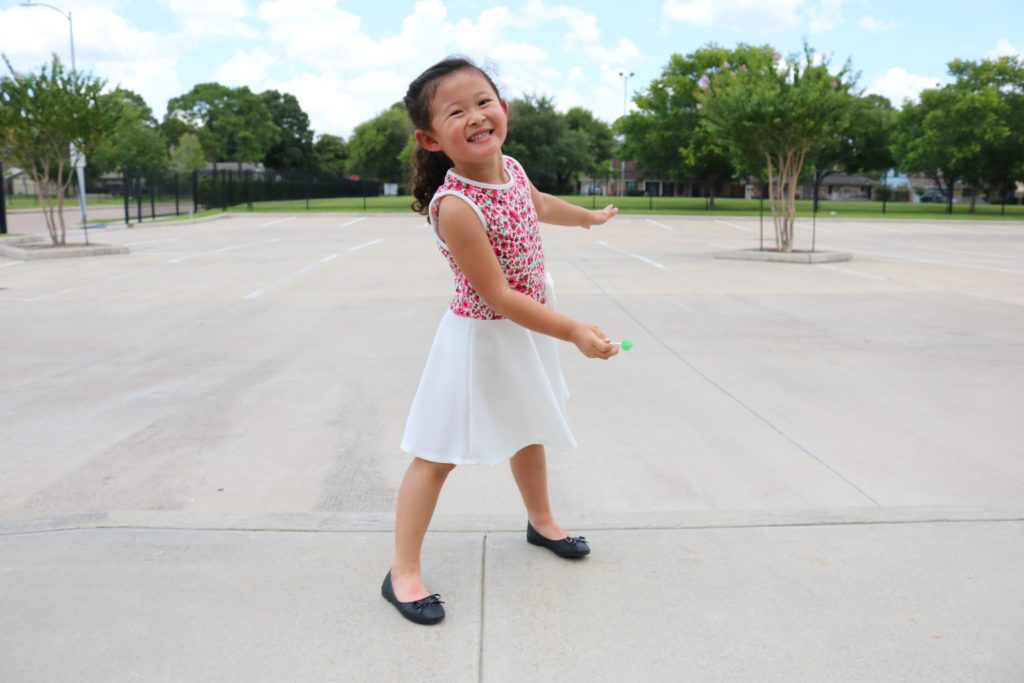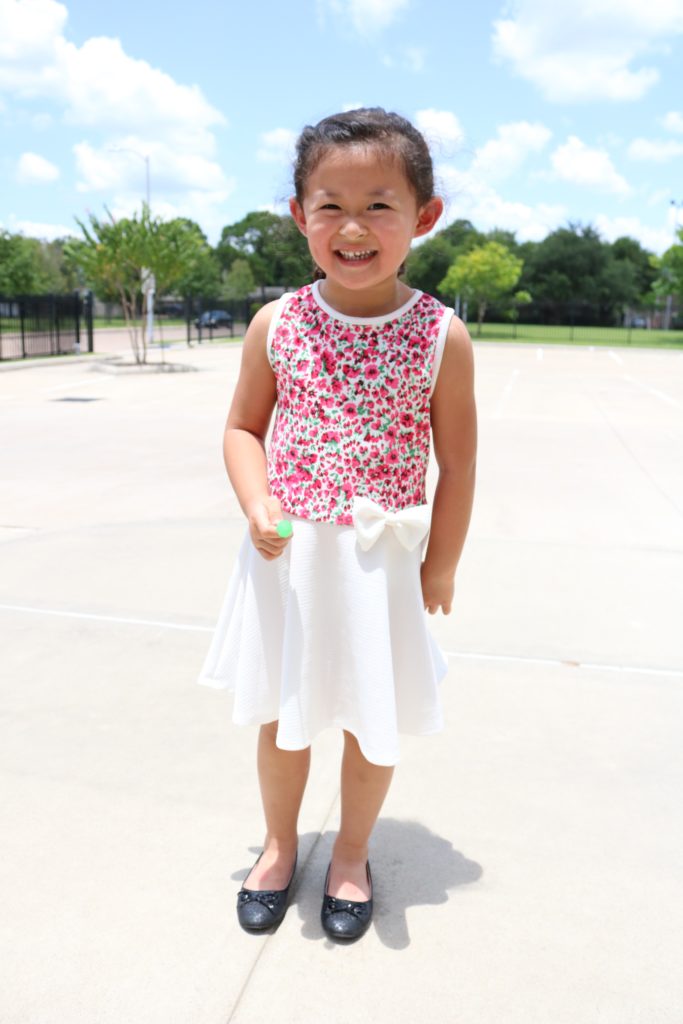 After our back to school shopping for Marli, we browsed the store for more deals and noticed how many great brands the store carried.  For kids shoes, I saw Skechers, Reeboks, Carters, and OshKosh.  I particularly liked their handbag selection and saw brands from Nanette Leopore, Nine West, Kenneth Cole, and Nicole Miller all discounted up to 70% off the retail price.  This adorable Nine West tote bag caught my eye that I might have to go back and get.  It would be the perfect tote to carry all my essentials +  double as a diaper bag for Matea and at only $30 (originally $88), what's not to love.
If you haven't started your back to school shopping yet, here's a checklist of apparel essentials for the new school year.  
Tops – 7
Shorts/Skirts – 3
Pants/Jeans – 4
Dresses – 3
Underwear – 7
Socks – 5 pairs
Dress Shoes – 1
Sneakers – 1-2
Jacket – 1
Hat – 1
Backpack – 1
Lunch Box – 1
Be sure to check out all the specials from Burkes Outlet where you can shop online or at a store near you.
Online Store | Facebook | Instagram | Twitter | Pinterest
*This post is sponsored by Burkes Outlet. As always, all opinions are my own.