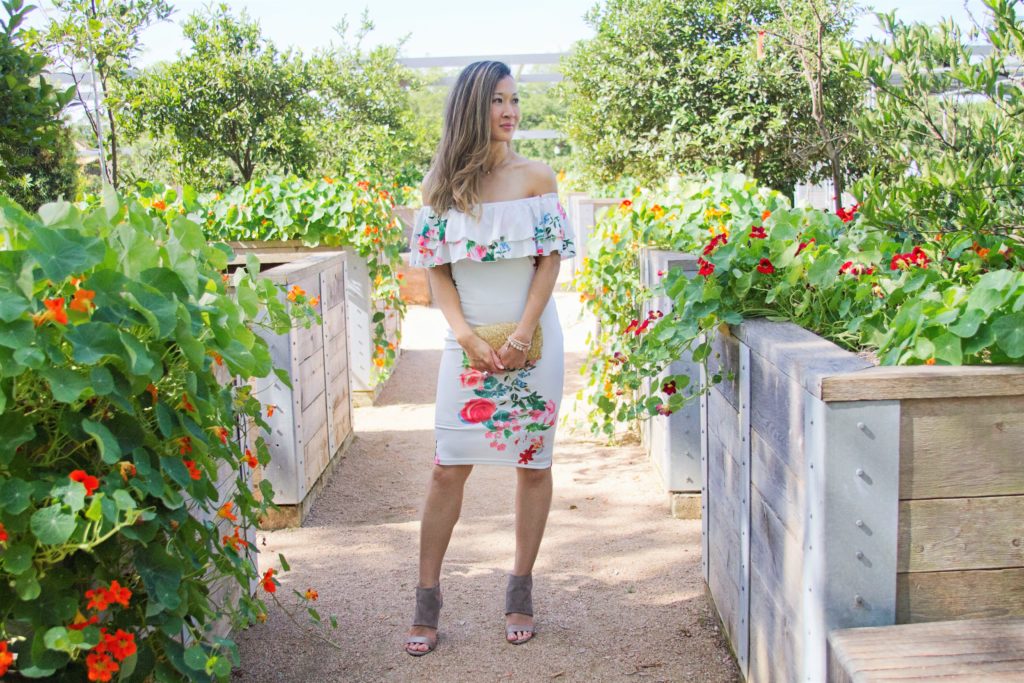 Thank the lawd it's Friday! It's been one of those short, but long weeks and this mama is ready for a super-sized adult beverage.  This off the shoulder floral dress post was supposed to go live yesterday, but my computer has crashed 3 times on me this week causing me to retype my posts over and over again because they wouldn't save for some reason.  I love technology, but hate that I'm so dependent on it ya know?
Anyways, do you guys have any plans for the weekend? We have a couple birthday parties to attend, but other than that, I plan on hanging out with my nuggets and maybe even squeezing in a date night with my guy because we are way overdue for one.  I went to Chama Gaucha a couple weeks ago for my aunt's birthday and have been craving it again so maybe we'll dine there and catch a movie afterwards. So original, right?  Well, when you become parents, you appreciate simple date nights like this.  Plus, I know T has been wanting to watch the new Fast & Furious movie.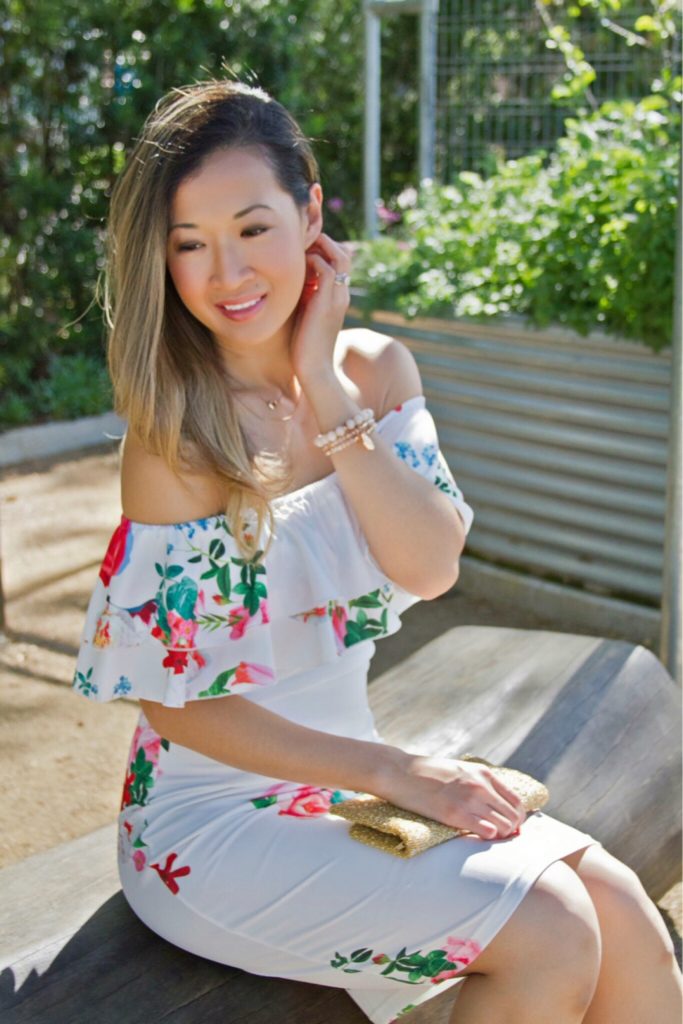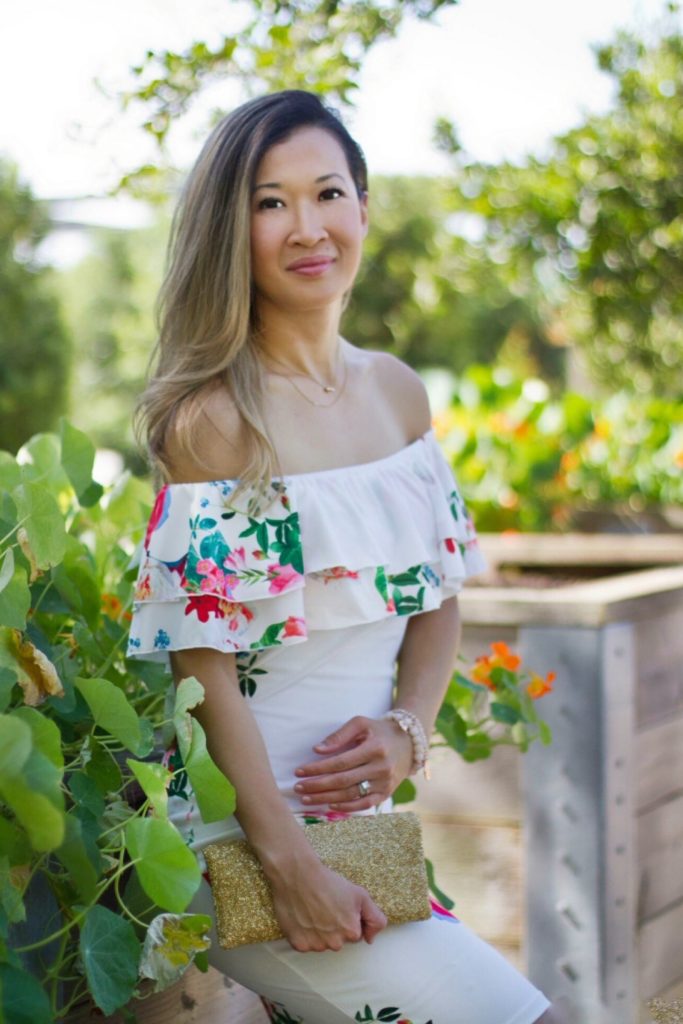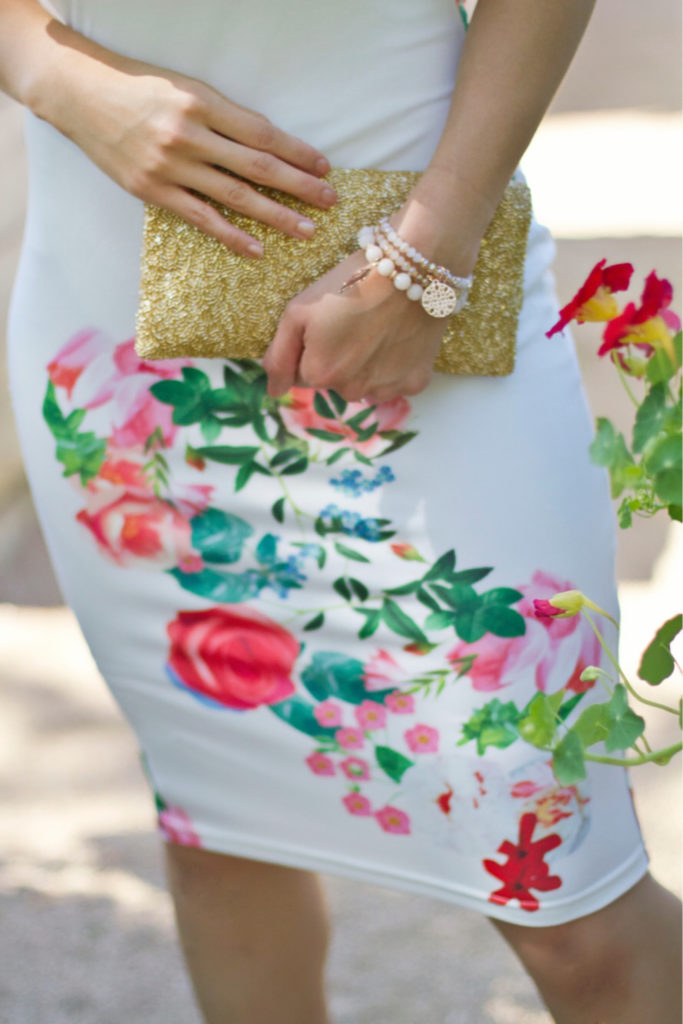 I LOVE with this gorgeous off the shoulder floral print dress and will definitely be wearing this for our date night if we go for dinner and drinks.  I just can't get enough of white, blush tones, and floral prints for Spring and Summer and this OTS dress is perfect for this weather.  It's fitted but not super tight and hits me right at the knees which is a perfect length for me (I'm 5'8").  Would you believe me if I told you this dress was only $17?  Not joking.  I love how off the shoulder tops and dresses add just the right amount of flirt and spice to your look.  I would suggest wearing proper undergarments (aka spanx or a slip) because hello – WHITE! Better safe than sorry! Plus, this dress doesn't have lining underneath so just giving you a heads up 🙂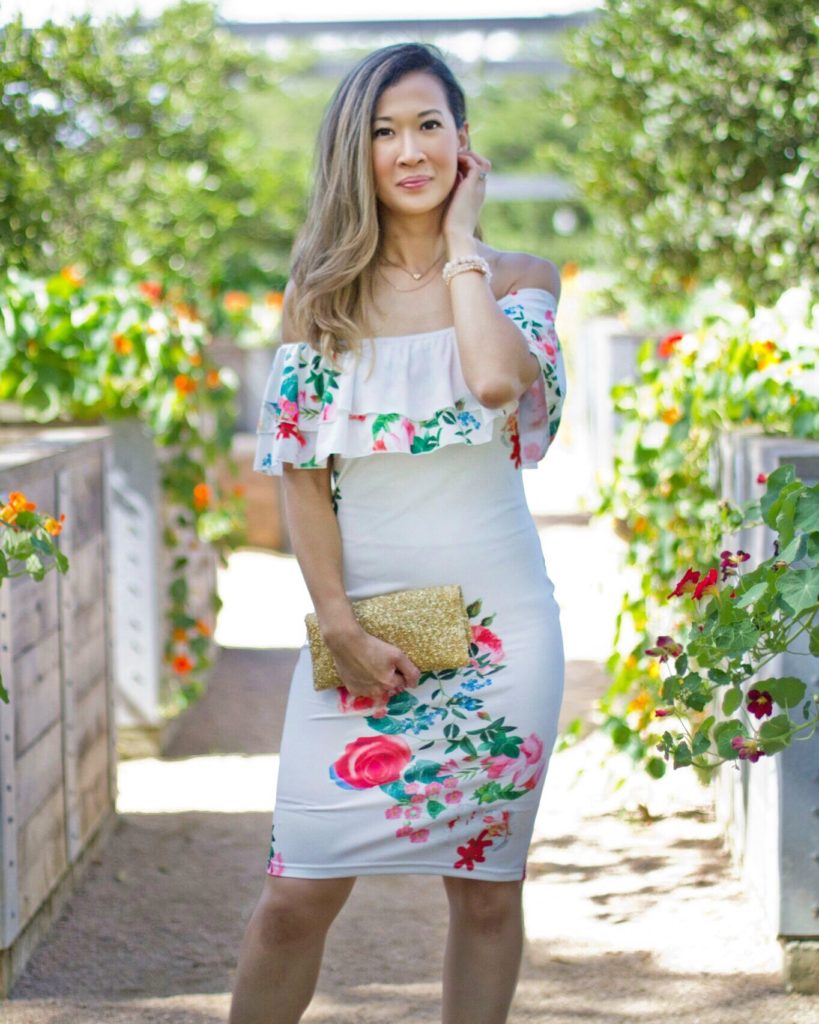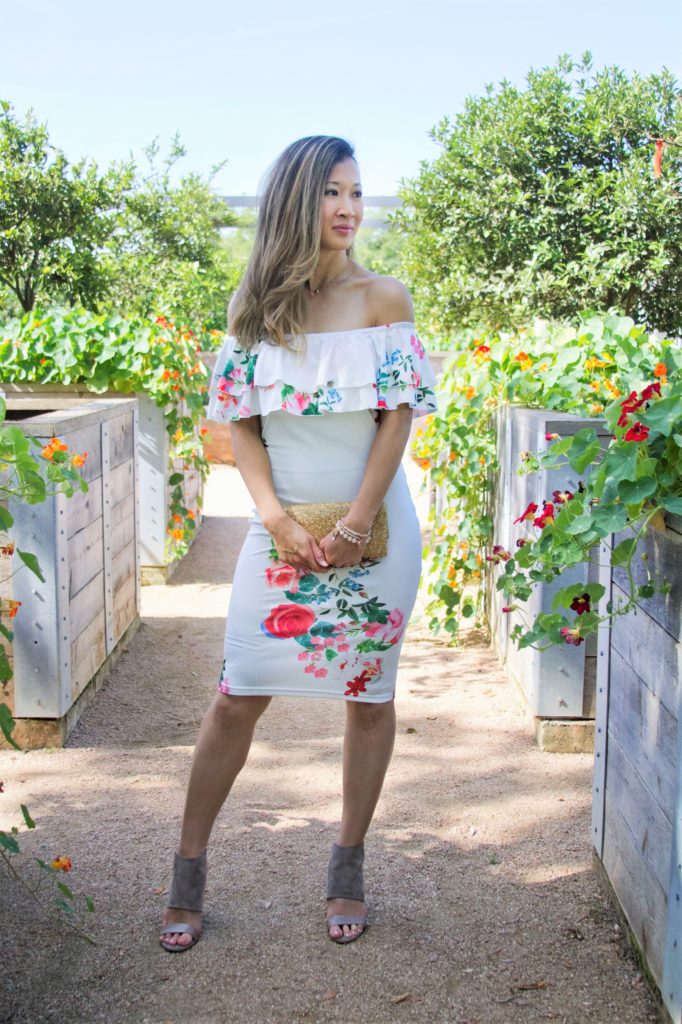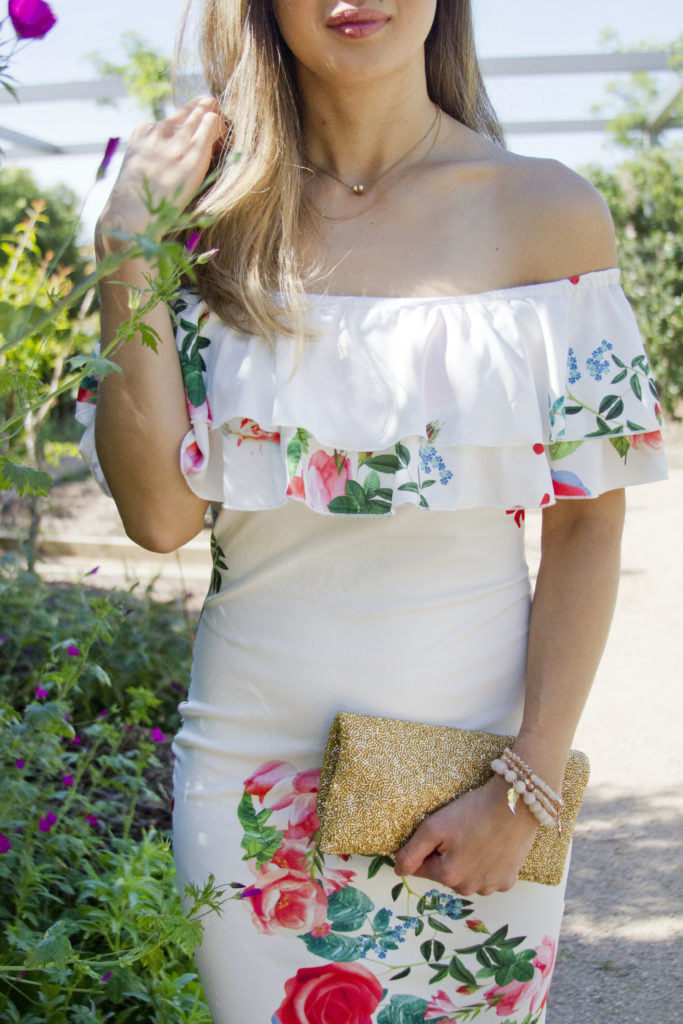 I've gotten questions about the quality of Shein products and in my experience, the pieces I have received have been good quality – comparable to Forever21.  I really like how on trend and affordable they are with their collection so I would recommend shopping from them.  I will say that their sizing runs SMALL so you should size up. (I'm wearing a Medium in this dress.)  This dress also comes in a navy and black color (linked below) for only $15!  I am going to get the navy one because I just love the fit and price of this.  I could picture myself adding a sleeveless vest to it for an entirely different look. I also linked some of my favorite off the shoulder dresses AND top from their site and everything is less than $30.
OFF THE SHOULDER SPRING DRESSES UNDER $30

OFF THE SHOULDER SPRING TOPS UNDER $25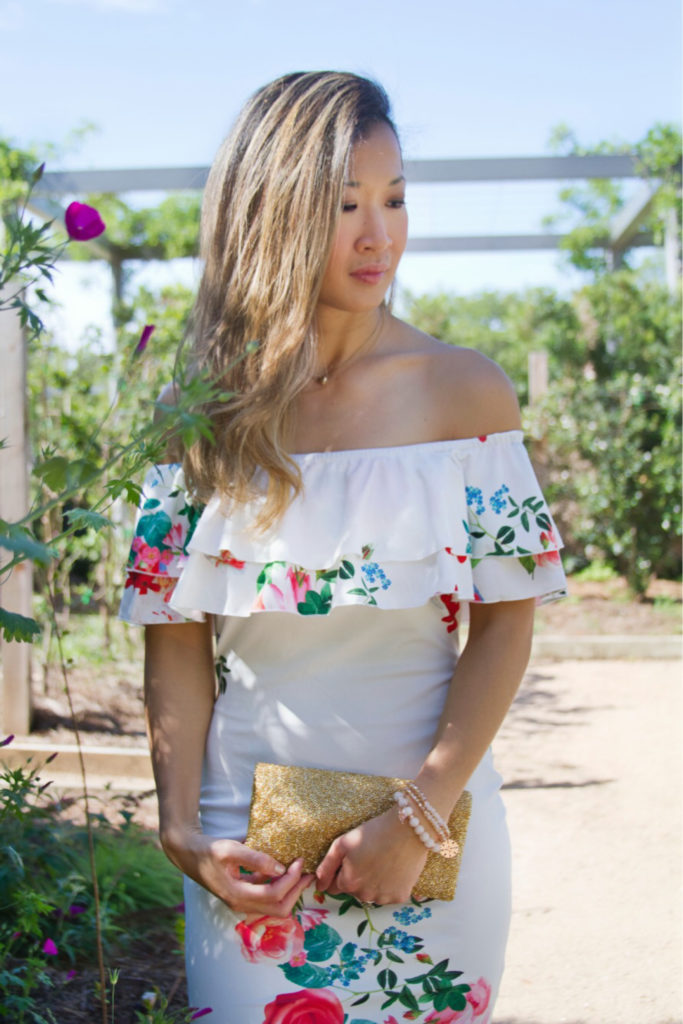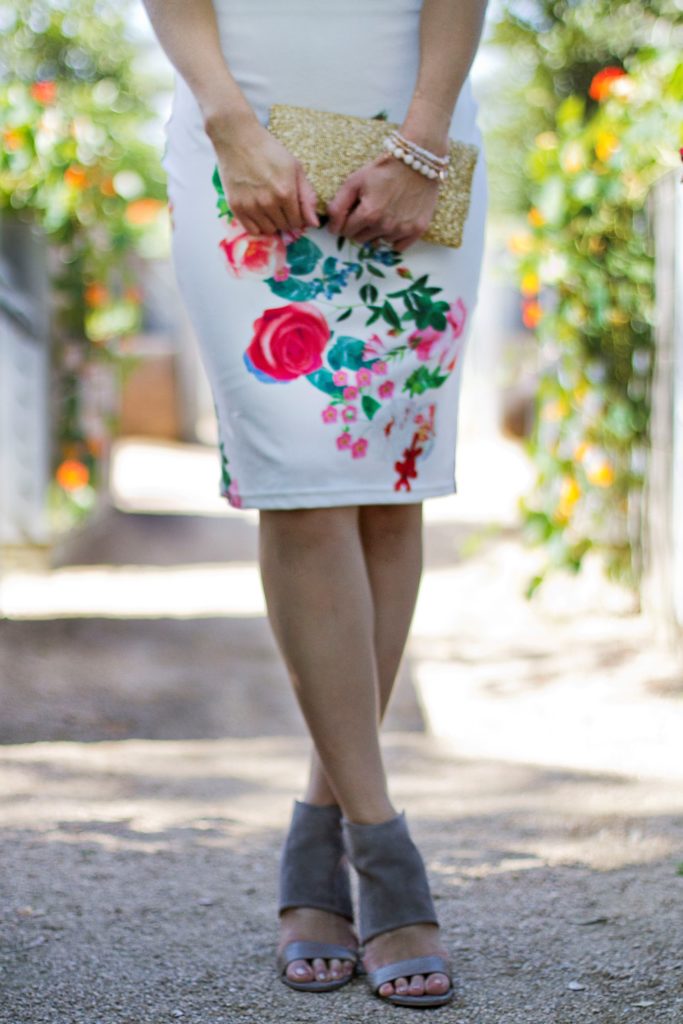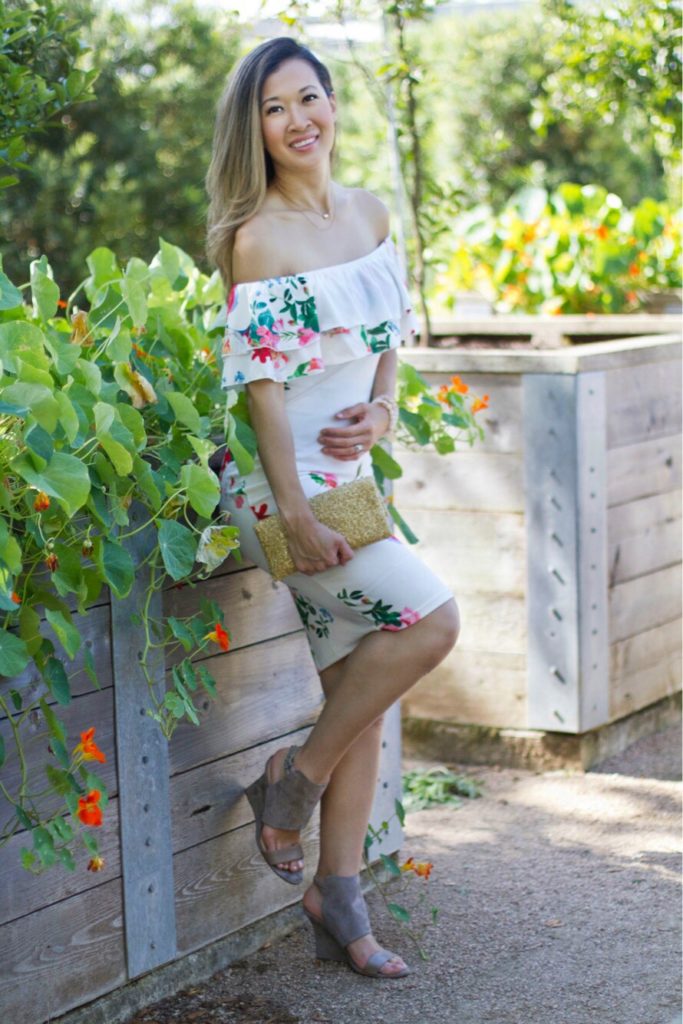 Affiliate Links: c/o Floral Dress | Shoes (similar here and here; these are on sale and sizes are going fast!)
I kept my accessories simple with hints of gold and added these Nine West wedges from a couple seasons ago that I wear all the time.  I linked 3 similar styles above, but sizes are limited because that last one is selling out so fast.  My beaded clutch is from Moyna and my hubby purchased it from a local boutique owner in Katy.  If you're interested in her info, leave me a comment or DM me via Instagram 🙂
I'm off to run errands, get in a quick workout before picking up Marli, and them we can enjoy our weekend.  I hope you treat yourself to something fun this weekend.  Thanks so much for reading this post! Big hugs! xoxo