"This post is sponsored by Everywhere Agency on behalf of OshKosh B'gosh; however, all thoughts and opinions expressed are my own."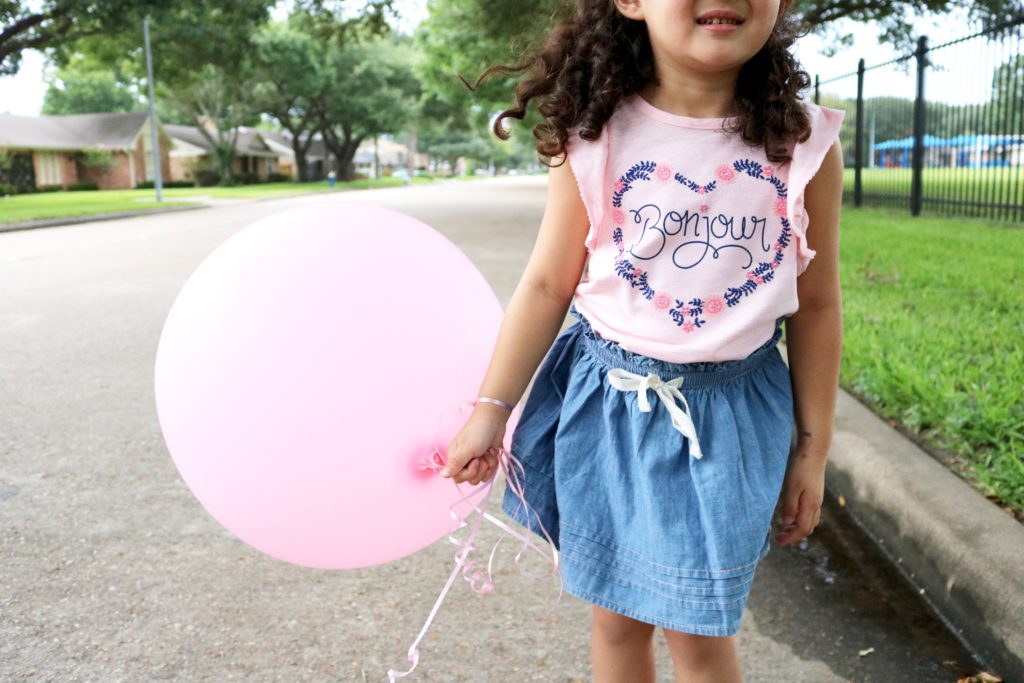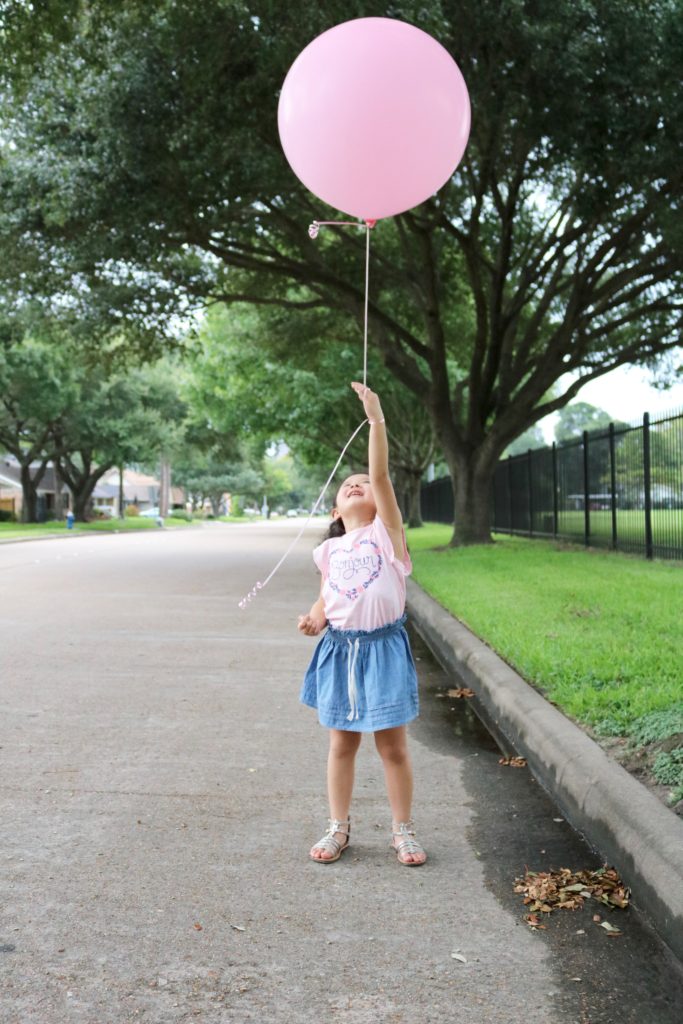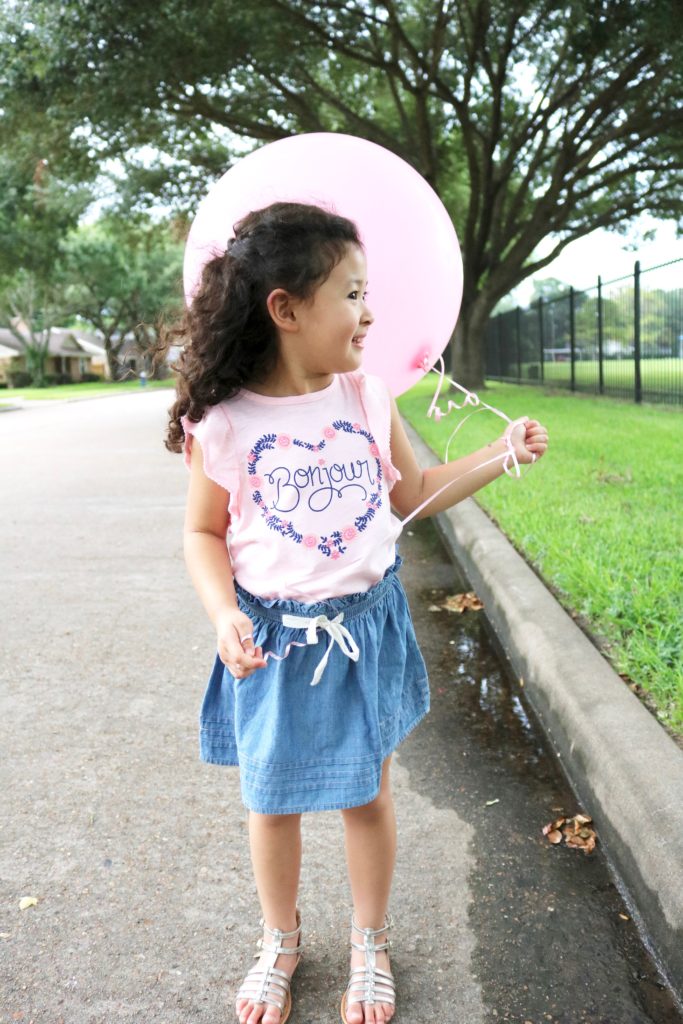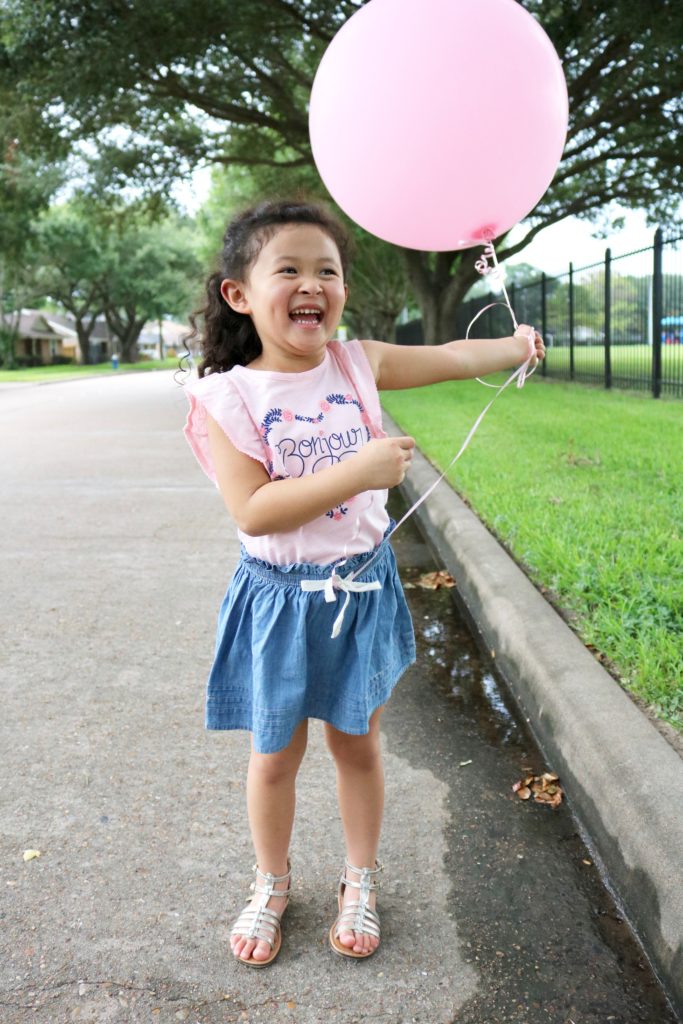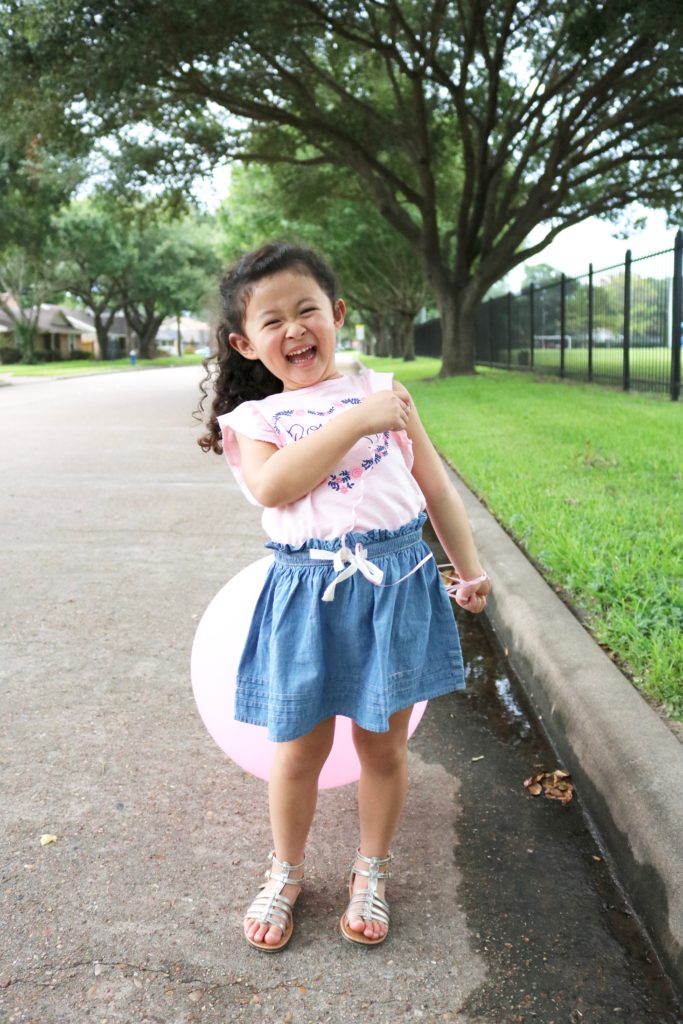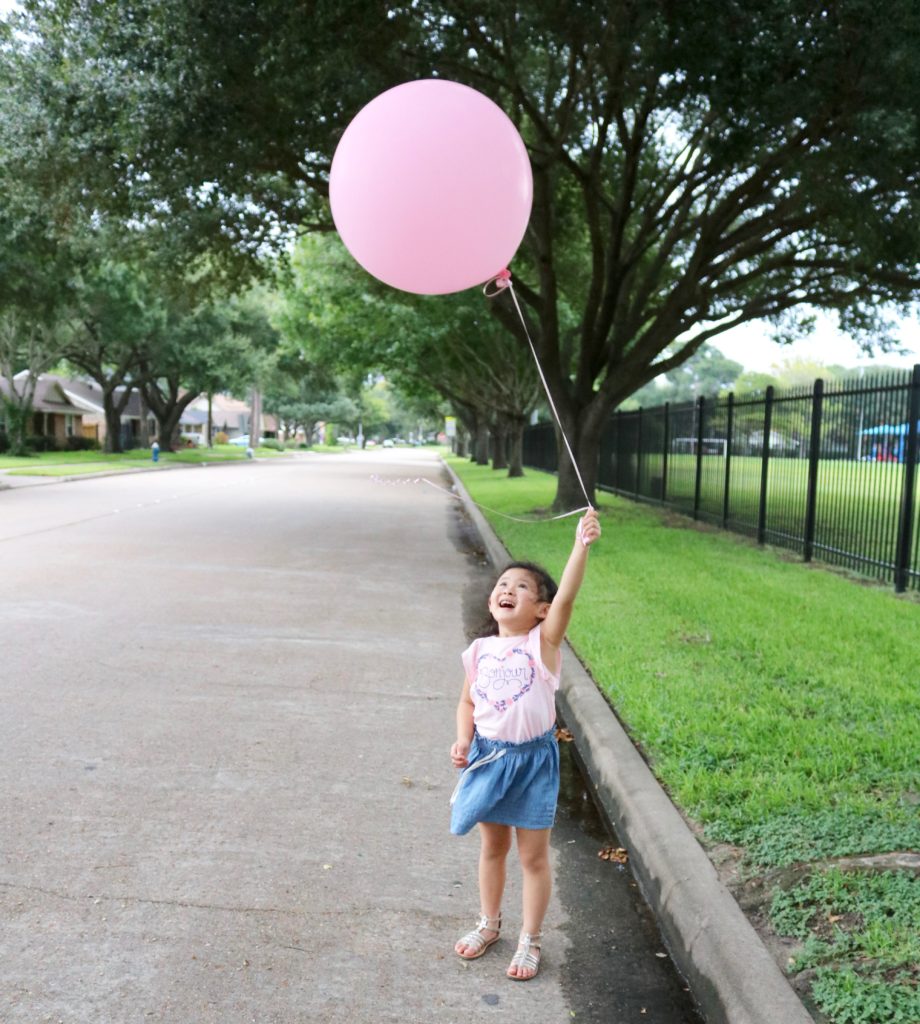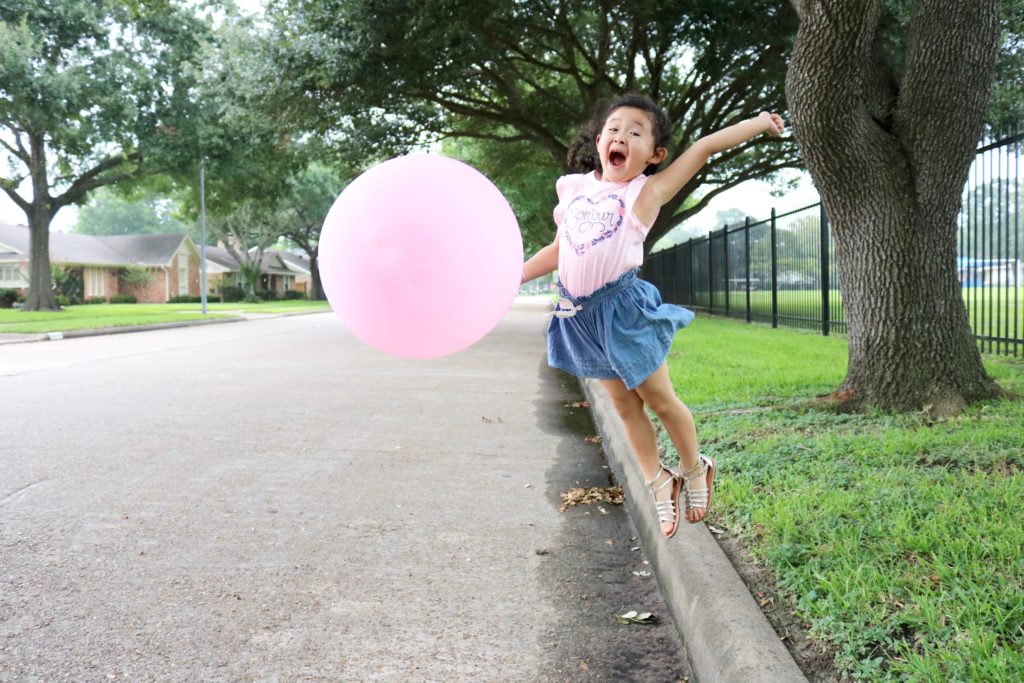 Can you tell someone's excited for school to start?  We've been counting down the days and it's finally here!  In less than 5 days, my sweet pea will be starting PK4 and I'm still pinching myself to see if this is real.  I mean how did she grow up so fast?  I remembered this time last year, we were visiting her school for the first time and although she was excited about her new adventure, she was a bit scared about the change.  Fast forward a year later and my how things have changed.  This once shy little girl has blossomed into a confident, intelligent, witty little lady and I am so proud of her.
I took the girls to OshKosh for a shopping date to grab some back to school pieces and Marli picked out this adorable chambray skirt and cute 'Bonjour' tee because obviously anything with pink, hearts, and a bit of ruffles wins her over.  It's a great thin cotton material which is perfect for this hot Houston weather, but I can easily add on layers when Fall rolls around as well.  When picking out pieces for her wardrobe, I tend to stick with more basic bottoms so it's easier for her to mix and match with her tops.  The elastic waist is stretchy and perfect for wiggle worms like her who never.stop.moving.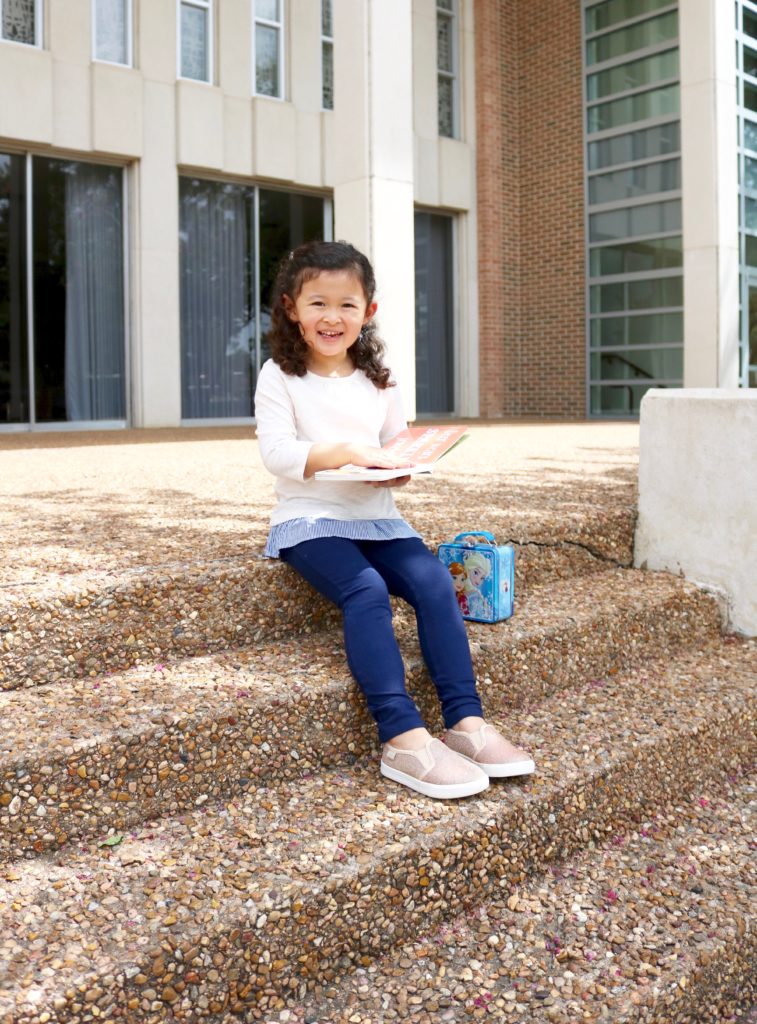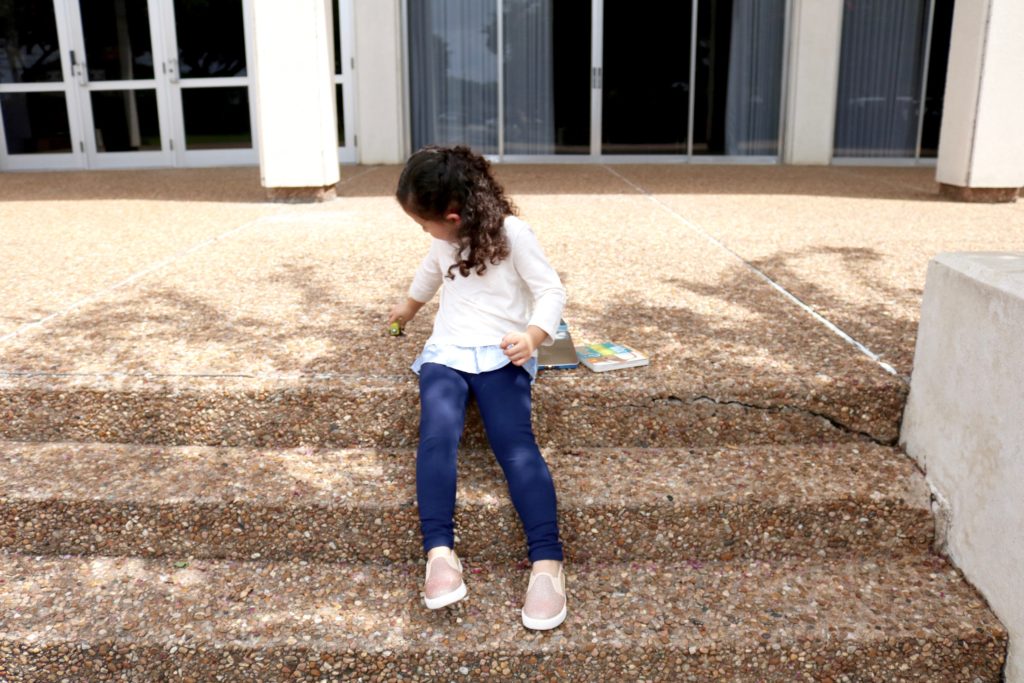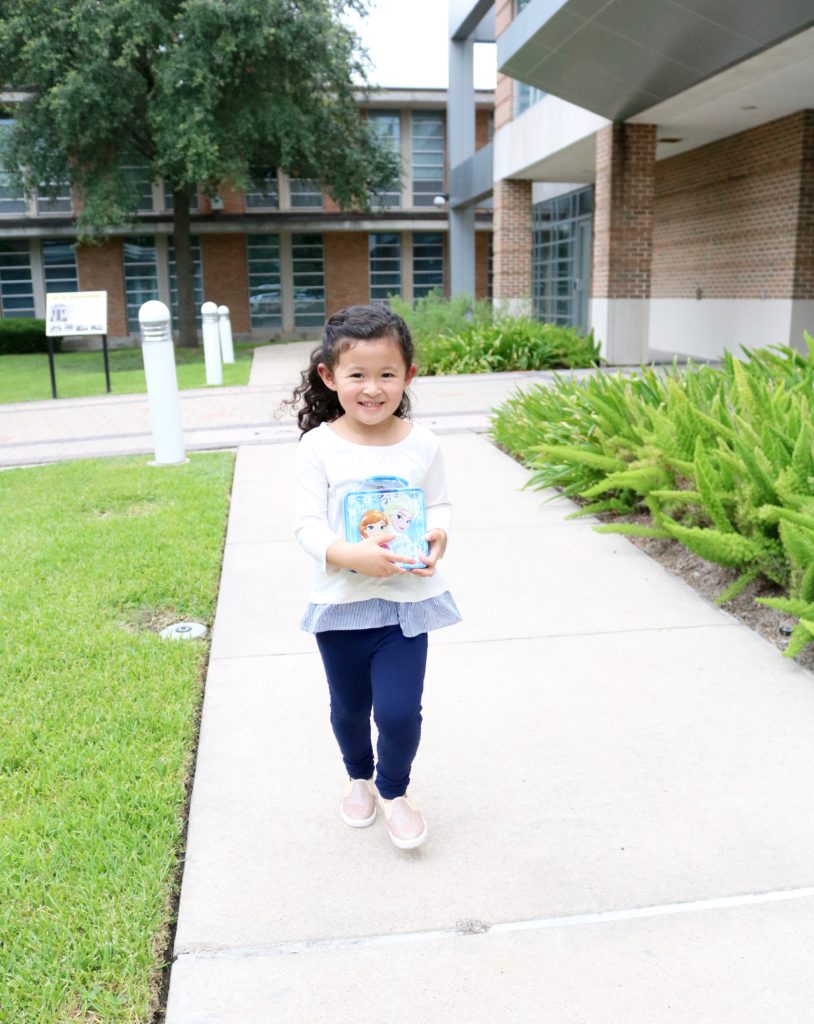 I also picked out this sweet little preppy chic outfit because I secretly wanted it for myself. Isn't it adorable and so school appropriate?  I wish all her uniforms looked like this.  The peekaboo peplum is just darling and it even has a little bow in the back! Good job OshKosh on working in all those sweet details! Although the peplum top is a long sleeve, it's a very lightweight material so she can totally wear this now.  Her knit jeggings (which also come in several other colors) are amazing – they have front gold zippers for her pockets and the material is really durable and stretchy.  I can't wait to style these cute jeggings with her boots for Fall.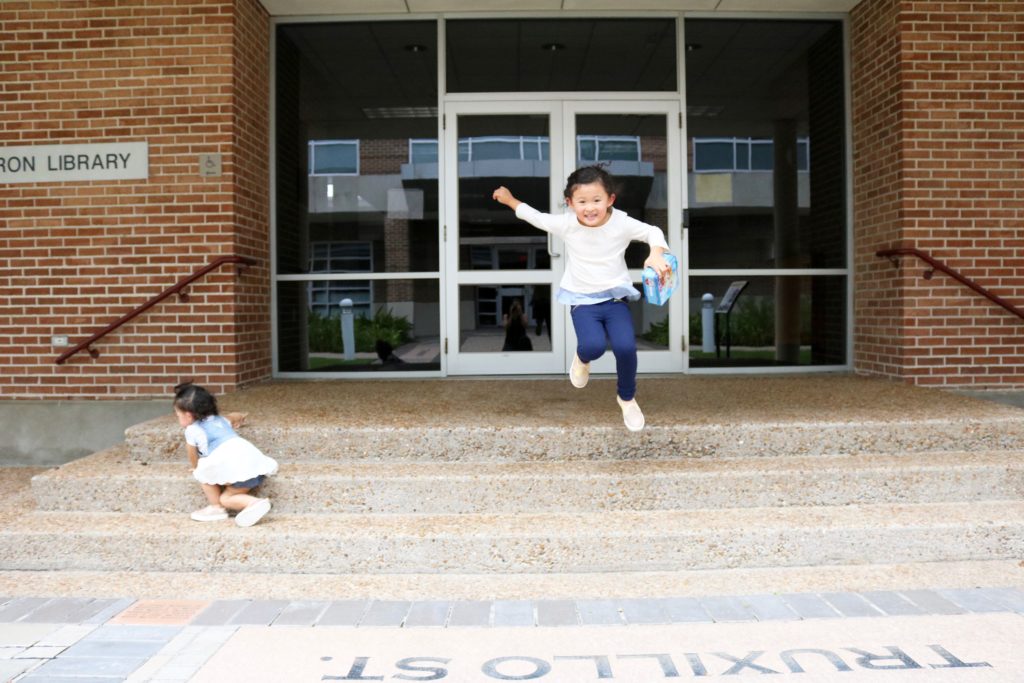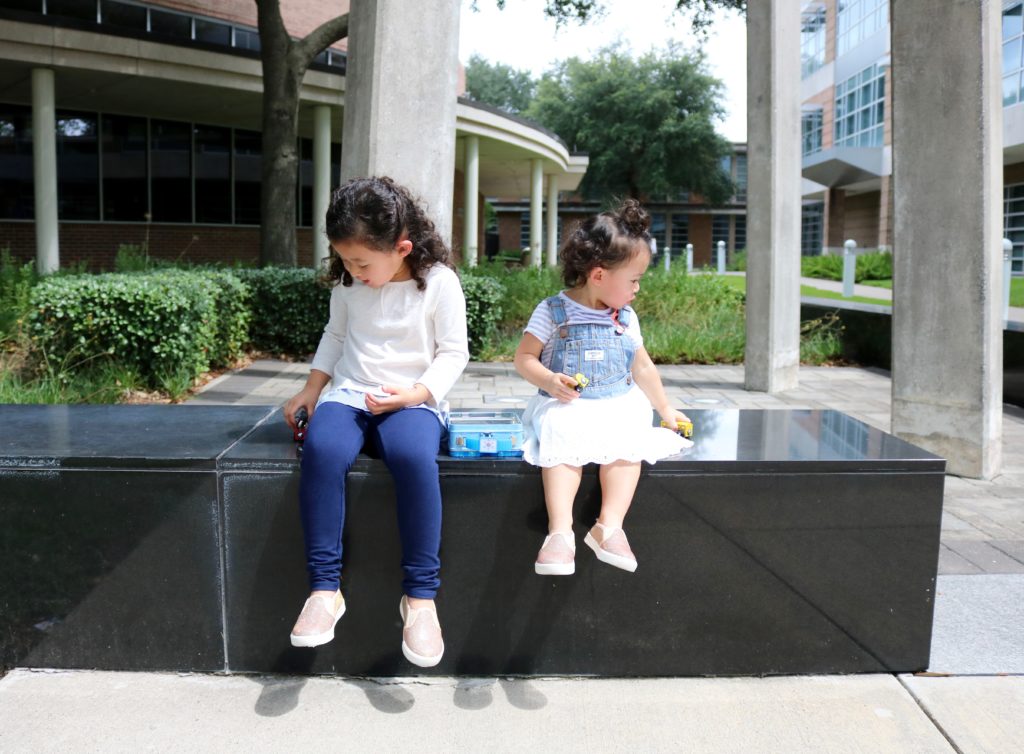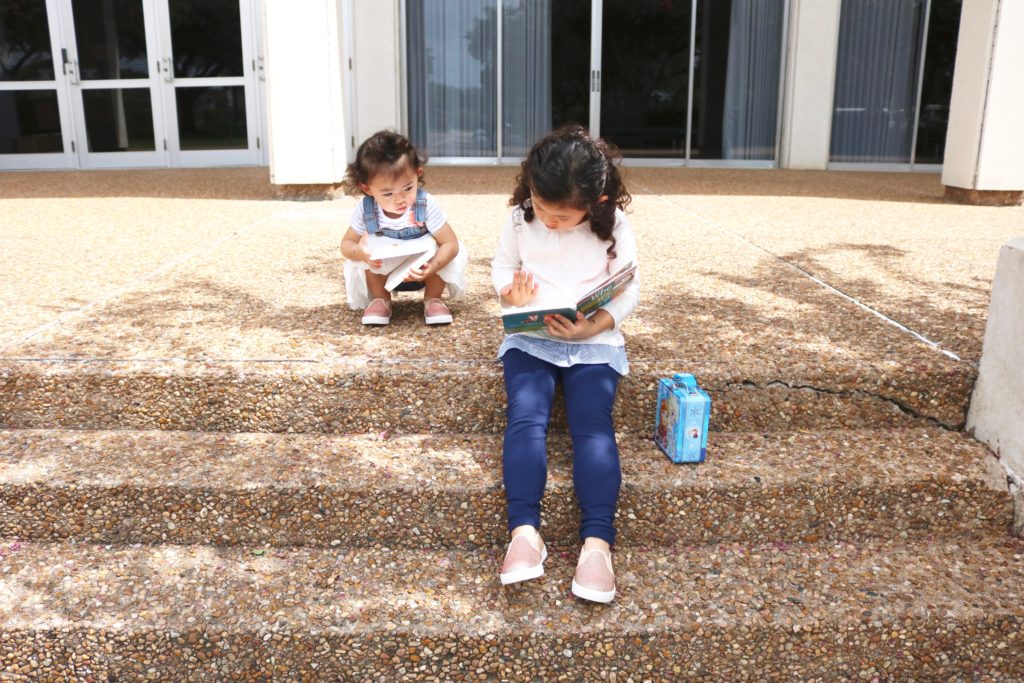 Peplum Top | Knit Jeggings | Eyelet Jumper | Slip on Shoes (sold out) similar style here
I definitely didn't forget about Baby Matea.  This 18-month old firecracker will also be starting school in a couple weeks as well!  I am enrolling her in a MDO (Mother's Day Out) program 2 days a week so she can start socializing more (and I can get a break).  She has been a stage 5 clinger for the past month and only wants Mama so I think this will be good for her.  Plus, she is SO active so I know school will definitely keep her busy. Depending on how she does, we may find a more permanent place 3-5 days a week. I'll keep you posted 🙂
Can we talk about her back to school outfit for a second?  I'm OBSESSED with her eyelet jumper!  I swear babies are the cutest in jumpers and overalls – am I right?  The eyelet detail is so sweet and perfect for summer.  Plus, I can swap out the top with so many other styles for a completely different look depending on the weather and occasion.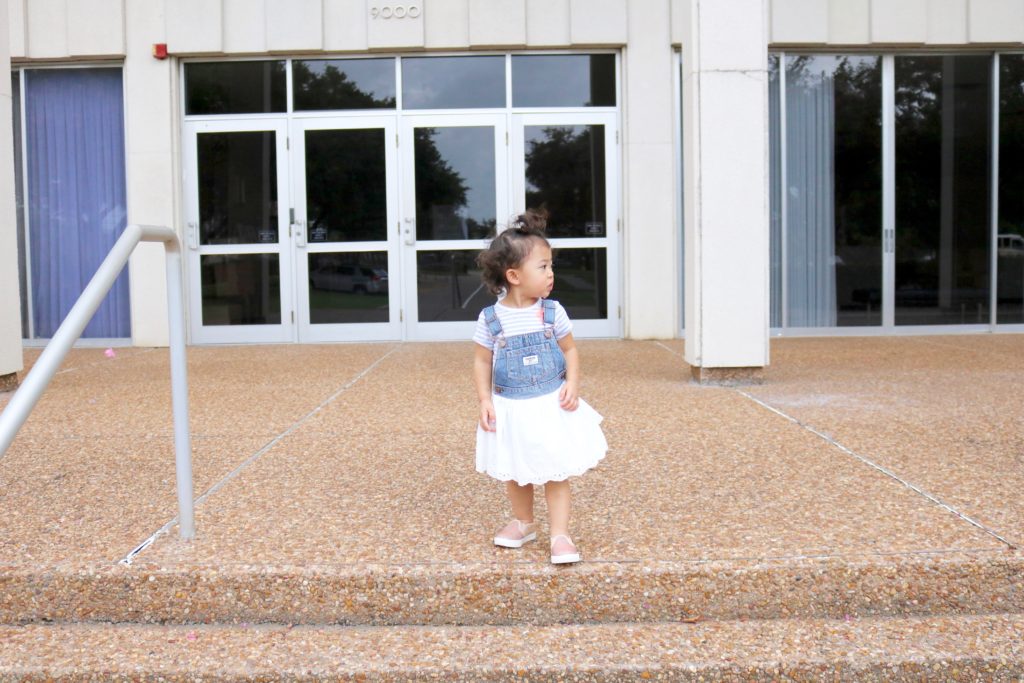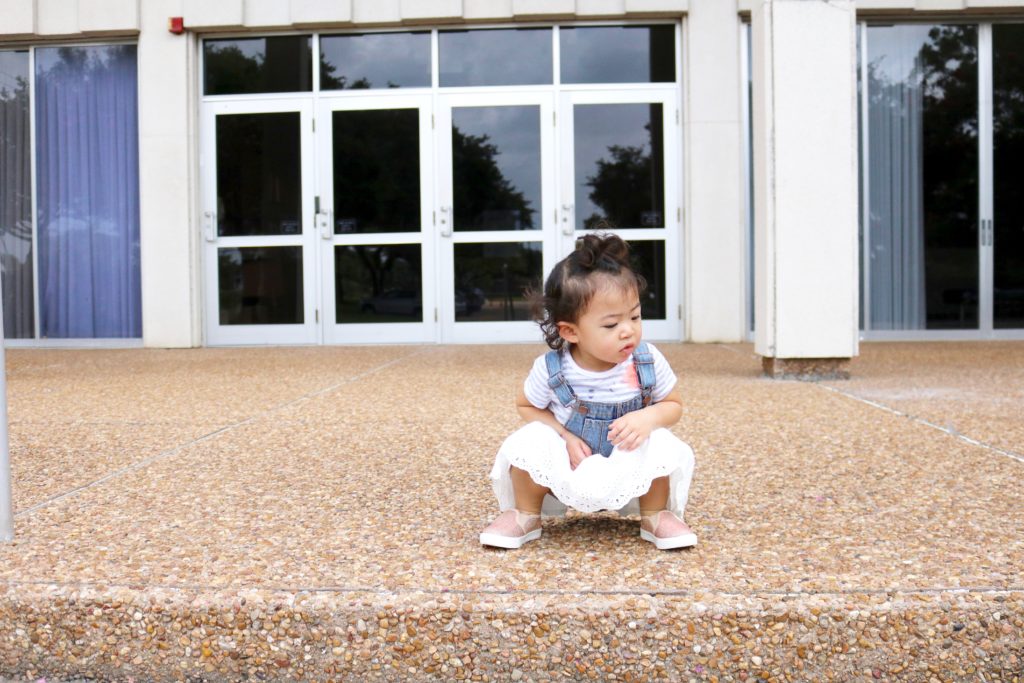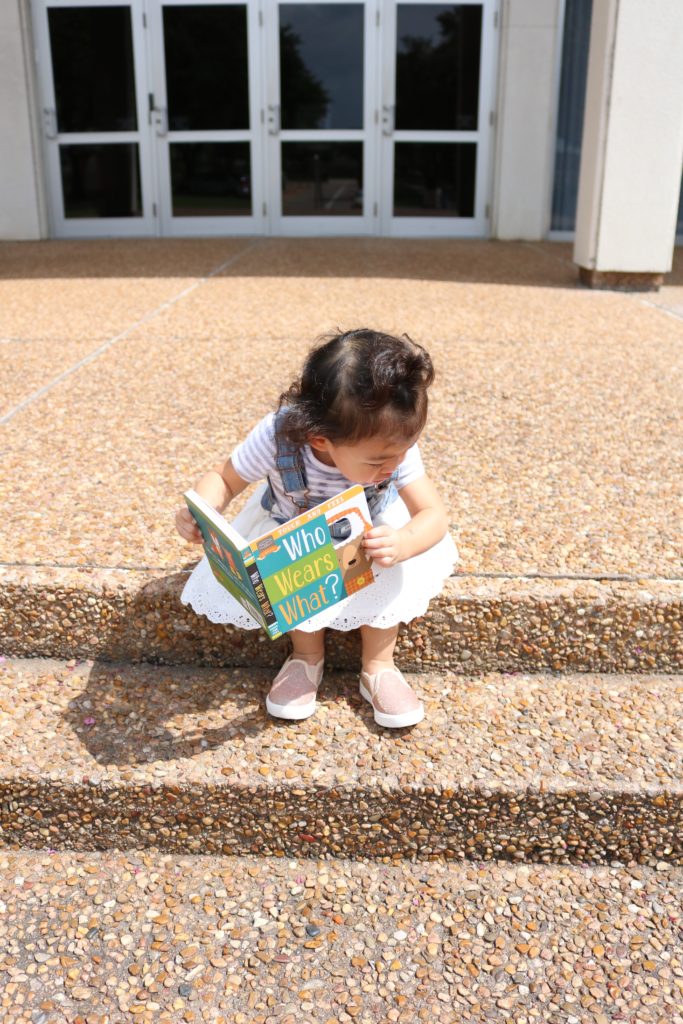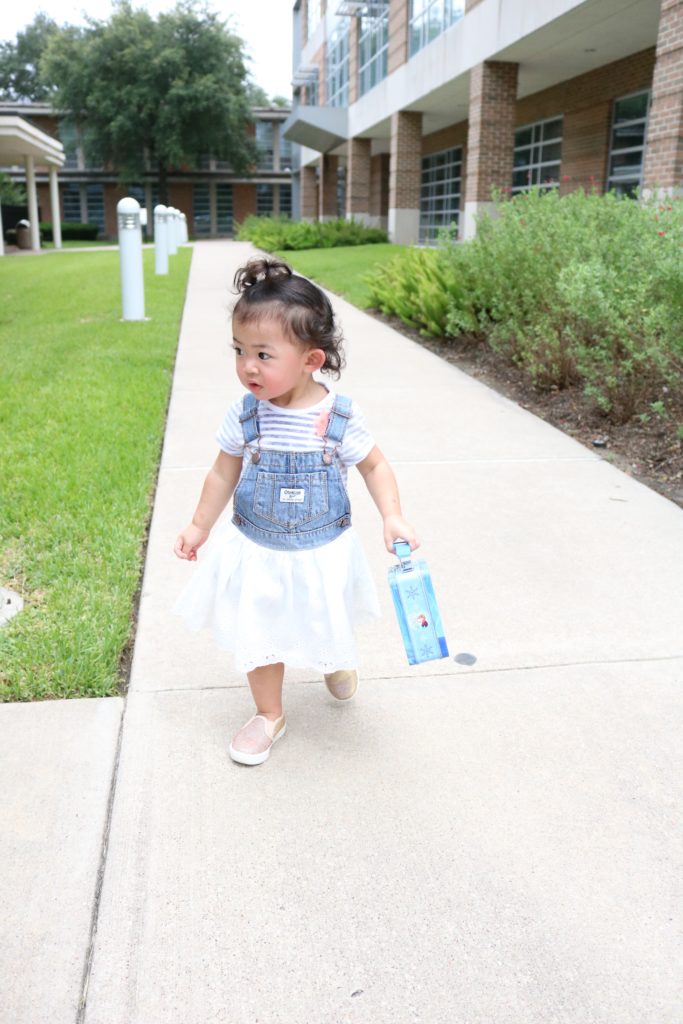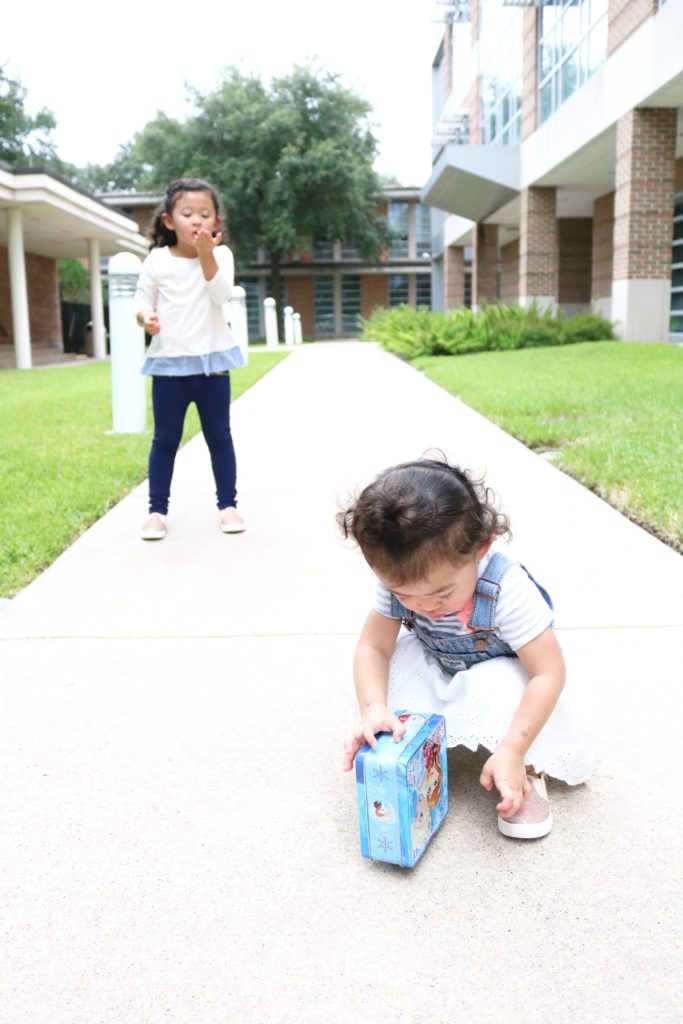 I know that back to school shopping can be so hectic and pricey, but that's why I love OshKosh so much.  Their pieces are so trendy, fun, affordable, and well made so it's easy to keep coming back for more.  In fact, Matea has SO many OshKosh hand-me-downs from Marli's wardrobe because of how well made they are.  Another huge reason I love shopping here is because of their efforts to give back to the community.  A few years ago, OshKosh started the The B'gosh Jeanius Campaign as an annual effort to support local communities with donated clothing and school supply needs. Recently, they have partnered with DonorsChoose.org, Delivering Good (formerly K.I.D.S. fashion delivers), OshKosh Moms, families and friends to collect over $1.1 million and distribute more than 66,000 articles of clothing to impact the lives of over 260,000 students. If that isn't amazing, I don't know what is.  And for that reason, I love supporting OshKosh and their amazing efforts.
YOU can join in by donating a new pair of jeans in-store or making a cash contribution in-store or online at oshkosh.com/bgoshjeanius from July 25 through September 18. And, share your "shop to give style" on social media using #BgoshJeanius.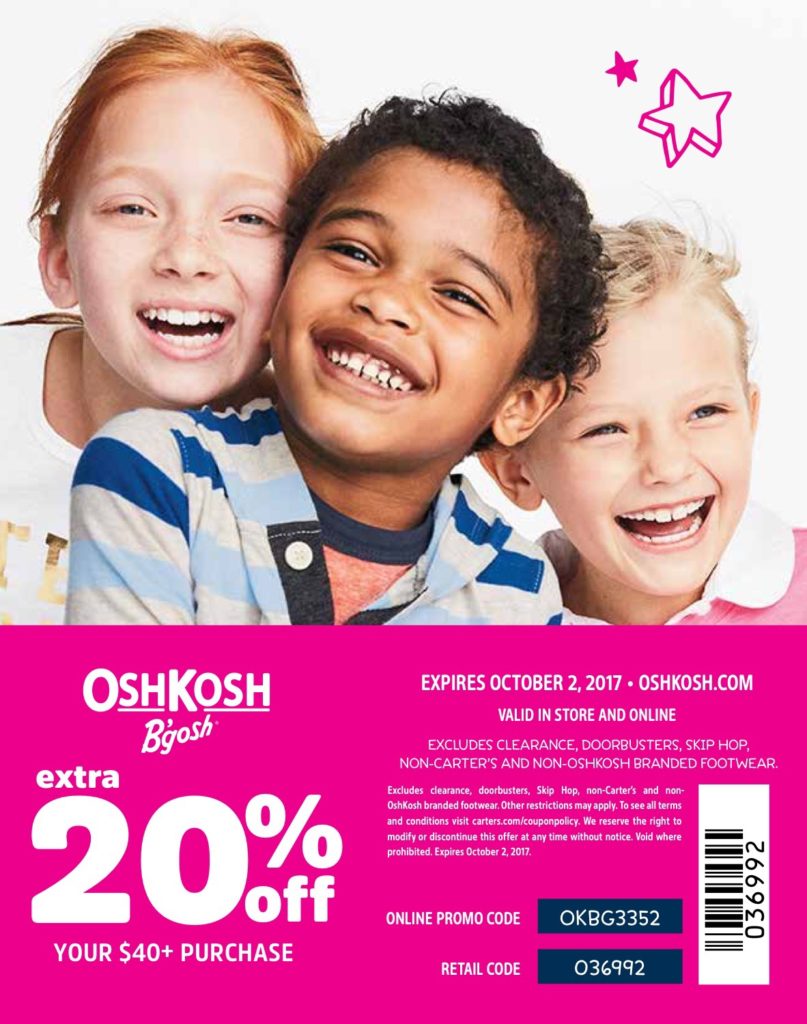 To shop their latest collection and find the best back to school outfits for your little ones, visit an OshKosh store near you HERE or shop their online store HERE. And don't forget to use this special code for 20% off your purchase of $40 or more. COUPON CODE: OKBG3352
If you want a chance to win a $50 gift card to OshKosh, be sure to follow me via Instagram!  I'll be posting a giveaway very soon so don't miss out! Entry is SO easy and takes only a few seconds.